With Essay Proofreading You Will Get A+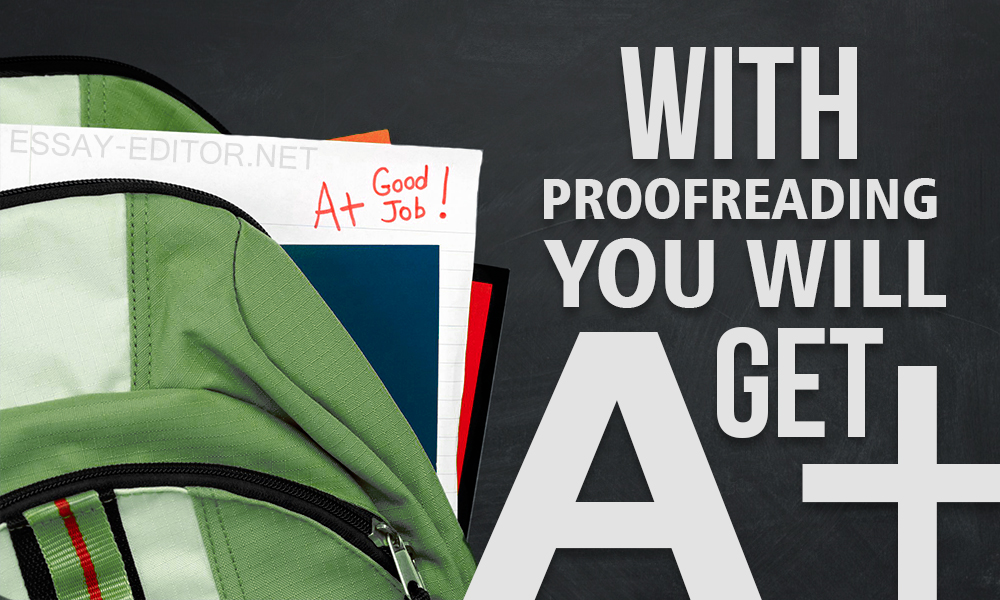 I bet there were times when you had to write an essay, but you didn't know how to do it. And even more, you didn't know how to do it properly. You would run to your University library, digging through every book that might help you, trying to find some smart idea that would boost your brain activity and help you to get A+. And even if you managed to fill a couple pages of Word document with clever words, there is still proofreading needs to be done. This is why we exist.
Let me tell you a little bit about our company. We are online essay editing service that will solve all yours problems. And by saying this, we mean it.  
So, how do we proofread your essay?
The answer is simple – we always pay attention, even to the smallest details.
1. Most Important Thing – Plagiarism
Our online professional paper editors can tell you after the first reading if in the work contain plagiarism. You see, plagiarism is not so hard to notice when you know what to look for. Usually, a person plagiarizing admits meager differences between his work and an article, a book or essay from which he copies. It is an obvious mistake – you are trying to give someone else's work for yours. And for this, you can pay a pretty price in School or University. You can pay us too, the earlier you do so, the cheaper it will be, but the difference is that with our help, you will get the best result you could have imagined (and you will not be expelled from an educational institution).
Our experts use their brilliant mind and special software to make sure that they did not miss a thing in your work.
Is this some sort of cheating? I don't think so; you just let professionals do their job for you. Well, and if you want to learn how to proofread your essays, assignments and so on by yourself, you should read our post, where it is all described in details for you http://essay-editor.net/blog/how-to-be-the-online-essay-proofreader
2. We Know What We Are Doing
I highly doubt, that you for one hundred percent sure, what you are writing about. By this, I mean that you definitely cannot be sure, of you proofreading everything perfectly.
Our proofreaders have been working for years, perfecting their skills of consuming tons of information, sorting it, and leaving all unnecessary things behind the final version of work. Sometimes, they even take part in the competition, just for fun you know, to see who can provide the best college essay editing or essay proofreading service.
3. Spelling, Spelling, Spelling
Spelling can be an indicator of plagiarism for the examiner if it is inconsistent and varies according to different dialects. Remember this! And now, when you did it, you can breathe out with relief, for our proofreaders always make sure not to leave any mistakes that you might have made. And also read another of our posts about tricky grammar http://essay-editor.net/blog/frequent-grammar-mistakes-everyone-can-miss
Inconsistent spelling: When one word is written in different forms in the whole work, it can be a sign of you copying the text and combining it into one passage, which looks clumsy.
The British version of English against American version of English. If you insert something that has to differ spelling from your version of English, this also may attract attention. For example, the variants of writing, where instead of the lettering "ou" is "o", for example, "colors," or variations of writing "s" instead of "z", for example, "recognized" should be indicators of plagiarism.
Also in this section:
– Choose The Best Cheap Rewriting Service
– We Are Ready To Revise A Paper
– Choose The Best Dissertation Services
– How To Edit Revise Of The Paper
– The Best Thesis Rewriter For You
4. We Think About The Connectivity And Ease Of Reading
I talked to a friend of mine who works as a proofreader, and by the way do excellent proofreading online and here what I remembered him saying:
When you look at the text, what do you see: if it easy to read, or does it look like someone was rumbling and put those jumbled words on a paper, with sharply changing forms and rapid change of style? At a time when the deadlines are being tightened, some people have inconsistencies with logical consistency while writing a work containing pieces of copied text that slip around. Often the text will look more incoherent and exclusive than when you are trying to properly organize their thoughts. Here's what we look for when we proofread your essay:
Fragmentation. If an excerpt narrates about something and then abruptly breaks off and switches several times, it can be a signal that someone else's work was used for this essay.
Unwanted Long complex sentences. As a rule, every author has their own style, when they are about to write. If you almost always use extremely tight and short sentences in your works, and suddenly it changes and several of long and complex sentences are added to it, it should hint at plagiarism. Flawless paragraphs in poor performance - signals for anxiety! But don't worry, we will revise your essay, that no one could tell if you paid for it.
Clumsy shifts in attitude. Strange or compelled change of viewpoints can signal about plagiarism.
Unsteady start and end, but an excellent main part. (Or, any other parts.) Although it may show that you are trying to build a work logically, this, too, can be a warning of plagiarism if you put yours works together to form different sources. And because we want our proofreading essay to be perfect, we make sure that none of what had been said above will attract unwanted attention to your work. With our paper proofreading service for students, you will not spend a lot of money in order to get A+ for your essay. 
5. We Check the Punctuation
Punctuation can be an indicator of plagiarism since many people place punctuation marks incorrectly. If you always had problems with punctuation and all of a sudden you started to arrange it correctly, this is an indicator of plagiarism. Let's say, in one part of your work punctuation can be terrible, and at the same time in another part, it swiftly becomes ideal (without our help). Or, in general, too many commas and semicolons start to appear in one part of the work, when in the other - there are none. We make sure that everything is on its place in each and every single one essay. Don't worry, when you'll decide to trust us with your work, you'll be in good hands.
 Please, don't limit yourself and ask whatever you want. We have special support agent that will answer all your questions within few seconds. 
And that is it. You did it, now you know who we are and what we do, and how we do it. I hope you liked what you just read. Please, also don't forget to read another three interesting posts that we prepared for you.
– How To Travel and To Learn English At The Same Time?
– What Books To Read To Learn English Quicker?
– How To Use British Set Phrases               
Professional essay proofreaders are the winning choice
It is great if you always want to achieve the best results. It is amazing if you are (or want to be) a high achiever. However, it does not mean that others' help is forbidden and you must do everything on your own. It's too hard. Let the true experts of our website be useful to you. What can we offer? We guarantee the most qualified in the UK assistance from a professional proof reader / editor / writer / reviser / reviewer. We are ready to satisfy any request related to application issues and admissions, research papers and any other type of academic written assignments. No one proofreads better. In order to encourage you, we offer the lowest cost ever: order now and get a discount.