Personal Statement Review Service | Get FREE Review
A fresh set of eyes gives helpful and impartial comments; especially if it deals with professional opinions. Today, we review your personal statements, and it's absolutely FREE! Please, send us your text, and receive an expert analysis of your document. Learn the details on the live chat.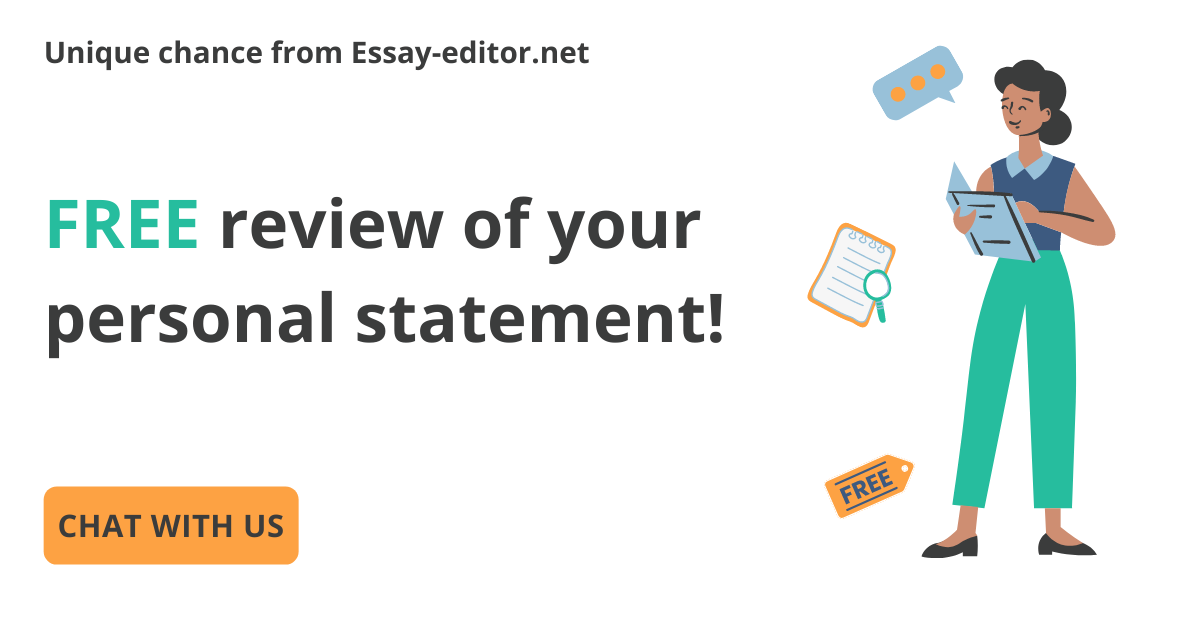 Check your personal statement for FREE: Our special offer
We understand how challenging it can be to compose a personal statement. It is a rather concise type of essay, so the author has to express briefly all the crucial thoughts in it. Importantly, this text must be relevant to the given goal. Our skilled assistants will check the above and other rules of writing.
Why send us your personal statement
The reasons to use our free opportunity seem obvious. And for those who still doubt whether to do it or not, we have prepared several good arguments.
✔ We offer effective reviews of your personal statements
Our employees are talented editors and proofreaders. We specialize in academic writing and creative content. What is important, our team knows what the modern admissions committees expect from candidates. It is all due to a rich practical background in the sphere of online services for students and job seekers. That is why you'll get constructive suggestions on your personal statement.
✔ It costs you nothing
This service is free for everyone. If your text belongs to the format of a personal statement, we'll check it at no cost. Just because we want to provide something else apart from paid editing services. For us, it is a way to do good, so, why not use this opportunity?
✔ A safe process of cooperation
You risk nothing when placing an order on our website. It deals with both free and paid services.
All the messages and emails are reliably encrypted, so your private data and other crucial information are protected.
When using our free service, you do not risk financial resources.
A reliable support team helps you at any stage of the cooperation. Ask your questions on the chat — we are always online.
Our personal statement editing service is helpful for many
A well-written personal statement helps people reach big and little goals. And our team is here to assist you with that.
• Personal statement for a future student
So, you want to continue studying after high school and enter a reputable college. Alongside good grades, you also have to present yourself. A personal statement is a paper demonstrating your uniqueness and motives to enter the university or college. Let our assistants review your story, and we'll evaluate its weak and strong places.
We work with statements for all universities and courses. Be it a Law school or a Business college, we'll give you helpful pieces of advice.
• Documents for career starters
Graduate students often need competent assistance with personal essays for their first jobs. It is mainly due to a lack of experience in composing such texts. Indeed, it is challenging to complete a personal statement as you do not know how to present yourself properly. Please, send us your essays, and we'll share our expert views with you.
• Papers for people changing careers
The decision to make a new step on the professional path deserves respect. We want to support you at this stage. Send us your personal statement, we'll check it and point out the crucial moments. It might take you several hours to write and edit your personal essay. Meantime, having sent us your draft, you save some time.
Who tends to use our review services?
We are glad to make the lives of contemporary people easier. Our statistics show that hundreds of users successfully use our free offers. Here are the most popular of them.
• Foreign students
If you are an international student, you might require assistance with proofreading. Even one incorrect word or phrase can spoil a good impression from your personal statement. And the text reviewed by our expert does not contain any grammar mistakes.
• An applicant who needs an outside perspective
The impartial opinion is helpful to see a general picture and learn the honest impression from your paper. Having evaluated the real value of the personal statement, you receive food for thought. Now you know what moments should be improved.
• People who lack time to check papers for the college admission process
We understand how busy the contemporary students are. It is so challenging to do everything on time, especially when every deadline is tight. Every hour matters in the modern world. Please, use our opportunity of free revisions: our turnaround time is short, so you'll timely submit all your projects.
• Using a review service out of curiosity
Try our free review service just for fun. You pay nothing and receive an interesting experience of using an awesome service. It looks like you are testing a new version of the free program. We'll appreciate your feedback. Please, share your impressions from using this free offer. The chat is always online to give answers to your questions.
Reviews by experts: Our professional capacity
Our website is a one-stop place for everyone who seeks help with texts. Our professionalism is not restricted by the personal statement review service only. The competencies of our team cover all types of improvements beginning from the review to in-depth editing.
Whatever goal or sphere of knowledge you have, we'll find a suitable socialist for your case. Please, send us any personal statement, and we'll check it with skill!
Competent assistance with personal essays in any area
We check personal papers for people applying to institutions in the sphere of:
Medicine,
Law,
Economics and Management,
STEM,
Foreign languages,
Linguistics, and many more.
What do our reviews imply?
Rest assured, our free service is worth trying. Our editors attentively revise your text, paying precise attention to words, punctuation, spelling, style, and other crucial moments. The personal statement editing includes:
standard proofreading,
slight stylistic editing,
a brief revision of the logic and structure,
additional recommendations for improvements, when necessary.
Do not worry about prices, everything is free.
What other types of services would you like to see among our free offers? Your feedback inspires us to develop this business. Please, drop us a line on the chat.
Check your personal statements for free: Why we do it
We sincerely want to help college and job applicants. Inspired by this mission, we try to provide free services contributing to the success of modern learners and career starters.
It does not take us much time to review your personal statement: this document is usually one page long. Skilled editors do it quickly without compromising the quality.
Your personal statement is an opportunity for us to develop our editing skills. Sometimes clients send us unusual texts and interesting stories, and it is a pleasure for us to train practical skills.
Want something more than a review? Order editing service
Would you like to see the full capacity of our editor? Order our excellent editing or rewriting service. We work with all types of personal essays, as well as have a solid practical background in academic writing for medical, business, research, scientific, and other spheres.
• Personal statement for college applicants
If your text is written to impress the admissions board, we'll help you make it powerful. Without grammar mistakes, unnecessary explanations, chaotic suggestions, everything looks better. Our editor will analyze the culture of your future college, the specifics of the chosen course, as well as your personal story. This information helps us make your personal statement more convincing.
• Personal statements for job seekers
If you want to work at a reputable company, a powerful personal statement will boost your chances of getting a job. Our customers receive reasonable improvements and relevant corrections of their texts. We'll adapt your personal story to the expectations of your future employer.
How much does it cost to order a professional review service?
The pricing policy of our agency is oriented toward the average modern student. We have tried to make it affordable for most users. Please, use our online calculator to check the price of your project. Our team specializes in:
comprehensive editing,
meticulous proofreading,
individual revisions,
in-depth rewriting.
The average price per page begins at $11. Since several factors influence the cost of the service, you can learn the precise figure in the Order Form.
You must not be a talented writer to compose a brilliant essay. We'll help you stand out among other applicants and job seekers. Trust our experts, and we'll turn your first draft into a memorable personal statement. It will be the embodiment of your special story reflecting your strengths and reaching the given goals.
Our team gives honest guarantees: timely delivery, compliance with the points of your Order Form, safety, and confidentiality.
We are glad to offer both free and paid services. Whatever variant you choose, you'll like cooperation with our professional editors. Let's begin it right now — place the order!