Assignment Proofreading Service – Less Bother, More Result!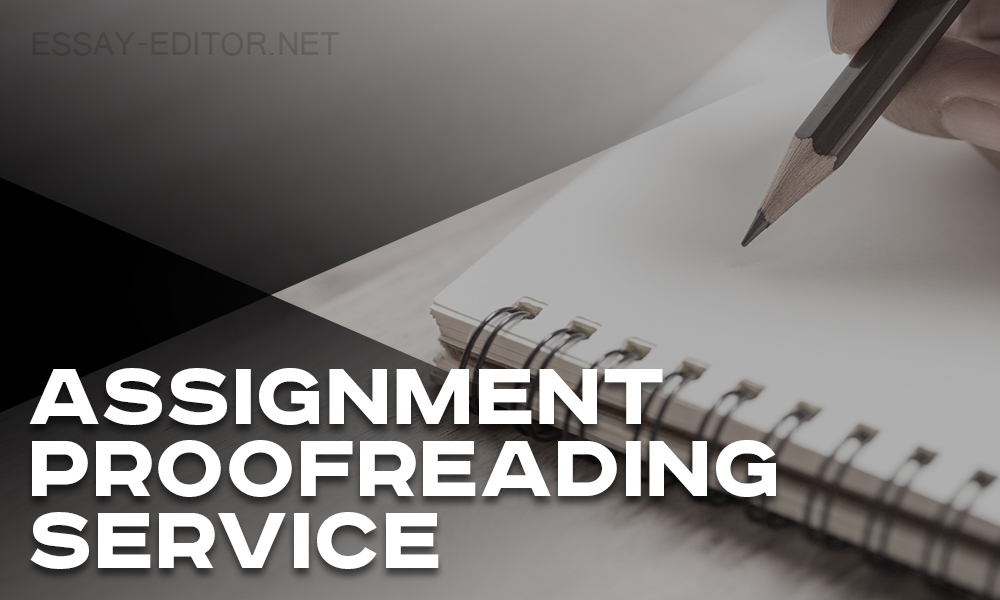 Studying at college or university is a great thing. You live with the cool friends, you talk and spend time with different interesting people, and you participate in thousands of events for the youth. But for those boring studies and yet duller assignments, that would be a perfect life! These are my grave thoughts when the beeping on my smart phone nails me again to my writing desk with my laptop open, with the flashing reminder "Three days to deadline for the home assignment!"
Proofreading and editing at home assignments – key principles
I do realize it's time to do something about this assignment. But I have no idea what to start from! And I have no idea what to write at all! And the topic is stupid! And my friends are going to the party tonight! It's unbearable… However, back to assignment that is the topic of this post.
Hope that you're nothing like me – you have studied your assignment thoroughly, examined the issue, prepared the text and… That's it; you're not sure whether it is a good text at all. If you've got a high level of the language proficiency such idea wouldn't even bother you – you know for sure that your text is flawless. You have reread and rechecked it two or even three times (I can't believe that being a student you'd allot this task any more of your time than that), checked it at all available grammar and spelling checkers and have read it aloud to your roommates (God save them for their patience!). However, if you are not a native English speaker, do not have a zest for languages and have a slight idea what a Sequence of Tenses is, you definitely need a capital professional assistance. The professional linguists will help you to rewrite your assignment if needed, proofread it thoroughly leaving no mistake unattended, and provide a full range of affordable editing services at any time of the day.
However initially the post was intended for the people with problems alike to mine, so let's see what we all can do for preparing our assignment properly. The plan goes as follows:
To make a plan. Yes, you've got it right. We are planning to make a plan first. Why? This will help to divide the big problem into many little ones, which are much easier to overcome. However, with the assignment it is a little bit more than just planning. You need to compound a general framework of what you are going to write. For example, you've got the topic for your analytical review "The psychological influence through the social networks". It's quite general and you can make tens of papers for that topic. You've got to choose one subtopic, e.g. "Psychological influence of advertising in the social networks" and make a brief outline of your further essay:

Social networks as a psychological tool of influence;
Advertising and its psychological techniques;
Advertising techniques in the social networks;
Psychological affect of advertising in the social networks.
Having prepared such a plan, you'll be able to spot your blank spots at once: you'll need statistic data for the advertising in social networks, psychological materials about advertising and social networks, samples of such advertising and so on. But now you already know what to do: you've got feasible tasks and you know how to manage them.  This task also helps you to determine the key points for your assignment (psychological techniques in advertising, social networks' impact). Let's continue.
Get ready. Above we have outlined the materials you need to gather and examine in order to prepare your assignment. While reading, notch up the remarks, objections, questions that arise. It will help you to shape further your assignment.
Write the text. Do not start with the introduction – you've already prepared a little plan for yourself, then you will unfold it to your introduction with the additional data you already have. Start according to your plan, describe the main problem first, and then look for its solutions. Draw the comprehensive and thoughtful conclusion. Execute references. Check the numbering of pages. Now you are ready to write an introduction.
Proofread your assignment. Doing job well means checking it well. Always make sure your text looks exactly what you intended it to. Make changes if required.
That's it. Sounds not that difficult, does it? If it still does, let's dispel your doubts with the list of essential elements your perfect assignment should illustrate:
Coherent ideas

. Be consistent with your essay. Draw the outline of the main idea and subsequently ground it with evidence, examples and so on. Do not involve the ideas from another sphere, however well you know it.

Critical thinking

. It's not that scary as it sounds. It only means you understand that your ideas might be not the perfect ones, and you see their deficiencies and look for the ways to cure them.
If you doubt your own ability at critical thinking at midnight, where you probably find yourself with your assignment half-written, just drop the task and come back after you have had a good sleep. If you still worry about some lines and evidence, you may find relief in dropping it again browsing our website and writing in the contact form "I need proof read for my paper". It is guaranteed that within fifteen minutes you will be able to relax and breathe calmly.
Sufficient evidence

. Prove your ideas and thesis with the reliable scientific materials, well-known facts and exhaustive examples.

Correct presentation

. It is both about the text design and the text itself. Don't leave just the sheet full of symbols – your text must be readable. Divide it into paragraphs, use lists if applicable. Underline or bold the essential ideas, but

only the most essential

ones. Bold your headings, too. Execute referencing properly. It will take time, probably even more than you spent for writing, yet it means your reader will spend proportionally less for reading. Easy readable texts are accepted really well, especially if they have something to say.

Get it brief but within a word count

. If you suffer the same weakness than I – getting with too much words at too small a topic – you might need to throw a critical glance at your assignment when you have completed it, and think of the ways to reduce it. That is, if it doesn't fit into the word count prescribed. It may be unbearably difficult to heartlessly weed out words, cruelly delete passages and oh, goodness! – to eliminate the whole paragraphs. However, this task will do you good. It will teach you to be critical at yourself – that's invaluable quality in the modern world. And it will teach you to be a proofreader, too. Who knows, maybe that's the way you'll be earning your millions in a year? If you are interested in the proofreading job, it may be wholesome to learn some secrets sharing by the professionals in the field. Browse the posts in our blog, for example http://essay-editor.net/blog/proofreading-for-students-articles-in-english.
Now that we are through with this part, let's relax and see what potentially we could expect from the assignment. You probably know already there are different kinds of them, and some are real tricky ones.
What kind of assignments needs proofreading
Though your current assignment must be ready up to this moment, it is always good to know what you can anticipate next from your torturers teachers. And these people are known to be inventive and ruthless when it comes to their students.
So, you can expect the following traps assignments from them:
1)   Critical (analytical) review. This type of assignment foresees you need to examine some text or other creation by another author and analyze it from the position of the determined field.  For instance, to write the critical essay on the N. Chomsky' theory on grammar. While proofreading, pay attention to the proofs and evidence that should support all your conclusions. It is a real pleasure for the people with the talent for languages to mock at others write an analytical review. The ideas flow easily and splash out onto the paper, your analytical eye is working on its edge to spot yet another deficiency and the sarcastic words are just soaring from the tip of your tongue to land on the sheet and transform into sharpened yet charming critical review. However, if like many people you are not good at your time management (what student could possibly be good at it?), the picture would be quite a different one. Dropping a word of approval here and a critical passage there, while searching for the evidence for your analytics and nervously peeking at the clock on your smart phone may lead to the complete losing of the main idea and incongruities in the text. This can be easily fixed, though. Look for some tips in our article dedicated to online proofreading and other useful services http://essay-editor.net/blog/are-you-looking-for-proofreading-services-online.
2)  Research essay. This is a task presuming you need to work out some scientific issue yourself and relay your results. Though it leaves a space for your innovative ideas and creative improvisation, it is usually not welcomed so heartily by the students. When proofreading your research essay, always perform the checking for plagiarism. It may well happen that your bright idea along with its creative description has been already outlined by someone before, and in similar words. There is no need, though, to look for other concepts for your assignment – just reword the one you have already written.
3)   Annotated bibliography. This assignment requires from you to have the knowledge of the field of science, and to read the materials you are writing about. Better not to rely on annotations from the Web as they are mostly intended for the large auditory and represent too general an outline. Don't grudge your time for reading the materials, and write a short annotation of each after reading. Then compound them into one text. When proofreading, make sure you put the annotation to the right material, also watch the author's names – they tend to mix up and arise in the least obvious places.
4)    Project report. This assignment is aiming at not letting you relax too much. You've got all your assignments ready, the course work just needs to be proofread; you already dream of the forthcoming Hawaiian party and bang! Write the project report! Don't get desperate. If you did all the previous tasks yourself, this one won't be an obstacle to your plans. Just make a brief review of the job done. Be creative and add some analytics, outline your prospective tasks. Use the general principles of proofreading for this report.
5)   Literature review. That's a great task for pen-pushers people who love to write. You need to analyze the determined work on some scientific issue and tell about it. Add some elements of your own understanding of the work, when preparing this review. Show your knowledge of the field by comparing the work with the materials of other reliable authors. Analyze the advantages and weaknesses, if you are apt to and there is a time for that. While proofreading, watch your ideas to be properly executed, do not mix two ideas in one paragraph. Pay close attention to the punctuation when preparing your literature reviews. This style is quite sensitive for the right accents and to the grammatical framework of the text. The useful punctuation tips from the grammar experts – geeks people who see the two full stops and a comma on a smiley – will be no doubt of a great help.
6)   Practical work or experiment report. Here you've got to describe what you did for your practical, what result did you get, and last but not the least, what do you get out of this. To simplify, ground the need for the practical, state the issue you are going to solve, tell about the way you solve it and analyze the results. Proofreading such report, pay attention to the consistency of your text and its headings' division, separate each section of your experiment, make sure your conclusion encompasses all your results, and the latter's are properly explained.
The variety of assignments and topics requires a different approach in each individual case.  Still, general principles are the same: consistency, good knowledge of the concerned materials, critical thinking, proper grounding, thorough analysis. If you are a student already, it is most likely you possess all listed skills. All is left is to train their implementation in your academic work. 
Getting to the final point with your assignment is most likely a moment of a great relief for you. However, if it's not too late in the night and you got genuinely engaged into the process, you might like to continue the research for the writing issues. We know a lot about writing and editing, and invite you to share this knowledge with us. Here are some articles from our professional blog:
How to choose the professional service for assignment proofreading
Above I have mentioned many times the need for proofreading of your assignment once it is done. This requirement is grounded by the fact that the tiniest mistake may spoil the whole impression of your assignment. Why not taking another half-an-hour to ensure there are none? If you cannot spare such time for the task, this is the one that may be outsourced. It is also an option if you're not a native English speaker and are not sure about the grammatical merits of your text. Using the professional proofreading services is a good solution, then.
To save your patience and the piece on your mind, you request the proofreading for your assignment. To save your money, you request a limited editing or approach a low-cost service. However, you are mentally itching if your assignment has been properly proofread and whether it really had just those two typos you've been shown. To find a balance between the quality and the price is the hardest task in the modern world, yet when it concerns the efficient proofreading and editing services by the experts, there cannot be two opinions. The time of the specialist costs much. However, the preliminary review is usually free of charge and you'll receive the conclusion as to how bad things really are. If they are really dreadful Then you can make your mind as to the need of proofreading and the extent of it.
To help you with your choice, we have made a list of the attributes of the reliable proofreading services. Our analysis is valid only for the ones available online as being pressed by the assignment deadline you would have hardly welcomed an idea of getting to the editor's office, for example, to check the certificates and get acquainted with the proofreader personally.
The site of the company is well-designed

; it has references and feedback page. It has its own content – articles or blog posts about the linguistic issues, samples of the work results.
You receive an

instant feedback upon placing an order

. Time of reaction is highly important as it proves the further framework of dealing with your text, and with your requests.
You receive

additional questions about your text

. The professional proofreader knows a lot about weak spots and clarifies them at once. Be alert if the questions are not put as one set but bombard you with two or three of them sent by different mails.

The deadline is discussed at once

. The experienced proofreader can immediately evaluate the time he or she needs to proofread the text presented. If it is a large text, and your requirements are high-level ones (to perform revision, to introduce new supporting evidence or arguments) or there are many of them, the deadline cannot consist of just two hours. However provided the proofreader has the relevant experience and skill, even the most difficult task can be performed within 12-24 hours (if we talk about the essay-long text).
Some of the services offer the online mode of editing as well. It happens that your assignment looks good in general, but some annoying mistakes spoil the whole picture. You decide to deal with them yourself, correct the mistakes, smile triumphantly, reread the assignment… Oops, it seems something has changed and the picture became frowned. The text doesn't seem a whole piece anymore and the logics turn out as inconceivable. Back to the online editing, there is a handy service to reword your paper online. Spend a bit of time and a bit of money, and there you are. Your assignment looks smart and integral, and those little imps of mistakes are gone!
The

price is discussed at once and isn't subject to change

.  The professional proofreader can evaluate the price for the task the same moment he or she evaluated the time to be spent for it. The efficient editors with a good reputation will never let you pay more than initially agreed, for the same text and the same task.
The service has

good feedback on the Web

. Do not limit your search only by the feedback available on the website of the service. Google it and browse the feedback attentively. Analyze both the negative and positive ones from the position of the possible advertising technologies. The period of existence and the number of the customers' serviced are also a good basis to estimate the service' reliability.
Preparing and proofreading an assignment is a task that sometimes engages all your knowledge, efforts and time. However the more you get involved into the task, the better you understand and master it. I am sure with our advice above you won't ever tremble again at the word "assignment". And you know how to proofread it, too.
Get help with APA style. Your paper will get due attention, you'll get A+ grade!
Still in doubt as to what proofreading service to choose? The following articles on editing and dealing with different issues in the English language will help you to determine your mind:
It does not matter where you are (London, Birmingham, or Brisbane, the UK, Australia, or any other country in the world), you are guaranteed to get the best cheap & quick writing services anytime. Since we are an international company, we work 24/7 in order to provide every customer with immediate support. Essays writing, proof reading, and copy editing services are among the most frequently ordered on our website. Also, our experts specialize in resume / CV creation and correction.
When you need proofing services and look for a professional proof reader, the best combination of professionalism and pricing rates is presented at essay-editor.net. Our customers often need help with copyediting and appeal to our writers for assistance. Essay-editor online agency works fast, provide 24 hour support, and meets the personal demands of every client.
We have thousands of customers, and most of them are regular. Having cooperated with us once, they do not want to work with someone else. We have an individual approach to each order. Every single client gets a personal assistant, and it allows controlling the process of work at any stage. If you want to know more, visit essay-editor.net and contact our support team.
Did you use proofreading for your assignments? What was the result? How would a perfect assignment look like for you? Your feedback is very important for us; contact us by means of a special form on our website!