Free Essay Editing Tips From Our Professional Service
The perfect essay is rarely written at the first attempt. As a rule, a student must carefully check everything, change some moments, and rewrite several parts of the text before he/she shows it to the professor. It takes a lot of time and really irritates everyone but not our team. By combining experience and available AI technologies, we shorten the process of editing, and we'll teach you some of our methods. In this article, our experts share the most reliable online instruments and give time-tested recommendations on how to correct texts efficiently.
Editing tools for fast and reliable results
Attentiveness and knowledge are crucial when it deals with the check of texts. Meanwhile, automated programs can catch mistakes that you could skip. It is because huge databases and awesome algorithms underlie these cutting-edge instruments. Yes, they are not perfect and still cannot compete with human specialists but they are definitely worth trying.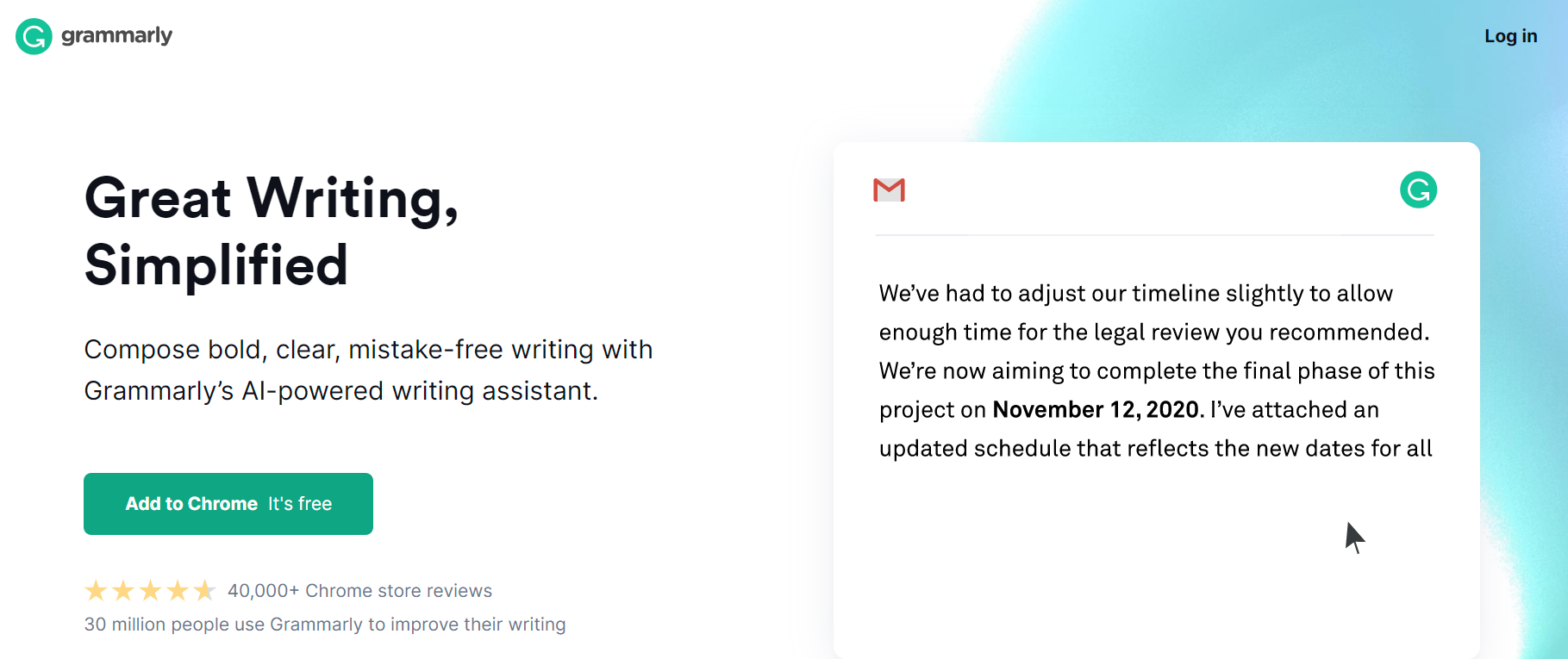 It is rightly one of the most popular programs for improving English texts. Millions of students, businessmen, and common Internet users download its application. Here is why.
The opportunities of the free version:
shows mistakenly written words;
determines wrong punctuation marks in phrases;
detects grammar errors;
one can upload a report containing helpful statistics.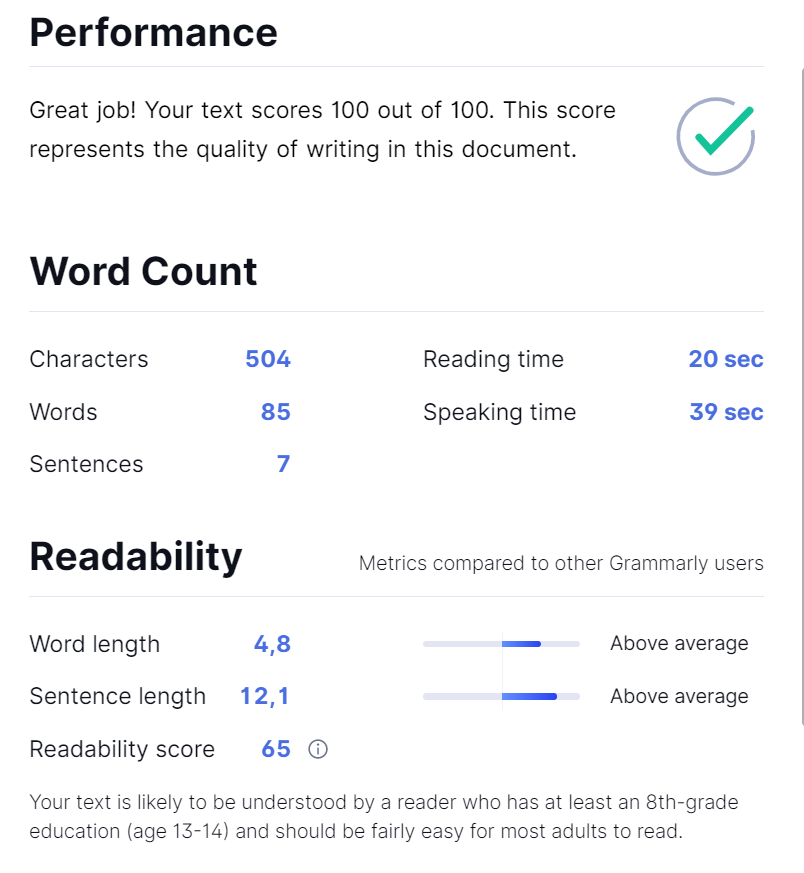 What we've appreciated
It is possible to choose one of four English languages (Australian, Canadian, British, American).
One can easily add any new word to the internal dictionary of the program (customize your personal dictionary in advance or do it in the process of writing).
Premium and business subscriptions are also available.
The program offers suggestions on synonyms.
It is fast and pleasant to interact with it as the explanations are clear.
It is the best choice for:
those who regularly deal with college and academic assignments;
content writers;
businessmen and employees communicating online in English.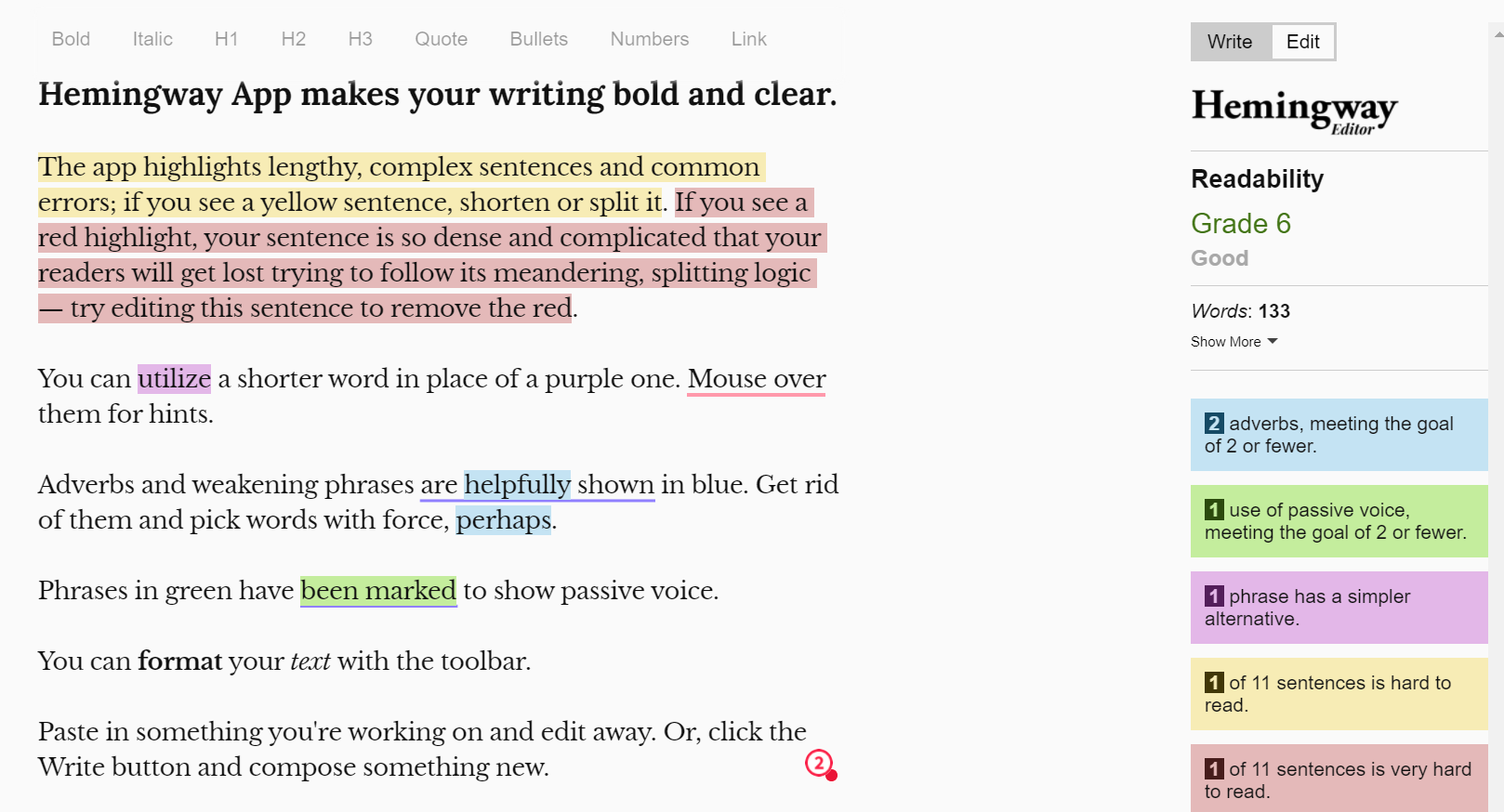 If your purpose is to compose easy-to-read texts, this application is right for you. Just out of curiosity we checked the piece of Ernest Hemingway's book and got the highest grade — 1. Theoretically, you can follow the program's recommendations and learn to create such stories too.
The core peculiarities of the program:
The highest grade (10) implies the worst result.
It works perfectly for short and concise texts, while longreads are often criticized by its algorithms.
Hemingwayapp does not like passive voice, excessive adverbs, and long sentences.
We could not find any additional adjustments in the free version.
The free version of the program does not store your information. If you write something in Hemingway and the connection is broken, you can lose data.
The main advantages
Nice visualization of suggestions (five types of recommendations are marked with five different colors).
Access without any registration.
One can format the document for publishing on the website (such parameters as , quotes, bullets are available).
When to use it:
for creating short texts (blog articles, essays);
when stylistic nuances matter (and grammar is not decisive);
to hone writing skills.
Helpful tip from our expert: Please, note that this online editor does not consider your punctuation and misspelled words. It only checks how your texts sound to readers. Please, utilize other software to proofread everything.
Authors often strive to be unique and recognizable, and cliches prevent them from this. Luckily, there is a helpful free program detecting too popular phrases.
Our experience of using ClicheFinder
Our review of editing instruments would not be complete without this one-of-a-kind program. When working on serious projects, we try to avoid repetitions and banal things. This is how we find our unique manner of writing, and this software helps us with this.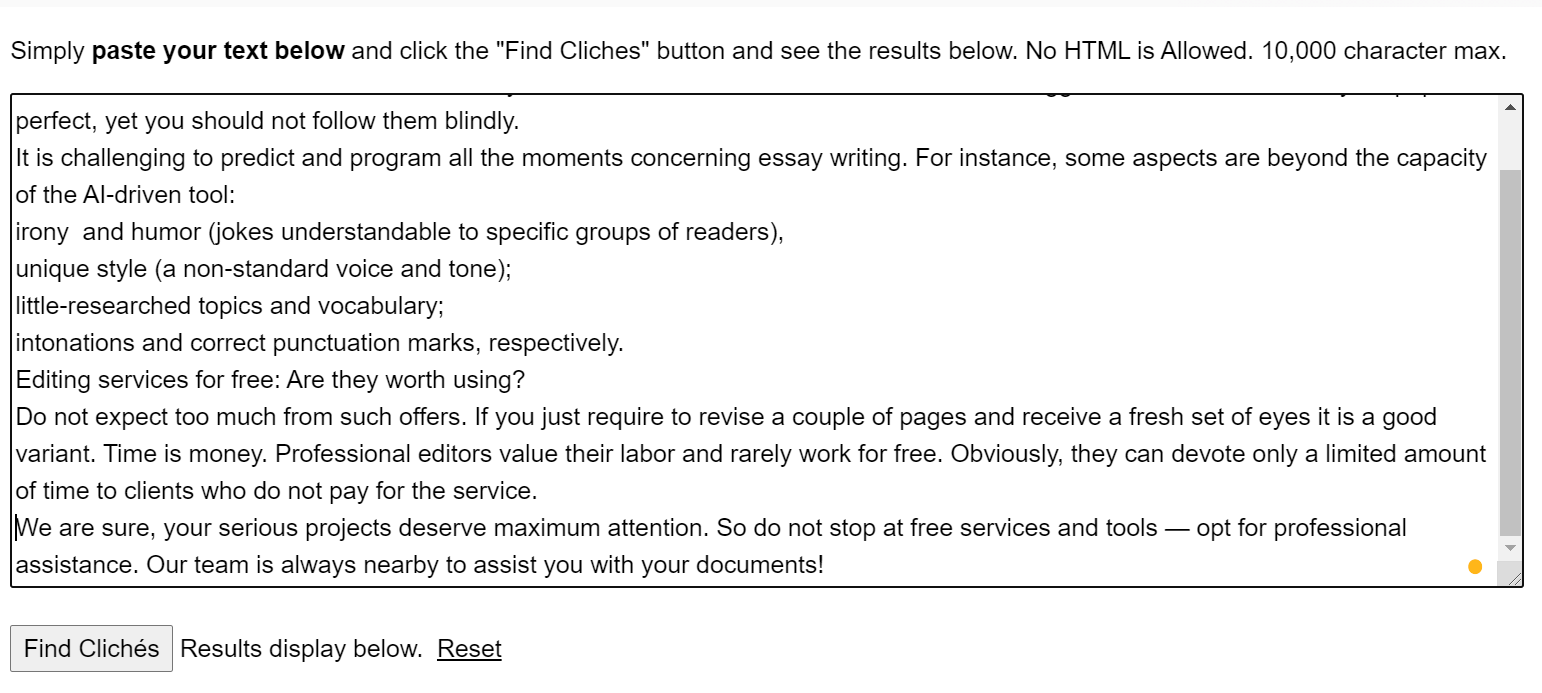 For instance, there was one cliche in the text of this article, and the program could easily detect it. We've liked that it was fast, effective, and free.
How it works
Obviously, this program is built on a big database of cliches. Its algorithm detects the popular phrase and demonstrates this result. Yet if you make any mistake in the words of this expression, the program will not determine them as a cliche.
The good news, ClicheFinder also checks misspelled words.
When to use it?
If you do not want to sound boring, check your texts with the help of this software. The elimination of cliches significantly boosts the quality of your writing, and it concerns practically all spheres:
research projects,
the textual content for websites and other online resources,
creative essays and articles,
personal documents (cover letters, resumes).
Compared to other editing software, ClicheFinder looks primitive, and its functions are restricted to spotting cliches. However, its algorithms on detecting popular banal phrases work pretty well.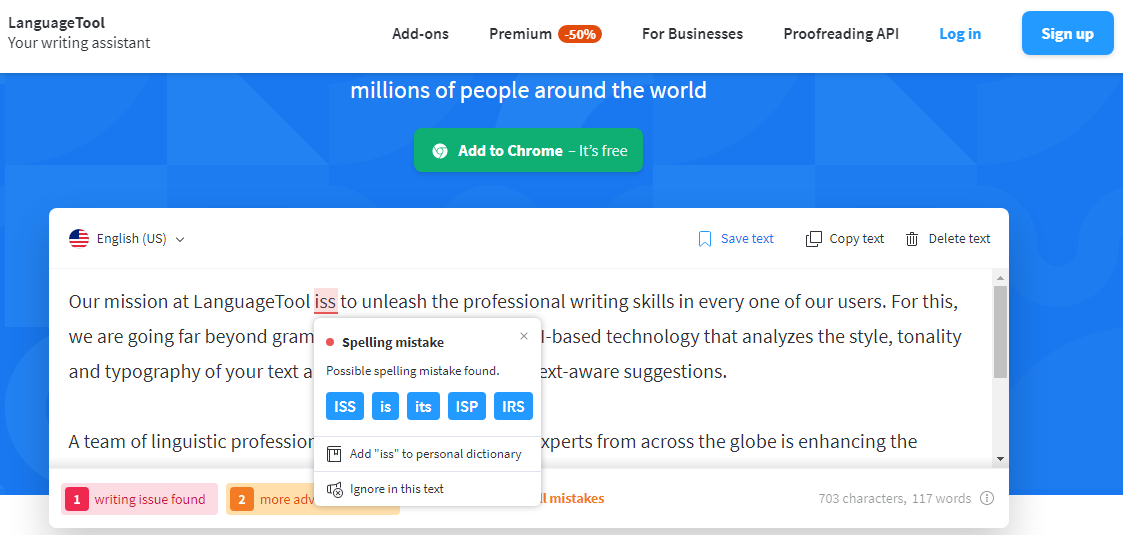 We have noticed that this program is similar to Grammarly — the principles of work seem similar.
The free version has its pros:
convenient to use (extensions for Google, Mozilla, Microsoft Edge, Safari, Opera are available);
fast speed of work;
pleasant interface;
understandable hints.
What we've appreciated:
It's possible to make adjustments (ignore some rules, upload a personal dictionary).
This software is not restricted to checking English texts, other languages are also available (including Portuguese, French, Spanish).
This website offers information support to users (check out the page with answers to FAQ).
The user can opt for one of two modes: standard and picky.
What you should remember when using LanguageTool (free version):
The texts are removed from your account in seven days.
You can download up to ten thousand characters in the program.
Here is one more program deserving your attention. With its opportunities, you can easily evaluate the readability of your text.
What has impressed us
We see its value in awesome statistics reports. They visually demonstrate all the necessary parameters of writing, and it is not only about the number of words.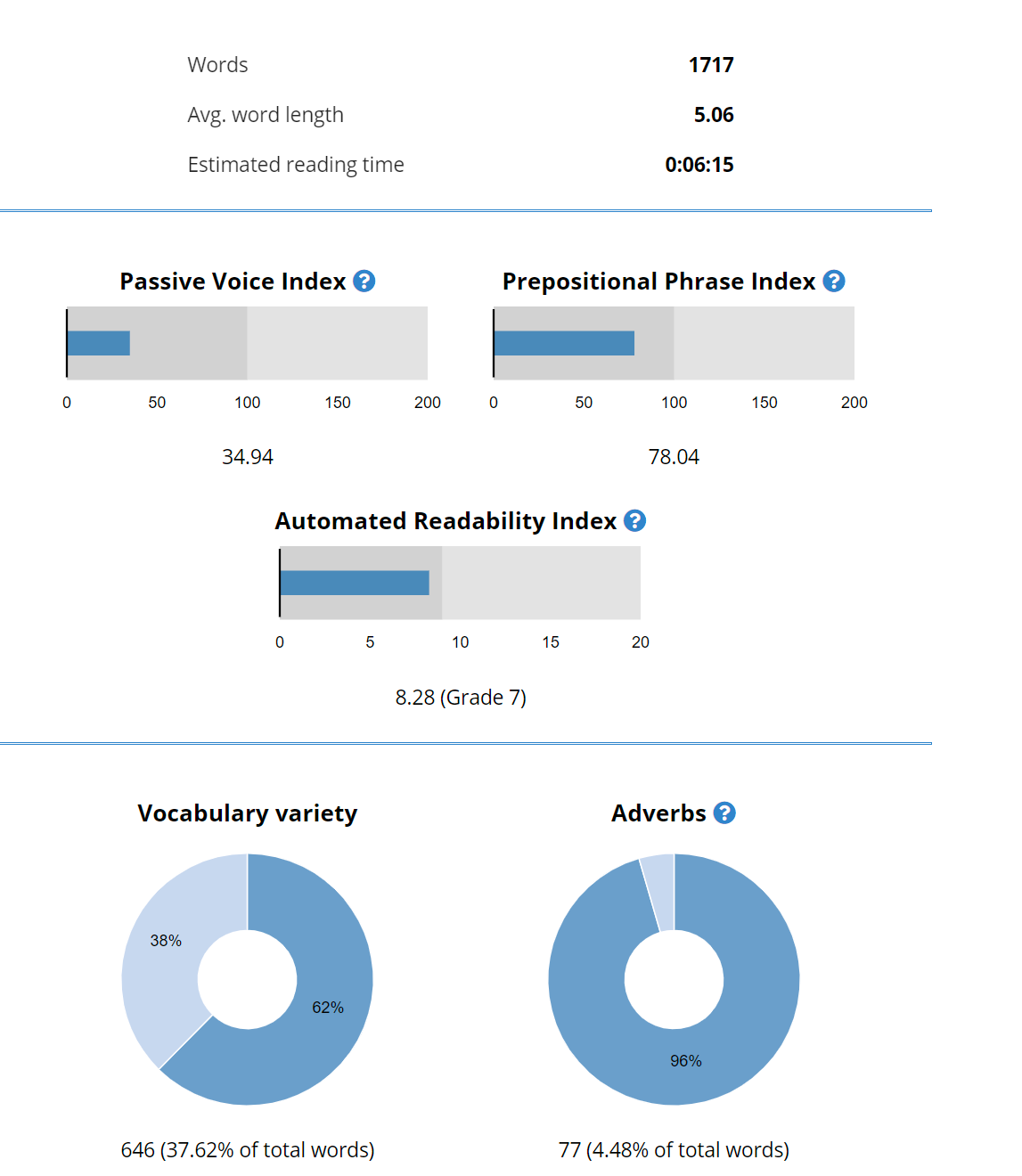 The program calculates data and shows:
the average number of words in the sentences;
the number of simple and complicated sentences;
the proportion of adverbs, verbs, pronouns in the total text;
passive voice index, etc.
With these clear diagrams, the report looks solid and compelling.
Do not forget about old good programs
Apart from the above proofreading instruments, you can also rely on algorithms of Google Docs and Word. Thousands of students tend to use these programs. We can say from experience that these means are still rather efficient and can catch typos and other nuances skipped by advanced Internet software.
How to use editing instruments
The AI is not the only one who is responsible for the results of online editing instruments. The user's actions matter too.
1) Set your parameters if possible
Many programs can be adjusted to your personal requirements. Let's consider the example of Grammarly.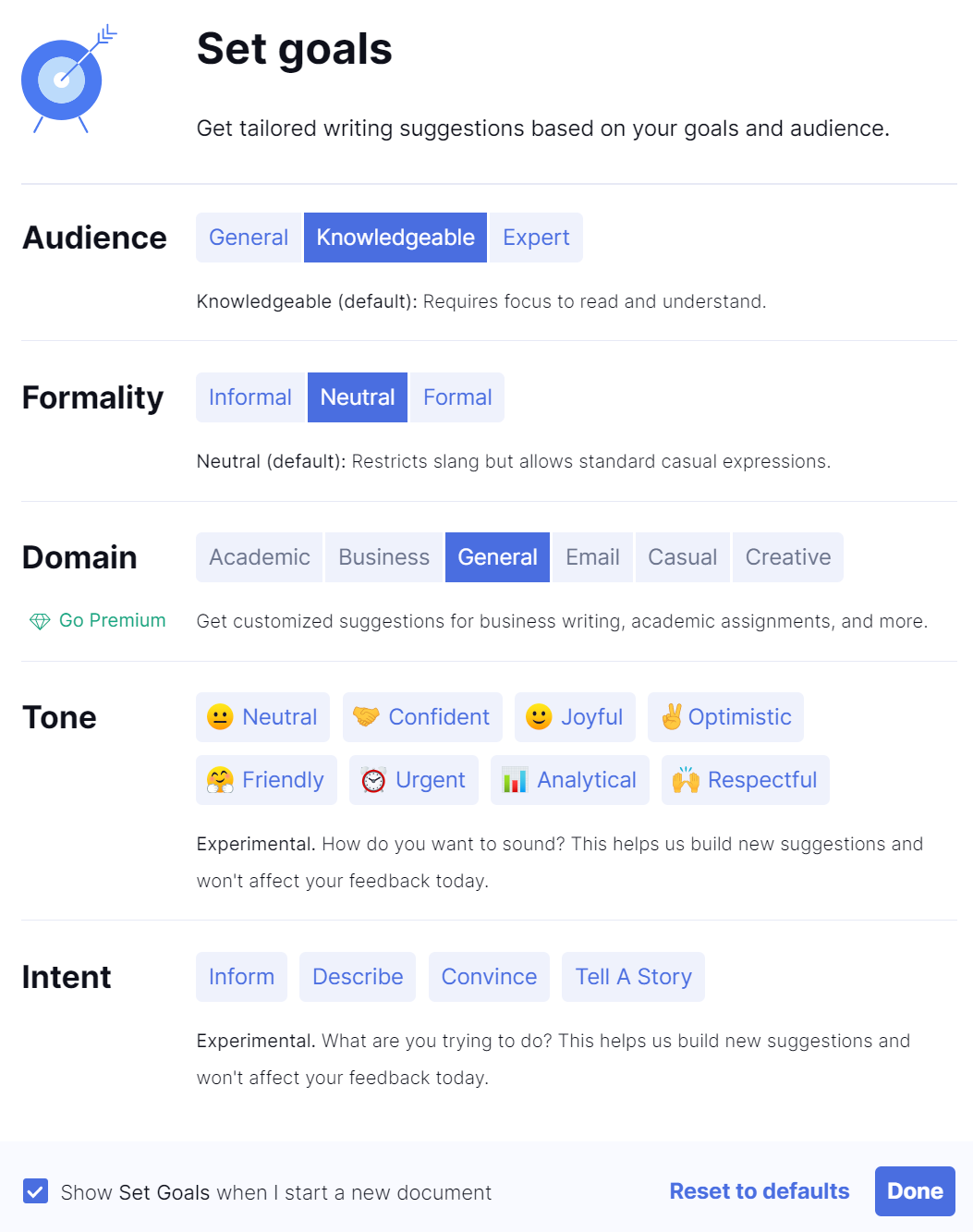 As you see, you are allowed to pick the tone, the purpose, level of formality, the writing style here. Thus, students would probably mark the 'academic' domain, 'analytical' tone, 'formal' and 'knowledgeable' parameters. When writing an essay on the free topic, opt for the 'creative' domain.
2) Expand your vocabulary
You can include little-known words in your text when writing an essay. Most algorithms determine such terms as spelling and grammar errors. To avoid such situations, add these words to the dictionary of the program. Thus, Grammarly has this function.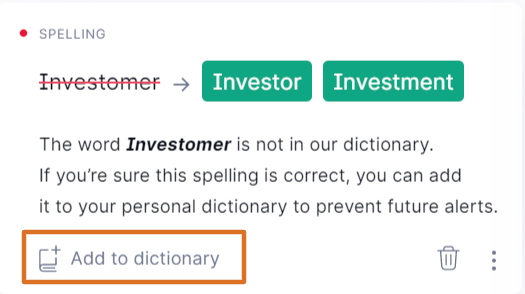 It is a really good function for students dealing with little-researched themes, neologisms, scientific terms, or any other specific vocabularies.
3) Interact with the program properly
Most cutting-edge algorithms of the editing tools are self-learning systems. It means that you can teach them. For instance, mark inappropriate suggestions as 'incorrect recommendations.'
We can say from experience that automated programs can offer unnecessary changes for:
the optimized sentence structure,
neologisms,
local language and dialect.
You can try to make these algorithms better. The program will eventually remember new nuances, and you will contribute to its development.
4) It's possible to use the combination of online tools
The best solutions arise due to the combination of several good variants. It's possible to apply this principle to the way you proofread and edit texts. For instance, leverage Grammarly for the general evaluation, add Hemingway to estimate the readability, and ClicheFinder to eliminate annoying phrases.
Professional advice: Download extensions of grammar check software for your browsers. It is a convenient way to check any types of texts that you create online. Thus, this article has been revised by algorithms of Grammarly.
What you should know about free editing tools
Do not allow AI to make crucial decisions for you. State-of-the-art software offers numerous suggestions on how to make your paper perfect, yet you should not follow them blindly.
It is challenging to predict and program all the moments concerning essay writing. For instance, some aspects are beyond the capacity of the AI-driven tool:
irony and humor (jokes understandable to specific groups of readers),
unique style (a non-standard voice and tone);
little-researched topics and vocabulary;
intonations and correct punctuation marks, respectively.
And do you trust editing programs when writing texts? Please, tell us about your experience, we appreciate your feedback. Our live chat is available 24 hours a day to accept your answers, questions, and orders. We are open to discussions and cooperation!
The guide from our essay editor
It happens that the check of the text takes even more time than writing. It sounds sad, yet we know how to optimize the editing process.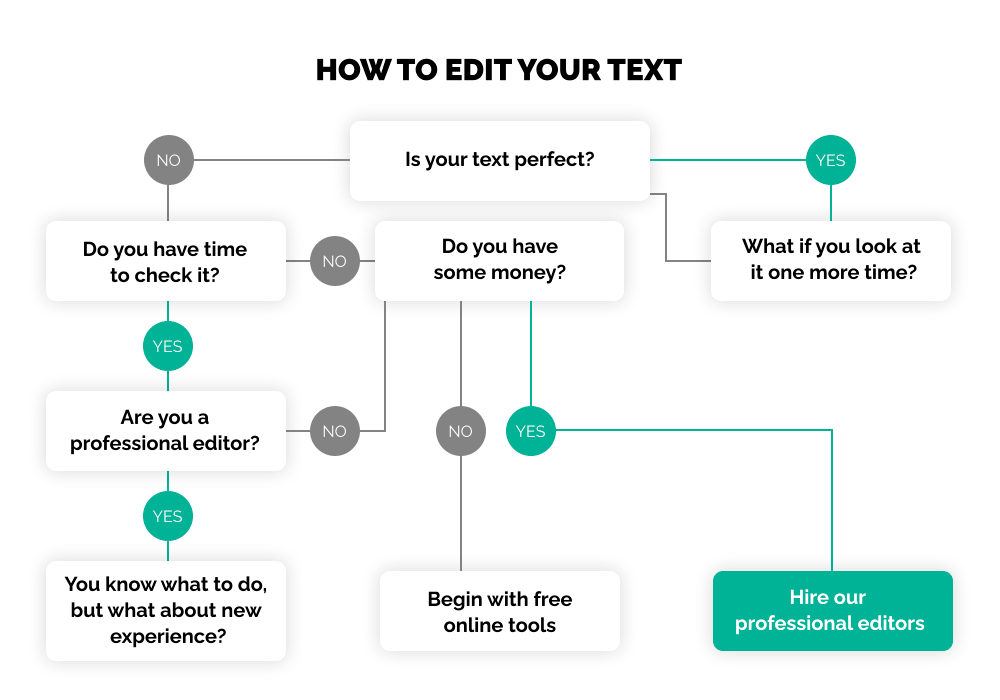 Essay editing checklist for your comprehensive check
We've prepared a concise plan for those who prefer short-and-to-the-point recommendations. Our team has been working in the sphere of editing textual content for more than ten years. The specialists have already reviewed thousands of academic and creative essays and transformed this experience into a valuable knowledge base.
Excerpt from our standard checklist on essay editing
Evaluate general grammar aspects:

☑ correct tenses of verbs
☑ articles
☑ the connection between a subject and a verb

Proofread every word:

☑ vocabulary in accordance with the type of English
☑ professional terms
☑ variety of words and phrases

Check how it all sounds:

☑ tautologies
☑ linking words (the number and relevance)
☑ informativeness (enough proof)
☑ reasoning

Pay attention to stylistic nuances:

☑ personal pronouns
☑ shortenings
☑ slang
☑ idioms

Revise compliance with professor's instructions and academic rules:

☑ structure
☑ the number of words one requires to submit
☑ citation style

This is how our editors do it in practice:

1) apply one of the automated instruments for essay editing;
2) read the text for the first time to evaluate its sense and readability;
3) read the text for the second time with a focus on every single word and symbol;
4) an independent editor looks at the text with a fresh set of eyes.
A universal guide on editing
Our assistants have established a short guide helping you to consider the core moments. We take comprehensive editing as the process of a check through so-called filters:
sense,
readability,
structure,
formatting,
grammar,
spelling,
punctuation.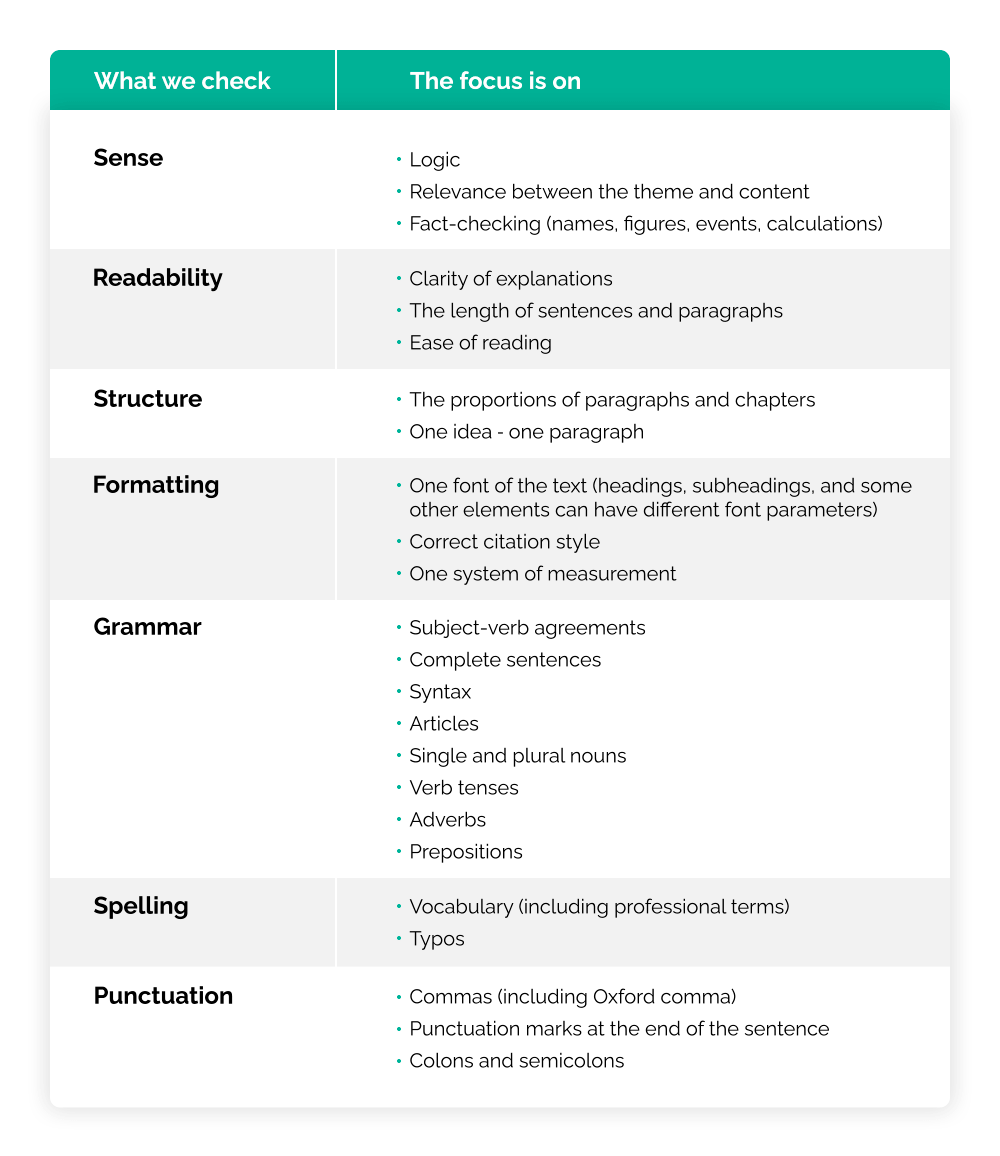 Pillars of effective editing
1. Decide on your goals
It all begins with the understanding of your aims. It is one thing to edit a simple essay for a high school, while a serious academic assignment is quite another matter.
Besides, you can easily adjust the automated editing program if you know:
the style of your text,
the readership,
the purpose of your writing.
2. Stay objective
Be honest and do not ignore even the tiniest mistakes. Do not close your eyes to typos, spelling, and grammar errors. If you have a personal view on the issue, double-check your suggestions.
3. Try to step back from your writing
Forget that you are an author and it is your text. Imagine that you're the strictest professor aimed to detect as many mistakes as possible. By doing so, you reach maximum concentration.
4. Edit in all dimensions
Incorrectly written words are not the only mistakes in texts. We advise looking at your papers from different angles. Serious projects are evaluated by several specialists: a proofreader, an editor, thematic specialists, independent consultants. Your job is to combine all their functions and ensure a comprehensive check.
The process of editing can seem extremely challenging, and we can always assist you. We offer all types of improvements for your textual content under flexible terms. The shortest deadlines are available: one can even count on 24 hour turnaround time.
Why editing is decisive
Excellence is what practically all authors strive to reach. No matter how experienced the writer is, his/her wish to express thoughts in the best possible light can create problems.
Practice shows that doubts in the final result are the main reasons for unfinished essays, stories, academic projects, and other texts. To gain enough confidence you require foolproof editing.
Self-editing is not enough
The lack of experience is not the only reason for it. It is all about human abilities. When you compose your first draft, you focus on ideas and thoughts, maybe even on the structure and logic. Meantime, grammatical errors and other nuances are overshadowed.
Free editing service: Myth or reality?
The cost-free basis is not only about automated tools. One can also encounter online editing services provided for free.
It is not a not pitfall, just one more way to promote the website or any other online project. In most cases, such proofreading or editing service is the part of an advertising campaign to draw attention to the Internet agency. As their user, you can receive an edited document within 24 hours. Who knows, maybe they are provided with the help of AI-driven programs too?
Editing services for free: Are they worth using?
Do not expect too much from such offers. If you just require to revise a couple of pages and receive a fresh set of eyes it is a good variant. Professional editors value their labor and rarely work for free. Obviously, they can devote only a limited amount of time to clients who do not pay for the service.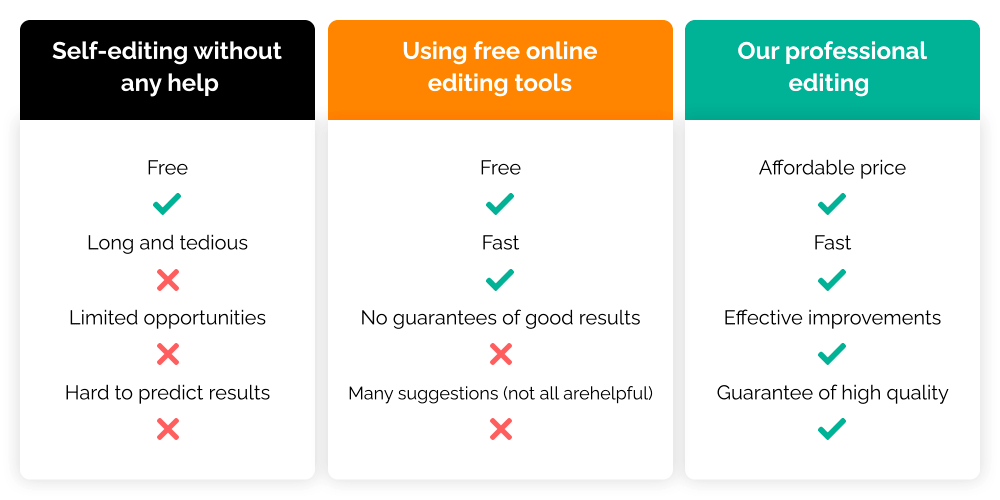 We are sure, your serious projects deserve maximum attention. So do not stop at free services and tools — opt for professional assistance. Our team is always nearby to assist you with your documents!