Statement Of Purpose Editing Service (SOP Editing)
All you need to improve your texts is here!
We understand that personal essays are challenging to compose. Indeed, common people rarely deal with such assignments and thus lack knowledge and practical skills of how to write them properly. If you cannot complete a personal statement of purpose or an admission essay, this post is just for you.
We'll tell you about:
how our awesome editing service will help you;
facts proving our reliability;
some stages of our working process;
secrets of the successful SOP.
Our professionals turn your intents into real achievements! Please, send us your statement of purpose, and we'll make it flawless.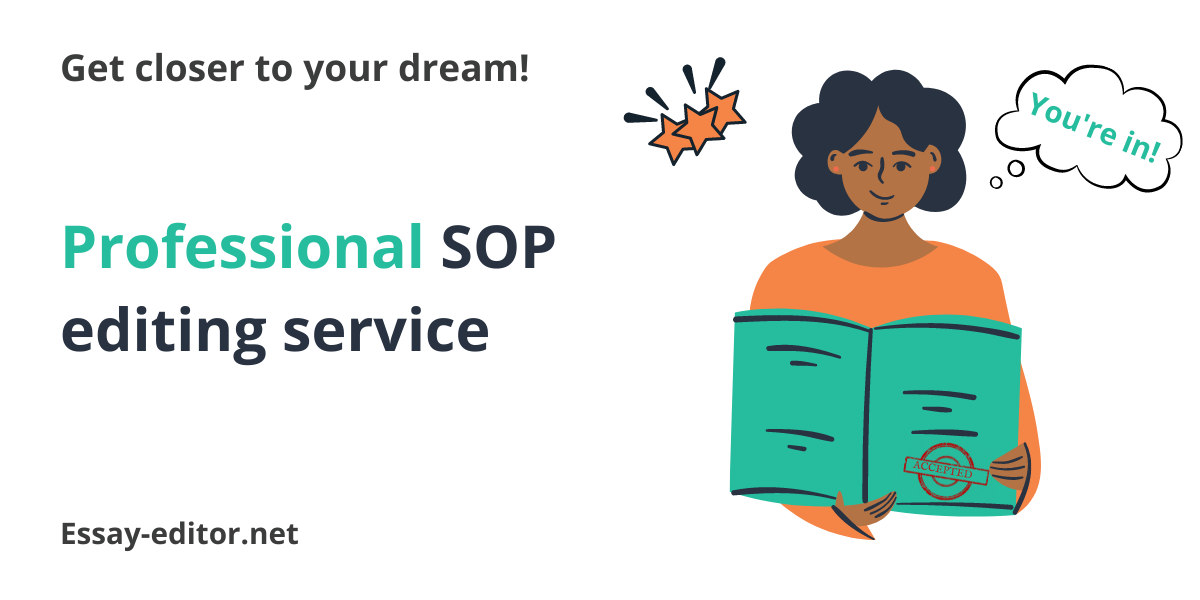 SOP editing services: What we offer
As a serious and trustworthy agency, we guarantee tangible results and convenient service. Our professional editors use all methods to bring your texts to perfection.
Make your story more persuasive.
Improve the readability.
Eliminate all the mistakes and typos, and many more.
SOP editing service: What you get with us
We develop this online business to make your life easier. It hurts when typos spoil the impression, or the sense of your thoughts is changed because of grammar mistakes. To avoid such unpleasant situations, we offer to use this professional service.
• Quality statement of purpose
Objectively, our specialists significantly increase the level of your essay. It is all due to serious professional solutions, a good eye for details, and creative ideas on how to improve your paper.
• Save time with our editors
When it deals with such a crucial project as a statement of purpose, a superficial quick review is not enough. One has to attentively check grammar, look at the text from different angles, analyze the sense and the tone, etc., and it takes much time. You do not have to dwell on these issues anymore. Delegate these tasks to our experts, and we'll quickly cope with everything.
• Feel calm and confident
With a perfect statement of purpose, you do not have to worry about any problems. No more issues about strict deadlines, nuances of spelling, stylistic details, the manner of self-presentation, etc. We keep everything under control so that you could stay relaxed.
• Enjoy our professional service
Finally, it is convenient to use our website. The chat is always online, and polite managers are willing to give informative answers to your questions. Would you like to know more about our statement purpose editing services? Need consultation on the edited academic paper? Please, contact our support agents.
SOP editing: Why choose us
It is always a good idea to turn to our agency for help. Whether you need structural editing or simple proofreading, we'll do everything in the best light.
• We understand what makes the best statement of purpose
Our employees have sufficient theoretical knowledge of how to compose such papers. We know everything about their goals, stylistic nuances, unspoken rules, etc. Our assistants regularly study the requirements of contemporary admission committees and monitor trends in the academic sphere.
• Highly qualified editors
Your paper is checked by true specialists. We hire only competent editors who have already obtained academic degrees. This educational background results in thorough checks and constructive suggestions for your document.
• Experience in editing statement of purpose
In our work, we successfully combine theoretical and practical knowledge. We have already made hundreds of young people happier by editing their texts. Due to this valuable background, we have established our inner systems of effective editing.
• You will like our prices
The final draft of the impeccably edited paper does not cost too much. We adhere to the affordable pricing policy. Firstly, we do good for our customers, secondly, our enterprise receives a big number of orders, and, thus, earns enough income.
See how amazing your statement of purpose can be! Get rid of grammar errors and enhance the persuasive tone of your story. Please, send us your text!
Online safety for clients
We strive to create a secure Internet environment, as it is an important matter of confidentiality, data protection, and safe communication.
• Money-back guarantee
We build an honest online business. This principle is reflected in affordable prices, transparent terms, and decent results of the work. If you find any mismatches between the points of your Order Form and the edited draft of the paper, we'll correct everything for free or send your money back. We want you to know about this opportunity, although it is a rather rare situation when something is wrong with our orders.
• Full confidentiality
Applicants might want to keep information about their orders secret. We respect clients' rights and preferences and never disclose private information about our users. Our employees sign strict documents of the inner confidential policy.
• Reliable payment methods
Financial transactions are conducted with the help of vetted variants such as PayPal, for instance. Everything is clear, understandable, and quick. One can learn more about other ways of payment on the live chat.
• Respect for your deadline
Due to high expertise, our team checks everything in the shortest possible time. As a rule, a personal statement is a short document containing about 650 words, so it is possible to revise it in a 24-hour period.
We care about every customer and user of our website. As our client, you risk nothing, — please, place an order without any fear!
Editing services for all purposes
For years of successful experience in the academic editing and writing business, we have gathered a big team of various specialists. This portal is a universal place where one can find competent assistance with any statement of purpose.
According to the level of education, we assist with papers for:
high school
college and university
graduate school.
The way to the Ph.D., Master's, MBA degree is easier if you work with our editor. We also help you become a participant in the internship and scholarship programs.
As a result of our service, you will receive a perfectly completed text. It will help you:
impress the admissions;
prove that you are a worthy candidate;
explain that you have big plans to apply the gained knowledge.
We have already helped hundreds of people become students of different programs and educational institutions.
The team of our company successfully works in all contemporary fields of academic knowledge:
Law
Technology
Business and Economics
Linguistics and Philology
Psychology and Sociology
Math
Computer sciences, and many more.
Why do you need a personal statement? Please, tell us about your goal, and we'll find the most suitable solution! Contact us on the chat.
Brilliant statements of purpose
There is no one ideal template for all statements. It is because of a great variety of programs on the one hand and different personalities of candidates, on the other hand.
Meantime, there are some moments making your statements of purpose more successful. We have already improved hundreds of personal essays, and now can say from experience, that this model really works.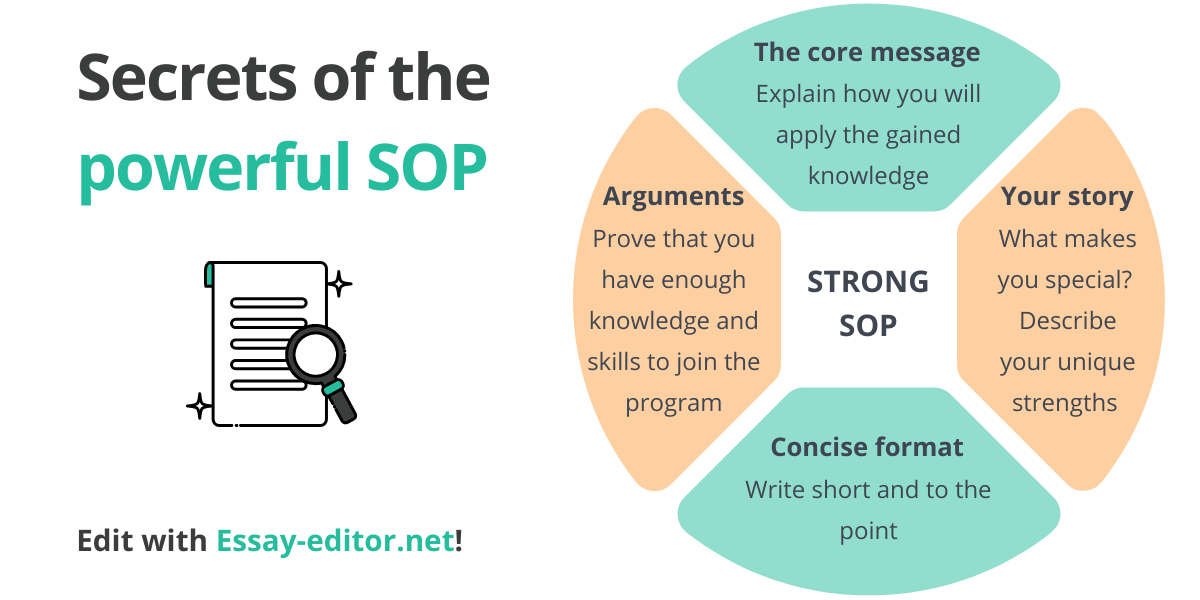 1) Focus on the Why of your intentions and emphasize future perspectives
The sense of a successful essay is to demonstrate your value for the particular admission committee. Representatives of colleges, universities and other institutions would like to see that you are a promising student for their program. But most of all they expect to find evidence that you will keep developing the gained knowledge in the future.
Any educational, research or science program invests a lot in a new student. Obviously, they want to receive a sort of return. Your desire to move science forward is a good argument for the admissions.
2) Stress your unique talents
There is no sense to retell all the biography in the statement of purpose. Your official documents already demonstrate this information. Instead, pick your special features proving your value for the educational institution.
3) Find good arguments
What makes you a promising candidate for the future study program? Put yourself in the admissions' shoes. Strong relevant facts make your story persuasive. Here are some hints.
Explain that you are prepared well enough.
Alongside a high GPA, I have obtained additional knowledge at professional online courses.
Emphasize your growth mindset.
I adhere to the philosophy of lifelong study. The contemporary and future world is about the constant development of knowledge, and I find several hours every week to learn something new.
I believe that hard work is more important than natural talent. When I first came to the dance studio, the trainer told me that I was not a promising artist. These words made me work harder than other children, and it was not in vain. In several years, I won the New York Championship.
Demonstrate a non-standard approach to the solution search.
I am not very good at Physics, yet I am passionate about Mathematics. Once I could not solve a problem in Physics, so I just used one of the methods from Geometry. The answer was correct, and now I know that good decisions often lie at the intersection of different professional fields.
4) Let it be a concise story
The word count of the average personal statement is about 650. So, you have one or two pages to draw your image of the perfect candidate. Do not think that long texts will impress the admissions. On the contrary, such a concise format demonstrates the student's talents to select the most crucial information and formulate thoughts clearly.
If your text lacks some of these conditions, our writers and editors will help you with that. Please, contact us on the chat!
How we edit your personal statements
Make sure, our editors are qualified specialists, so your documents are in safe hands.
1) Analyze your goals
Firstly, our assistants carefully analyze your Order Form. It is crucial to understand where you are going to submit your statement. This information determines the style and content of the future essay. Please, tell us what you expect from the edited paper, and we'll find a suitable approach to your order.
2) Structural SOP editing
We'll revise the structure and the sense of your text to make it sound convincing. Suggestions from our professionals are experience-based, and, thus, — efficient.
3) Grammar check
Every symbol, letter, word, and phrase is attentively revised by our expert. We try our best so that you could submit a shiny statement of purpose. And you pay a low price for this impeccable result. So why not try?
What if only one document can determine the way of your further study or career? A statement of purpose is decisive for your success. And we are here to make it perfect! Please, place an order!