Difference Between Revising And Editing: All You Need To Know
Modern teachers and professors expect flawless essays and reports from students. No matter the subjects or level of education, a perfectly composed text is a must for your academic achievements. We understand how challenging this writing process can be and, thus, offer competent services to help you with it. Editing or revising, choose your variant. We are here to explain the difference, as well as provide professional assistance with any issues related to texts.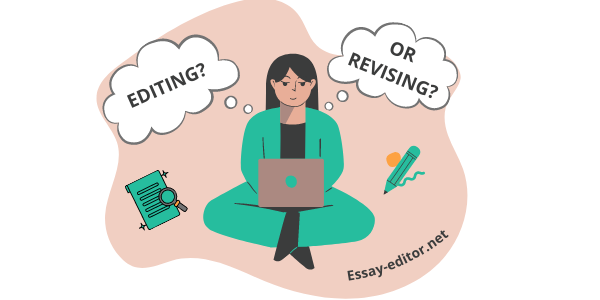 This article is written to explain:
what comprehensive editing covers;
results that you can expect from professional revising;
situations when it is recommended to use each of these services.
The understanding of the difference between revising and editing is important for those who:
want to order online services;
aspiring editors choosing a professional path;
young entrepreneurs starting a business in the field of online editing services.
You will get a clear picture of the editing and revising nuances. And if you want to save time, skip this post and send us your assignment. Our support managers will analyze your request and offer the most suitable solution to it. Please, contact us on the chat!
Editing vs revising: Are they the same?
The work on the academic text does not stop at writing. The student has to check grammar, stylistic nuances, compliance with the formatting rules, etc. Plus, professors and teachers can make comments on the submitted text and ask him/her to clarify the main points of the research or add any other information. All these assignments often seem dull and tiresome. So it is logical that modern learners prefer to delegate them to online specialists.
Meantime, when you go to the online world for help, the diversity of services can confuse you. Internet specialists promise to edit, revise, proofread your manuscript, etc. We want you to understand important distinctions between the two most popular services: editing and revising.
Revising: What to expect from this service?
Teachers and professors can set extremely strict requirements. Some instructions are so incomprehensible that it is challenging to understand them; let alone follow every point of these long guidelines.
Academic revisers will help you with that. For instance, our experts specialize in all directions of revising:
they can add specifications,
clarify weak moments;
explain unclear ideas and suggestions;
dive deep into details and describe missing elements.
The first draft of the student's paper might lack accurate and full descriptions of:
meanings;
events;
theories and hypotheses;
concepts, etc.
Due to competent academic re-vision, one can get rid of all these weak places.
There is a big difference between editing and revising. And if you are aware of all the nuances, you can get the maximum effect from online editors. Do not overpay for excessive services — purchase only what you really need.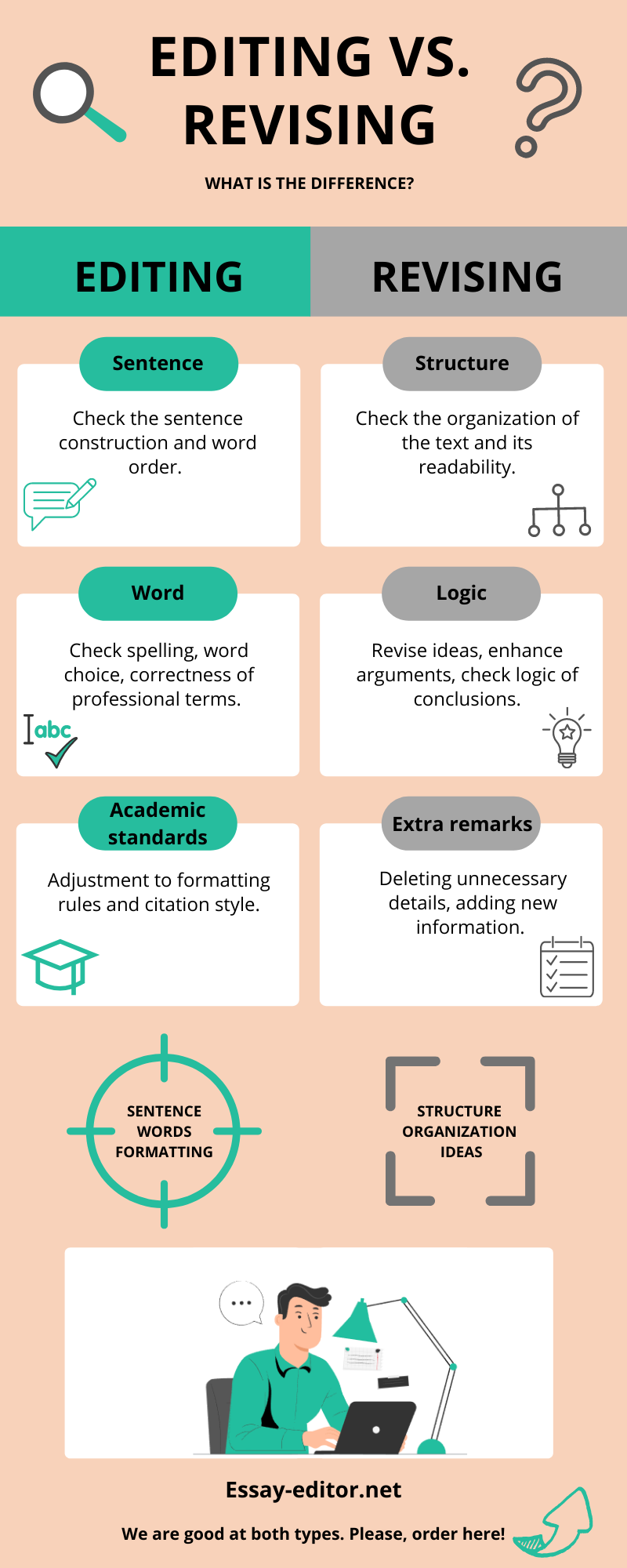 The meaning of academic editing
This service is one of the most popular students' orders. It is because it is aimed at adjusting the text to academic writing standards.
The major changes include:
proofreading (that is correction of grammar and punctuation errors);
improvement of the sentence structure;
adding harmonious transitions between chapters of the text;
writing references;
formatting according to the chosen citation styles;
elimination of superfluous information;
adding some excerpts.
Professional comment: Editing and revising are two services that imply different manipulations with your texts. It is wrong to use these terms interchangeably.
Revising vs. editing process
Editors and revisers implement different functions when bringing your texts to perfection. Our team has representatives of both professions. That is why we can describe their duties from experience.
Duties of the reviser usually include:
check the logical flow of suggestions and improve them;
help the writer reorganize parts of the text;
enhance arguments proving the hypothesis;
So, the reviser's working process comprises such steps:
1) read the text attentively to evaluate if everything sounds logical and convincing;
2) delete unnecessary parts to make the text more informative;
3) enhance the clarity of the text by getting rid of controversial opinions;
4) improve the readability by optimizing the organization of the text;
5) write new sentences if it is necessary to explain incomprehensible moments or dubious conclusions;
6) establish a completely different perspective on the topic where needed (re-seeing of concepts).
A true revision is a serious service that raises your text to a new level by optimizing its composition and logical meaning.
Professional responsibilities of the editor
This specialist checks the text in terms of sentence improvements. In many cases, editing covers proofreading too.
The editor focuses on:
the optimal structure of every sentence;
words choice, including professional terms, slang, etc.;
readability of phrases;
transitions between sentences.
This is how the process of editing usually looks like:
1) read every sentence in detail, word by word to analyze its construction;
2) replace tautologies with suitable synonyms;
3) check if all words correspond to the chosen writing style;
4) analyze the correct use of passive voice and the active voice;
5) delete unnecessary words in long phrases;
6) find more suitable words for the author's goal (i.e. add more verbs to make the text more dynamic, add more adjectives for a descriptive essay);
7) correct verb tenses;
8) correct spelling mistakes and wrong punctuation.
The editing process can also contain other different stages depending on the genre of the paper and the author's requirements. For example, our team also specializes in academic formatting. Besides, we can adapt your article to any editorial policy if you want to get your text published in a popular periodical.
Editing and revising as the final stages of the writing process
Many writers use professional revising and editing help to complete their works. These stages are essential to get a fresh set of eyes, evaluate the book from the perspective of the reader, as well as eliminate mistakes and typos.
In the same way, contemporary learners need expert assistance with their texts.
Usually, revising goes first, and editing (including proofreading) becomes the last step of work on the text.
If you are still not sure what to order: revising, editing, or both, please turn to our team. We'll analyze your situation and offer the most suitable package of services. Let's discuss everything on the chat!
What to choose? Most popular requests
Different editors help students and authors with various goals related to writing. We constantly deal with a big number of orders from writers and learners and know about the most frequent questions. Here are answers to some of them.
What specialist should I hire if I want to improve the sentence structure?
The editor is responsible for the correct construction of the phrase. That is why if your issues are mainly about sentence structures, please, hire our editor. He/she will ensure a correct word order, proper links between words, suitable verb tenses. Plus, we'll check your punctuation as it also determines the sense of the phrase and its emotional expression.
What if I need to check the word choice?
Professional terms can be extremely challenging to understand and use in texts. Our editor will help you with that. We'll eliminate tautologies, slang, and simply weak words to make your text sound better. This offer is widely used by foreign students who have a small vocabulary of English words.
Is it possible to order a complete revision of the text?
Yes, sure. Our specialists can provide revising and rewriting services. It means that we'll consider your instructions and correct everything beginning from the initial plan, logic, findings, etc. Please, upload files with your comments, and our team is willing to provide these fundamental changes. Our revision services help you cope with the professor's remarks quickly and efficiently.
Helpful hints on how to receive a good editing service
As a rule, revising and editing are two tasks with different goals. The first one is aimed at improving the content and plan of the text, while the second one optimizes your writing at the sentence level.
Meantime, revising and editing can be used interchangeably. Some people are not aware of the borders between these two terms, and it leads to misunderstandings.
When ordering an online editing service, please, always clarify what exactly you expect from them. It is a good idea to make a list of possible points, i.e.:
to detect and correct spelling mistakes in words;
to eliminate language mistakes;
to add the character development;
to prepare the article to the editorial policy for its publishing in the particular journal;
to improve the writing flow;
to remove unnecessary words;
to analyze the professor's comments and adjust the text to them, etc.
Where to order both revising and editing services?
Of course, there are narrowly specialized agencies that offer only editing or only revising assistance. On the one hand, it is good that they focus on one direction and develop their capacity in it.
Yet we consider that it is not convenient for users to find several editing companies for different goals. We had some discussion on this issue, where clients and specialists took part. As a result, we have created this universal portal. It unites experts in all possible kinds of editing and other improvements of texts. It is here where you can finally find skilled specialists for any issues related to academic writing.
Please, tell us what you need to improve in your paper, and we'll easily and quickly cope with this task. Let's begin our cooperation — place an order!