APA Editing Services: All The Truth You Should Know
Citations styles and formatting are boring. And if it is your first time when you have to apply them, everything can seem extremely tiresome. When you do not want to dwell on such routine tasks, an online editing service can save you from them.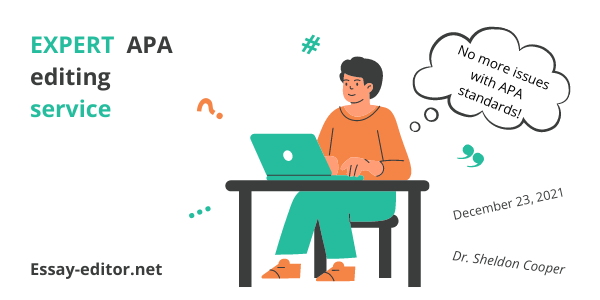 In this article, we'll answer the most popular questions from our users:
What does the APA editing service imply?
How to choose a trustworthy editor?
Is APA style only about formatting?
If you are here to receive prompt editing assistance, please, place your order. We offer good discounts at the moment!
This post is helpful for:
authors of journal articles;
students of college courses;
everyone who is curious about APA style.
APA style editing: What does it mean?
APA editing covers all types of corrections and improvements adapting your text to the rules of the American Psychological Association style.
The official APA website presents standards for:
title page;
manner of presentation (tone, vocabulary);
samples of references;
format of the paper;
citations, etc.
One can also find samples of the correct pages and projects on the main APA style portal.
Helpful hint: When you format the text of your academic paper, trust primary sources of standards. It deals with your professor's recommendations as well as official Internet sources. Learn from the best at once; otherwise, you might have to redo everything.
In general, APA format rules are about:
placing a correct number of lines;
centering the text;
using capital letters;
headings and subheadings;
punctuation marks;
spacing between letters, characters, words, lines;
date formats;
page numbers;
fonts and capitalization;
the sequence of words in people's names;
correctness of citing sources, and many more.
It all might sound uninteresting, and we do not want to overload you with a bunch of boring information. Just order our service, and we'll do it all for you!
Why hire APA editors?
Today, APA editing services are getting extremely popular. It's all due to their efficiency. Indeed, you save time and get rid of monotonous tasks.
1) Adapt your paper to APA guidelines with ease
Actually, you don't have to do anything — expert editors will correct everything for you. For instance, our specialists work according to the latest APA style guide and guarantee the correctness of text citations and proper formatting of the whole document.
2) Get more spare time
You might have already spent much time on research, writing, and the ideas generation process, and now formatting seems too much for you. Professional editors will adapt your project to APA standards quickly.
3) Stay confident in the perfect formatting
Students using professional editing assistance do not doubt the quality of their projects. An expert level guarantees full compliance with APA rules. Thus, you can finally stop worrying about all those citations, margins, page numbers, and other nuances of formatting.
Do you still think about whether to hire an APA editor or not? Just imagine how everything becomes easier without this endless formatting! Try today.
How to find a reliable APA editor?
Word of mouth is probably the best way to learn about good editors. If you do not have any helpful references, try to make individual research of available variants.
Of course, the easiest way is to turn to our team, at once.
Yet we are not afraid of the completion, so here are some recommendations on how to spot a skilled APA editor.
Review online editing agencies
Internet services are convenient and cheap to use. Unlike offline offices, you do not have to go anywhere: it is comfortable to make deals with editors via online means. Besides, the competition between Internet companies is rather strong, and, correspondingly, the prices of such services are quite affordable.
1) Evaluate the website
The online platform is the face of the Internet resource. It must not be a super fancy website or profile. The main thing is informativeness, user-friendliness, and safety. Our site is just like this.
2) Ask about editors' opportunities
Find out if the editor specializes in APA rules and works with the latest version of this citation style (the last edition).
Plus, see if the professional has experience in editing your format of papers. One thing is to edit a short academic essay, and formatting of the thesis or dissertation is quite another matter. Let alone preparation of the manuscript for publication.
3) Check editors' skills
Test how good the editor is: ask about his/her sample of work or other evidence of experience and professionalism. This step is crucial if you are going to order editing of long university projects, such as dissertations, for instance.
4) Analyze their communication system
Instant feedback speaks of reliable service and support. And it is not a serious approach to the business if you have to wait for hours to get an answer.
As for us, we provide an around-the-clock chat for users and clients. Please, feel free to contact us whenever you wish.
5) Discuss terms in advance
Please, negotiate all the conditions before placing the order. It deals mostly with the turnaround time, price, and expectations from the final variant of your text.
Editing is a rather wide concept, and companies might understand it differently. It could be only formatting according to APA standards or wider opportunities.
And as for our team, we offer all types of improvements bringing your documents to perfection. Our service is not restricted to simple formatting — we consider all official principles of APA standards.
Much more than formatting
As a professional service in the sphere of academic editing services, we know that APA standards cover a lot of aspects apart from formatting.
Flawless grammar is the basis of perfect texts
Our specialists thoroughly check spelling, language errors, punctuation. What is important, they consider specific requirements of the APA:
the nuances of using personal pronouns ("they" and correct alternatives; first-person pronouns);
active and passive voices;
tenses;
clarity of logical comparisons;
anthropomorphisms.
We check every reference
Serious academic papers are based on a big number of sources, including universities archives, online articles, in-house institutional documents, etc. Our experts are good at citing all types of data:
academic research databases,
unpublished materials,
official primary sources, etc.
Our employees know all nuances of citing printed and online sources. We check the correctness of the following moments:
completeness of the reference lists;
its elements;
citing anonymous authors, etc.
Visual objects of the academic paper
Tables, charts, diagrams, and other pictures also have rules of formatting. We revise if they are properly composed and pay particular attention to their headings, titles, numbers, and other elements.
Neutral, free from bias style of writing
A tolerant honest manner of presentation is a must for all academic projects. We analyze if the information of your paper is specific and real. And it does not have to hurt people's feelings.
It is convenient when the agency offers proofreading or structural editing alongside the formatting. For instance, here one can order a full package of editing services. Try now!
Fruitful cooperation with APA editing specialists
The decision to hire an editor will bring you numerous advantages, especially if you opt for our team. Finally, stop worrying about all those fonts, margins, alignments, stylistic nuances, and other rules of APA. We are here to do it all for you. Let's discuss your project. Please, contact us on the chat or place the order!