SEO Content Writing: Helpful Hints and Useful Advice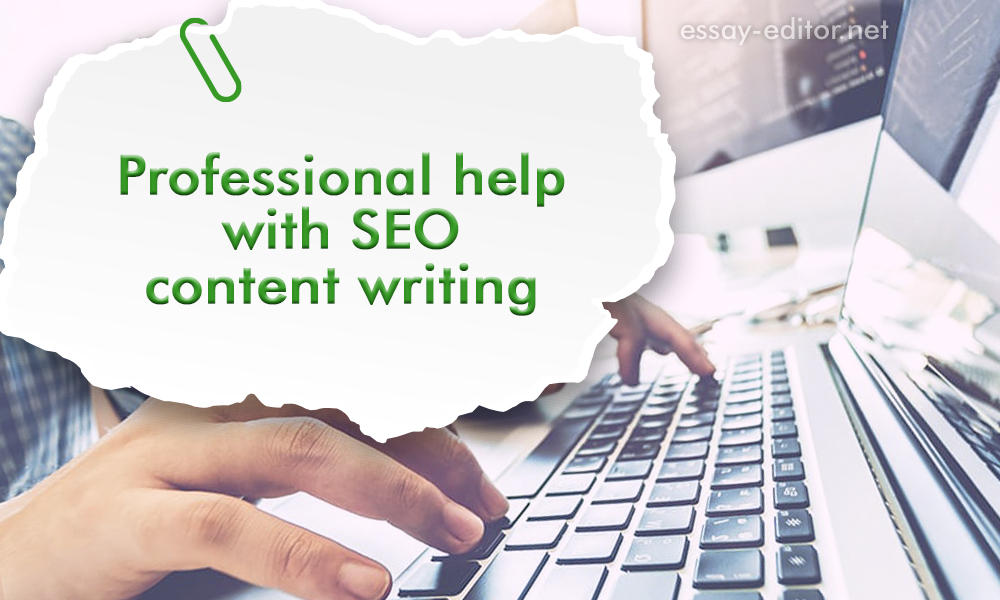 Order professional SEO content writing services at the cheapest price for the best result
Good content is a material that has the following features: uniqueness, usefulness, relevance, colorfulness, informativeness. Why should content be qualitative? Any website needs materials. A user, surfing the internet, looks for the answers to the questions that interest him (or her). The task of any content is to meet the needs of a user.
The need for information – a user needs information and the internet serves as a huge encyclopedia where it is possible to find the answers to any question.
The need for entertainment – a person wants to have a rest. He (she) looks at the pictures of kittens, watches funny videos on Youtube, etc.
The need for communication – a user wants to talk to someone, to contact someone.
Let's speak about the content quality. A qualitative content allows a site to be better ranked in search engines and attract more visitors.
The work algorithms of search engines have made significant headway, and now it is not enough just to "stuff" a website with a big number of links. It is also necessary to fill it with a good content. Search systems take into consideration the uniqueness of content and the average time that the users spend on a site reading the posts. The date of publishing and the date of the last update are also considered. The more recent it is the more current material it contains, and the more quickly it will get in the top.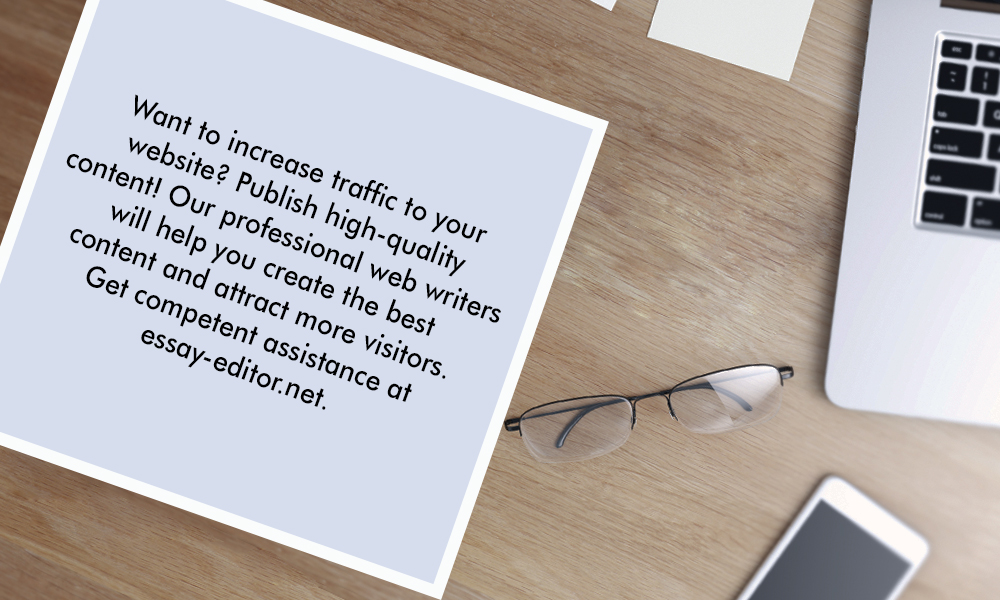 Good materials attract the visitors to your site. Visitors prefer to buy from someone they trust to. If you write an interesting post, it will be shared, people will know about your site, and it will get a good reputation. All this will help achieve the main goal – profit.
Qualitative content types
1. Text. News, articles, posts, notes belong to this category.
1.1. Copywriting is the author's unique material. It is based on personal experience and knowledge of an author.
1.2. Rewriting is processed information. Data is taken from various sources, processed, and rewritten. A text is unique but the data used for it has been already used previously.
1.3. SEO text is a text optimized for search engines. It contains key words. It depends on author's literacy whether the key words are used in text successfully and do not strike the eye.
1.4. Plagiarism is a text copied from a source. Such a text has minimum changes or no changes at all. More details on the issue of plagiarism are presented in this post: http://essay-editor.net/blog/how-to-avoid-plagiarism-in-your-text.
2. Video content.
2.1. Video-clips.
2.2. Live broadcasts – streams, webinars.
2.3. Inforgraphics – graphic presentation of information that allows explaining complex data quickly and clearly.
2.4. Images, presentations + audio files.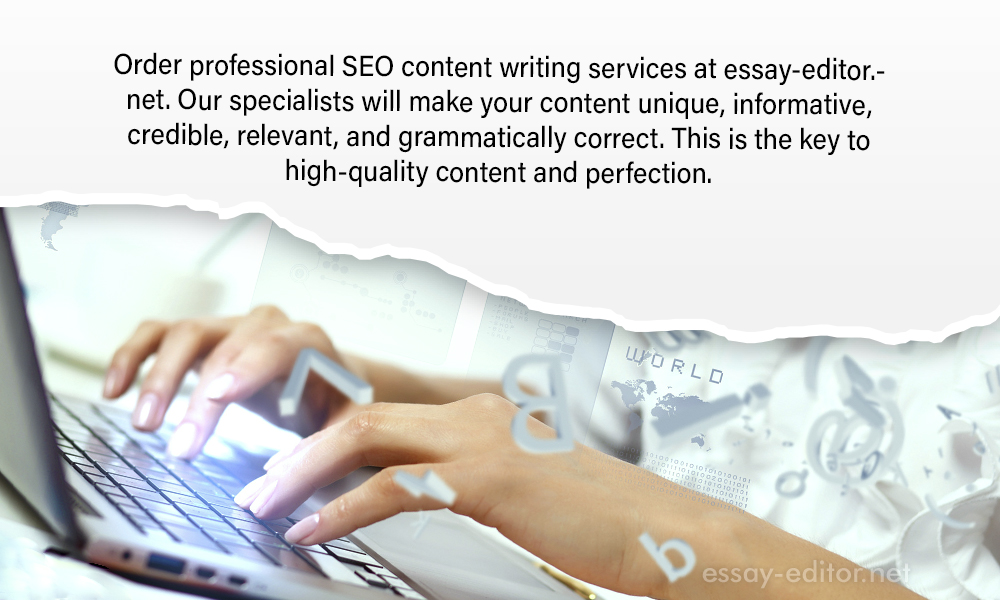 When writing SEO content, our specialists take into account the features of a qualitative content
Qualitative content features
A good content possesses some features. They influence the ranking of a site and the visitors' attitude to it.
1) Uniqueness. A good content is a unique content. Search engines appreciate the author's texts and images that do not match with the materials of other websites. The pages with unique posts are indexed by search systems more often, rise in the top, and attract more visitors.
The most surefire way to create a unique content is to create it by yourself. This is the most difficult and long way but the expenses will be paid off. Select a current topic, it can be a recent significant event in your field, for example. You can write about it something that interests you or your audience. For instance, at essay-editor.net, we write what interests us, and we know that the things we write about interest our audience as well. We get a topic, look for the reference material, and produce our unique high-quality posts. We process the materials, give the examples from our personal experience to them, add comments of qualified specialists, etc. As a result, we get an interesting material that can help the readers understand the problem and answer most of the questions.
2) Informativeness. Your material should be useful somehow. Before writing an article, ask yourself: "What goal do I want to reach when I create this text?". Focus on the main. A text, in which its author dances around the subject and talks too much, is very hard to read. The readers' reaction to such a text is usually as following: "What I have just read? What for?". Keep the reader's attention, give him (her) food for thought all the time. The most important is to stay on topic. If 3000 symbols are enough to present your topic fully, there is no need to increase its size purposefully.
3) Credibility. We have already mentioned that good materials require good sources of information. Use only those facts you are sure about. It is better to check for a hundred times and write once rather than apologize to your audience for the made factual mistakes. Thus, on our site, you can get not only the cheapest online proofreading services but also ask to check data used in your materials.
If your materials are supported by credible facts, it will make your readers trust you. There is nothing better but respect from the visitors of your site. It will secure that the users will come back and increase the number of sharing your materials.
4) Relevance. Content on a site must be relevant. Relevance is not just the review of developments that have happened recently. Relevance is what a reader can perform just right now. If you give 5 tips, their relevance means that a user can close the tab and apply your tips in practice already now. You can also invoke the facts that have happened several years ago but have not lost their significance. Monitor conformity of the used facts with the topic of your material.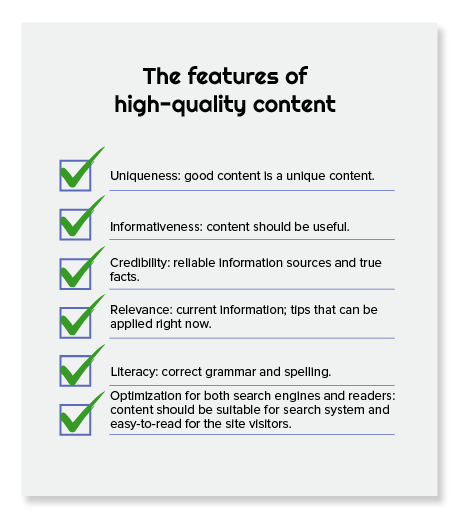 5) Literacy. If you create a text, do it grammatically correct. If you shoot a video, speak correctly. A good speech, both written and oral, is always pleasant. Today it is harder to find the posts that contain mistakes. You want to be better than your competitors, don't you? Check your texts for spelling and grammar errors then. It is not as difficult as it seems to develop literacy. Just read more good books and, with time, you will develop language flair, i.e. intuition of how a word is correctly spelled. Also, keep in mind that self-check is often not enough and a professional approach is needed. We want to offer our help at an affordable price. Read more about the importance of competent check here: http://essay-editor.net/blog/professional-proofreading-vs-homemade-check.
6) Optimization. This is an obligatory condition. No one will see the materials not optimized for search engines. Material optimization for search engines and users implies the following elements:
Good URL address: it increases the speed of indexing and is better received by the audience.
Optimized title H1 that contains key words.
Text structure and hierarchy. Headings, subheadings, lists. It is more comfortable for a reader to work with such texts. Also, search bots prefer the texts that have clear structure.
Relevant links inside the site and the ones that lead to the site. They help the reader to navigate in the materials, provide quick access to important sections. Search engines also consider the number of links of a site.
Writing web content for SEO: fill the site with a qualitative content
Filling the site with a qualitative content
In this case, quality is more important than quantity. A common mistake is to fill a site thoughtlessly with different materials of a poor quality. Some site owners aim to publish as soon as possible the texts with the senseless inserts of key words.
Do not chase after the quantity. Let your publications be less frequent but every post will worth its weight in gold. Bear in mind that human factor matters a lot. So optimize your texts not only for search engines but also for your readers. If people stop visiting your site, all the efforts would come to naught. Pay more attention to the quality of materials on your site. Do not be lazy to check and recheck your materials before publishing. Remember that a little patience goes a long way.
Do you want to learn to create good texts? Follow our tips and appeal to our experts for help. Everyone can learn to write correctly. All you need is professional assistance and support, which you will get at essay-editor.net. Our on-line agency delivers the best copy editor services that will make your content superior. Place your order and get a discount up to 20%. Get the necessary work done quickly and for cheap only on our site.
Read these posts to have even better results:
Best Web Content Writing Services: We Know the Secrets
15 Ways To Expand Your Vocabulary
Where To Use Participles In Your Speech