10 Tips How To Check Your Essay Like Editor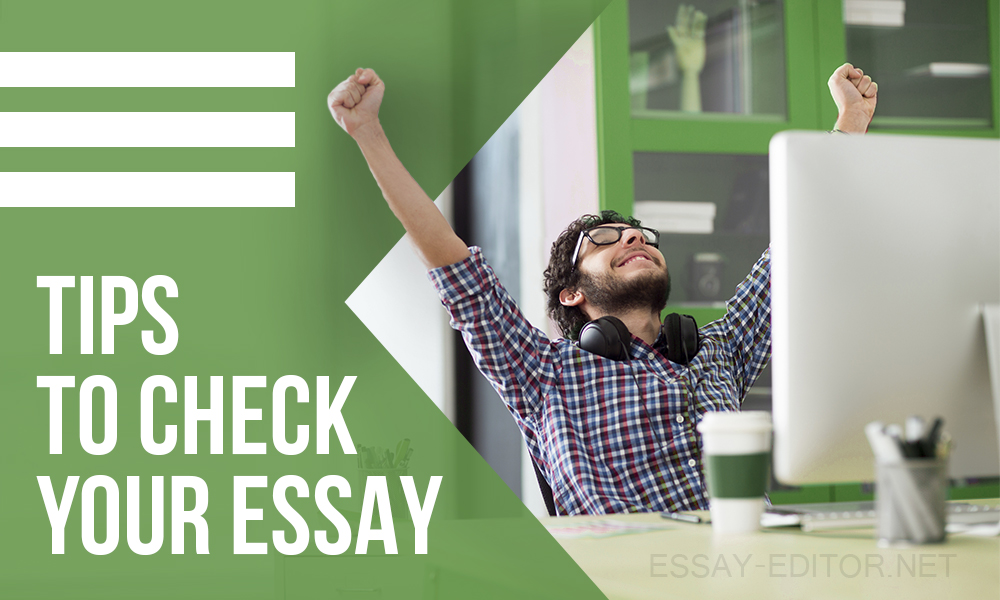 The inexperienced creator usually takes blank sheet of paper, sits in front of it, reflects and begins to write just "from the beginning to the end"... And soon it becomes clear to him: how beautiful the initial plan was submitted, but a lot of things should be changed during the process of writing. New thoughts appear, something doesn't seem so well formulated, and he finds out that his initial plan is unsuitable in general. Thoughts and words get confused…That's why any work should be checked!
Begin to work on the text from any place, from any point of the plan where the question is most brightened, and where you are ready to express your thoughts enough definitely. In the course of writing of this first fragment further penetration into a problem is happening, and step by step it becomes more and more clear, how to build the text.
We, team of professionals, advise to write the prologue to the last turn as the content of the first lines is always difficult and is written most hard. That's why the author doesn't understand quite clearly at this moment what will and how be stated further.
Considering and changing initial phrases many times the inexperienced author just wastes his time. But itis a different story, when all main text is written, so the author can "promise" the subsequent content of his work in introduction.
At first write anyhow. Everything that will come to mind. It is impossible to express your thoughts enough definitely even if it is just a fragment. At first it will be bulky, often clumsy sketches. Anything, let them be. There is a lot of excess information. It is better so only you should only not to miss important ideas. Sketches can be constructed originally without coordination with each other. They will be gradually changed too. Then it is necessary to verify carefully the sketches. You should choose the best formulations. All valuable information should be brought together. And superfluous information should be removed.
And then forming of the text begins. It comes on logical chains. It is difficult painful search of logical communications. Of course, there is some plan of communication of fragments with each other. But this plan is still sketch as well. When sketches are put in some order, it is possible to build them one by one. It will be so far approximately. Then it is necessary to connect them. These phrases will be useful, as Oxford Royal Academy says:
In order to;
In other words;
To put it another way;
That is to say;
Not only… but also;
Not to mention/to say nothing of;
Having said that;
With this in mind etc.
And then, it seems, the text is built. Now it's turn of editing. It is not less difficult and not less painful process.
Look through the phrases and at first remove everything that prevents to understand contents.
Distinguish each valuable thought and issue it in three-four sentences. Construct each sentence so that it takes one-two lines.
After the whole described work is done, it is necessary to reread the text and to remove all grammatical and design mistakes.
It makes sense to perform work on text improvement not at once as soon as it is written. Start doing it in several hours. The text will be perceived as if from outside. more criticality to the text — more efficiency in his improvement.
Now we want to provide you 10 indispensable tips, which will help you to create perfect essays!
1. Edit as much as possible someone else's texts
If the friend, the relative or the colleague asks you to look at his text and to edit it - agree. Even if you are busy with your own projects and you have few time — anyway agree. The more you will practice in editing someone else's texts, the better you will be able to work on them.
2. Choose your own strategy
It is very individual moment: some authors prefer to edit each phrase at once, carefully choose words and formulations. Others can struggle for hours with one sentence. And you are from such type of authors, perhaps, you have to try other strategy: at first write the text entirely, and then you are to bring it to perfection, having all picture before your eyes.
3. Don't confuse editing and proofreading
Editing is not search of typographical errors and the wrong use of words or tenses. The editor has to improve the text, making it the most capacious and expressive. Search of typographical errors is the last stage of work, and it is better not to be distracted by it in the beginning.
4. Forget about paper
Some authors and editors still prefer to work with paper versions of texts, however today such way isn't repaid — edition directly on the computer is much quicker and more effectively. If you are afraid to lose an old version of the text, include function of tracking of corrections — so you will see all options and you will be able to choose the best of them.
5. If you aren't sure of something — recheck it
Do not be lazy to use different sources — thanks to them you will be able to expand your lexicon and to avoid silly mistakes.
6. Use the built-in means of checking the spelling and the punctuation
Automatic means of check will save to you a lot of time and energy. Of course, not always they are right, and find not all mistakes, but the more your computer will do for you, the less efforts you will make for mechanical part of work.
7. Read the text slowly and aloud
The ultimate editor's goal is to bring the text to perfection at all levels from chapters and paragraphs to separate words. After a long work with one text your eyes can lose vigilance, and reading aloud will help — it will help to refresh text perception and, perhaps, to correct some mistakes.
8. Pay attention to text rhythm
Editing is not just error-check concerning with logicality and compliance to rules. During reading pay attention to a rhythm — it shouldn't be monotonous therefore it is better to alternate short and long sentences at least sometimes.
9. Formatting — is important
At first sight it can seem not so important, but if you plan to show the text to someone else, obligatory make sure that it is correctly formatted: all headings and quotes have to be issued in uniform style, and fonts shouldn't differ from the paragraph to the paragraph if there are no objective reasons.
10. Strive for excellence
Ideally process of editing includes five stages:
1. Reading the text entirely.
2. Reading once again, having concentrated on formulations and ease of reading.
3. Reading the text for the third time, paying special attention to the structure of sentences and paragraphs.
4. Checking the text for typos, grammatical, spelling and punctuation mistakes.
5. Reading the text once again with a new view and making final corrections.
The fifth stage should be repeated until the text doesn't seem to you ideal.
As well as you can use other sources because there is no limit to perfection.
But if you still do not trust yourself as editor, it's never too late to use our services!
The variety of websites can make anyone confused and lost. How to select the right website that will meet one's needs and expectations? How to understand that this is the one that will solve any writing related problem? Don't worry: the job is already done. There's no need to look for something by yourself trying to compare, evaluate, and distinguish the best option. Thousands of students have already made their choice and this is essay-editor.net. You can easily check their reviews anytime to get a clear picture of what we are and what we do. Simply put, our site deals with academic papers, i.e. various scientific research papers, articles, essays, etc. Papers created or corrected by our experts are of top-notch quality. They have correct grammar, spelling, and stylistics. Our editors carefully peer into all symbols in a text so there's no chance for misprints or typos. It's a strong reason to prefer our website.
Best editing essays services
Another reason is money: Essay-editor allows saving. First, the cost is the cheapest on the web. Second, there are discounts and flexible payment system. There's more, you not just get low-cost services but get them from the best Chicago specialists. Wherever you live, in the USA, Australia, or even the North Pole, the services have the same price for everyone. We helped many students with their admissions and they entered the colleges and faculties they wanted (including hard-to-enter medical school and law school). They're also assisted with MBA thesis that will definitely help them graduate successfully.