Where To Go To Learn English?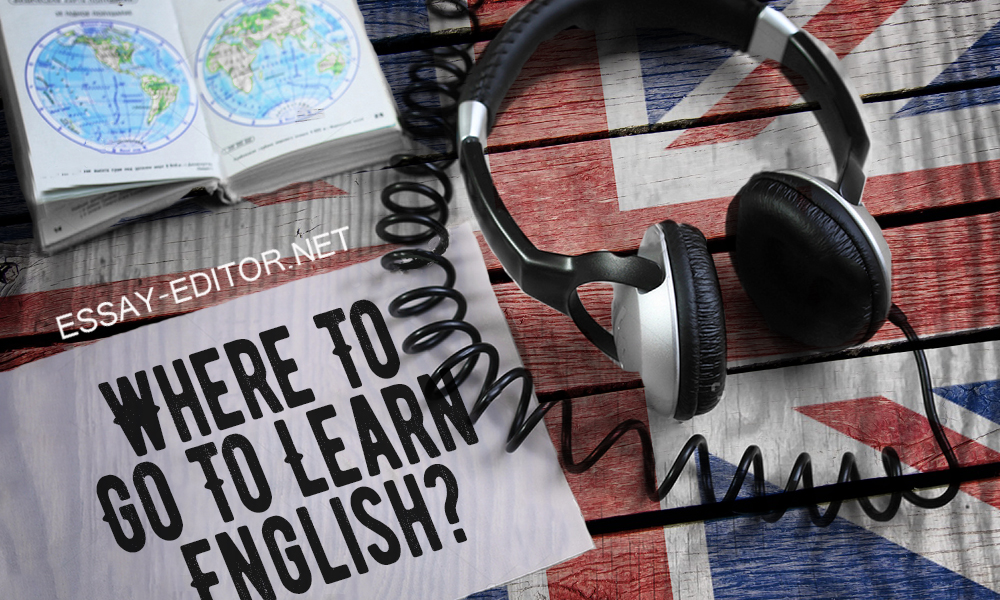 Almost in every article, we write that the knowledge of English opens up new possibilities and one of the greatest of them is traveling. Going abroad is incredibly exciting; you get to now new people, new culture and lots of different things. But one of the most valuable is knowledge. Unfortunately, not everyone can afford traveling, that's why we wrote this article for you. You will learn about 10 training sites, which are totally free to get professional knowledge in English using the MOOC. Now you once again make sure that it is not in vain learn the language.
And now I would like to steal a few minutes to tell you that we provide professional copy editing service and we'll be happy to satisfy all your requests. Just contact us thru our support agent and we'll have a chat with you.
Why is it useful to engage in the English-speaking platforms?
Perhaps you have a question: "Why waste time on-line training because it is no substitute for my education"; we have found six good reasons to learn from the courses that are offered in English:
1. Current Information
Only on English-language resources, you can get the latest and best knowledge. Of course, there are also foreign-language educational platforms, but English - the language of science, so a variety of educational materials on English is much more than in other languages. For example, professional courses for employees of IT-sphere must provide the latest information, because this area is rapidly growing literally every day. The same goes for all sorts of courses in management, marketing, financial management: if you want the latest information - sign up for English language courses.
2. Unique Knowledge
Typically, employees of online courses are from prestigious universities and also very often turn out to be an eminent speaker, well known in professional circles. Many courses are held by such universities like Cambridge, Oxford, Yale, and Stanford University. So that the quality of education is high, and you'll know for sure that you are getting the knowledge of the truly competent sources.
Our source invites you to get familiar with the communicative approach of learning the English language.
3. Convenient Schedule
In most cases, you can choose the pace of learning and training schedule. Thus, you will not have the problem of lack of time.
4. The Ability To Obtain A Certificate
On some sites, you can get a free certificate of successful completion of a training course. Any such document serves as a proof that you are constantly evolving. You also have the opportunity to get more serious verified (released by the university or learning resources) certificate for a fee.
5. The Minimum Amount Of Homework
On-line courses homework or do not ask or give a minimal amount, so this form of training is suitable for even the busiest people. However, if you engage in a serious toll on the course, homework is necessary to carry out, and in the not so little volume.
And if you are ready to sacrifice even more of your time, we recommend you to read another post of us http://essay-editor.net/blog/what-books-to-read-to-learn-english-quicker
You will find some useful information that may be interesting for you.
6. Improving The Knowledge Of English
During training, you will watch videos, listen to audio, read articles, and sometimes comment in English. Thus, you will comprehensively develop all language skills - just what you need for successful learning English. In addition, you will meet new words that are easy to understand and remember the context. If you want to dramatically increase your vocabulary, be sure to choose the courses of such subject that you are unfamiliar (not highly specialized). Here's another article that we find rather informative http://essay-editor.net/blog/how-to-learn-future-present-tense
You also might want to read articles from this section:
– How To Edit Revise Of The Paper
– How To Be The Online Essay Proofreader
– Several Important Ways Of Paper Editing
– Why Should I Write And Edit My Essay?
– How To Proofread My Essay Carefully?
Now, back to the post.
Top 10 platforms with free courses in English
1. Edx
A number of courses: 700 in English.
The certificate: a verified certificate is provided free of charge, on some courses, given the lack of a free certificate in electronic form.
Registration: required.
Subject courses: architecture, art and culture, biology, business and management, economics and finance, data analysis and statistics, chemistry, computer science, design, education and training of teachers, electronics, environment, food and nutrition, health and safety, history, learning languages, law, literature, mathematics, medicine, music, philosophy and ethics, physics and so on.
Edx - profit organization, the project at MIT, Harvard University and the University of Berkeley. The platform was founded in 2012, today there are learning more than 7 million students. By mid-2015 at the site had more than 60 partners, including Stanford University, Microsoft, Arizona State University, Princeton University etc. The majority of professional courses are paid, and the disciples' requirements are high: certificates are issued only to those who comply with the deadline and successfully complete homework assignments. It is because of this Edx considered the best platform for the deep professional knowledge.
Before we blow away your head with the amount of the free courses, we would like you to know, that we provide service, but not only copy editing, we also have editors that are working day and night writing and fixing essays for you. Our client base has reached over nine hundred thousand! Almost every client claims that we are by far the best essay editing service. 
2. Coursera
A number of courses: more than 1,400 in English.
The certificate: Only verified certificate is available for a fee.
Registration: required.
Subject courses: business, social sciences, physics, computer science, personal development, data science, life sciences, mathematics and logic, learning languages, humanities and the arts.
Coursera - the biggest teaching resource, which has 143 partners from 28 countries and more than 15 million students. The project is cooperating with Princeton, Stanford, and the University of Michigan. In 2013, Coursera began to work together with the US Department of State; the purpose of this work was the opening of training centers all over the world. Despite the fact that Coursera - commercial organization and many courses today have become paid, you have the possibility to receive the prestigious certificate for free thanks to the program of Financial Aid. Fill out an application for financial assistance and, if approved, receive knowledge for free.
3. Futurelearn
A number of courses: 500 in English.
The certificate: Only verified certificate is available for a fee.
Registration: required.
Subject courses: business and management, art, nature and the environment, languages, and cultures, history, health, psychology, law, literature, technology, politics and current structure of the world, education and training technology, mathematics, sports, etc.
Futurelearn - British project Mooc, which cooperates with more than 50 partners from the UK, among them - the famous British Council, Birmingham, Bristol, Liverpool University, the National Cinema and Television, the British Museum, etc. Futurelearn – is a part of the project The Open University (open University education UK), which is over 40 years engaged in the development of distance and online education.
4. Udemy
A number of courses: more than 40 000 different languages.
The certificate complimentary certificate in electronic form is issued at the end of every course, verified certificate is available for a fee.
Registration: required.
Subject courses: web development, IT and software, business, marketing, education, photography, health and fitness, language learning, personal development, music, design, teacher training, preparation for tests, etc...
Udemy - one of the simplest and easy-to-use educational projects. Today they have more than 10 million students and 20,000 teachers. The feature of this site is that you can create your own course on the platform and make money on it. Despite the fact that Udemy wide variety of courses with different themes, the most popular and well-developed programs related to the IT-sphere, the economy, and business. Another feature Udemy that free courses usually do not require homework and consist of a short video-intensive, which means that you spend a minimum of time to receive the necessary knowledge and yourselves determine the pace of learning.
5. Khanacademy
A number of courses: 50 in English.
The certificate not issued.
Registration: required.
Course subjects: mathematics, economics and finance, computer science, art, cosmology and astronomy, medicine and health, history, music, and so on.
A non-profit organization that develops mainly due to donations of Google and Bill and Melinda Gates Foundation. "Chip" of this site - materials in mathematics. The fact that the founder of the Academy Salman Khan at first did not intend to build a learning platform, and wanted to help his cousins ​​with homework in mathematics. He liked it so much stuff to explain that Salman began shooting training videos and share them on YouTube. As a result of these videos watched by millions of people around the world, interested in them, and Bill Gates, who donated a large sum of money for the creation and development of a learning platform. Today the site offers lectures on various topics, but the main advantage of the resource - easy presentation of any topic, with some of the materials are presented in an entertaining way.
Sometimes a student has a tough time while writing an essay for the class that they can barely stand. This is why we exist. For the fair amount of money, we'll give you the best essay you could ever have. Although, the earlier you will make an order, the chipper it will be. We believe it is fair enough, so you can serve yourself and check our price list.
6. Open Learning
A number of courses: more than 1,300 in English.
The certificate: depending on the course, you need to specify.
Registration: required.
Course topics: art and design, education, business and economics, computer science and technology, health and medicine, law, lifestyle, self-development, sports and fitness, learning languages, mathematics, and so on.
This is the Australian project of distance learning, which is founded by specialists from the University of New South Wales. The main difference of this site is that it has positioned itself not only as a learning platform but also as a social network for those who wish to acquire knowledge. Materials consist of detailed video lectures, as well as issues for discussion on which you will have to give a written reply in English. You will be able to participate in discussions with native speakers, to share knowledge and to train write messages in English.
7. Alison
A number of courses: 700 in English.
The certificate: with free or paid electronically in print.
Registration: required.
Course topics: banking, business, management, tourism, biology, anatomy, chemistry, music, math, learning languages, sociology, psychology, photography, yoga, law, physics, web development, etc...
Irish educational resource Alison is working with such giants as Google, Microsoft, Macmillan, and so on. The main difference between projects is that this provides completely free education. Today, the site has more than 6 million students. In doing so, students have high requirements: to obtain a certificate, you must correctly answer at least 80% of the questions in the screening tests modules.
8. Stanford Online
A number of courses: 30 in English.
The certificate not issued.
Registration: required.
Subject courses: economics, statistics, social sciences, engineering, medicine, education, language learning and so on.
Distance learning from one of the most prestigious schools in the world - Stanford University. The lessons present video materials, small articles to videos, tests understanding of the studied information and questions for discussion. The lack of certification is compensated by well-developed courses from Stanford University lecturers.
9. Canvas
A number of courses: 70 in English.
The certificate: depending on the course, you need to specify.
Registration: required.
Course topics: medicine, economics, sport and health, mathematics, computer science and so on.
Canvas Network - popular abroad teaching resource has more than 4.5 million students. Most courses are free, but there are commercial projects. There is homework almost in every course, which is required to perform, that is, it won't be easy to take a course and do nothing.
10. Yale
A number of courses: 40 in English.
The certificate not issued.
Registration not required.
Course topics: the study of languages, literature, economics, history, psychology, sociology, philosophy, physics, and so on.
Courses are taught by the teachers of the famous Yale University. You can attend lectures of eminent professors from the comfort of home. Anyone interested in your material can be downloaded free of charge in the form of video, audio or text. Screening tests and homework is not here, so this is a great resource for people who want to broaden their horizons and is not intended to obtain a certificate.
Personally, when I took my first course on this website, I had some issues with English modal verbs. I don't know why; the teacher was very nice, so don't be afraid to ask them, if you have a question. In fact, when you tell them that you don't understand something, it means that you paid a big amount of attention to listen to then, while they were talking.
You might think that us writing and proofreading an essay for you is some sort of cheating, well, guess what? Everybody cheats, but not everybody knows about us. So don't use the advantage of the knowledge and order a professional academic editing service? Why waste valuable time squeezing out literally every word on a blank page of Word document? Our thesis editing and proofreading service will do everything for you, and you'll be able to chill in a bed watching Netflix.
Now you have ten "home" schools that will help you to improve your English and to replenish mental baggage. Knowledge - the most reliable type of investment, so invest your free time wisely and for the benefit of your English!
Also, don't forget to check out these posts:
– How To Use British Set Phrases
– How To Make Learning English Fun?