What Books To Read To Learn English Quicker?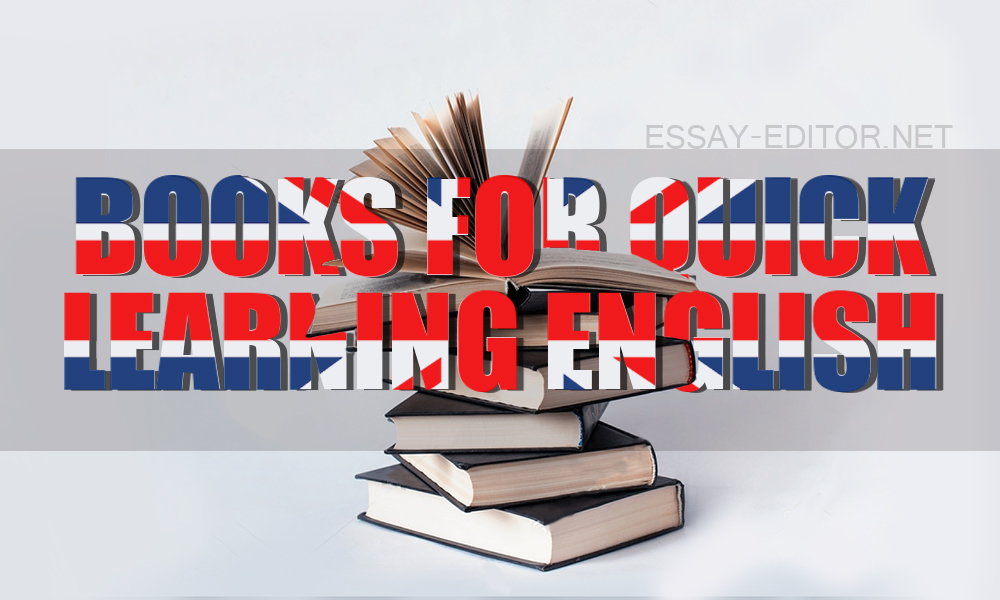 Adrien Decourcelle said that the book is a vessel that fills us, and remains filled. And the book can not only fill us with wisdom and food for thought but also with the knowledge of English. Reading is one of the most important skills of English, so it is essential to deal with it from the very first stages of learning. But what book is better to read in English? In this article we will explain what criteria should be considered when choosing a text to read, we'll give a list of books suitable for reading to people with different levels of knowledge, as well as give some tips on how to read books in English. If you also want to know the ways of learning English with some fun, I recommend you to read this post; you may find something interesting for you http://essay-editor.net/blog/how-to-make-learning-english-fun
Before we dive into the topic of our post, I'd also like to mention that with necessity you can order reliable proofreading service. Our experts will make sure that everything that you wanted to include into your work, will be there and be on it right place.
If your level of requirement is a little bit higher and you need someone to edit your dissertation – you don't need to worry, we also have dissertation editors service.
We have identified several criteria that will help you determine what books to read in English. You should take into account:
1. Your age and level of knowledge
If you have long ceased to believe in fairy tales, it's not a reason not to read them in English. Simple children's stories can be useful for those who do not yet possess a wide vocabulary and knows all the grammatical structure. But non-fiction novel with a serious vocabulary suited for people with medium to high levels of knowledge, and from there you will learn many new words.
2. What are your goals for learning English?
If you are learning English for work, stop your choice on the professional literature, these books will help you to learn useful vocabulary. If you need to replenish your vocabulary colloquialisms, select contemporary prose with lots of dialogue. In this case, you will learn to speak, as the heroes of favorite works.
3. Book Genre
First of all, choose books that are interesting to you. Reading should bring not only benefits but also fun, so do not take the first available woman's novel, if your favorite genre is a detective. Feel free to choose the book of the genre and of the author that you like to read in English. However, keep in mind the fact that you can be easier to read contemporary prose with simple dialogs than historical fiction or detective stories, where you will encounter unknown words.
4. Year of writing
Classic works of British and American authors are written in compliance with the rules that you encounter in textbooks. Language in such books is reached; there are a variety of phrases and synonyms, juicy descriptions that you may not find anywhere else. At the same times you can meet too many idle words today, because of what it will be difficult to read masterpiece, and you still won't be able to use the words that you learned in everyday speech as for English speakers you'll sound too pretentious and pompous, like just fell out of a time machine. Modern literature - modern words and phrases, slang expressions, dialogues from everyday life, and sometimes simplified grammar. In terms of benefits to learning English modern literature - the best option for reading.
5. The complexity of the text
To the book in English has benefited your knowledge, it should be neither too difficult nor too easy. On average, the page you should see no more than 10 unfamiliar words (preferably 3-5). This amount of new vocabulary will enable you to understand the meaning of reading and to maintain interest in reading. The significance of most of the words you can guess from the context, but it is much more useful and interesting permanent Peeping into the dictionary.
English writer Roald Dahl said: "And don't worry about the bits you can't understand. Sit back and allow the words to wash over you, like music."
6. Familiar book or not
You are going to read the first book in English, and you think it's difficult? Then try to take the book, which has already been read in your native language. In this case, you do not get lost in the story, you will be able to guess the meaning of many words out of context, recalling the text in Russian. If you pity to waste time re-reading the familiar text, take something new, then you will have the motivation to read the product up to the end to find out what the outcome of the book.
7. Format
Choice of electronic or printed format depends on the habits and conditions of which you are reading. The advantages of the e-book are portability and connectivity of the dictionary, which will facilitate the search for meanings of unfamiliar words with a single click on them. However, the paper book is more convenient to work, if you're going to go back to previously read to better memorize new words and phrases or remember the storyline after the break in the reading.
People with a high level of English language skills were more fortunate of all: they can read almost any book in English. An exception can make unless special literature, but if you are fond of quantum physics, we can take in order to obtain new knowledge and books on this subject.
You don't have to burn books to destroy a culture. Just get people to stop reading them – said by Ray Bradbury.
How to read books in English:
1. Write out unfamiliar words
To get the most benefit from reading, learn new vocabulary from the text. Write out whole sentences or fragments of sentences in which you met an unfamiliar word. In the context of the language will be easier to learn, and you'll know what words to combine the study of the word. You do not want to spoil the pleasure of reading? Then give yourself a task to write out the words with only a few pages a day, and then just read the book, using the dictionary only as a last resort.
We also prepared for you a material that will make your words learning process easier http://essay-editor.net/blog/how-to-learn-english-words-quickly
2. Pay attention to grammar
While reading, pay attention to the way used in the text of the English and grammar. This is a very useful exercise because the more people read, the better educated, he speaks and writes. The logic is simple: you get used to seeing properly formulated proposals, memorize them and then play in his speech.
3. Read aloud
When reading aloud you train correct pronunciation, but only on the condition that you are familiar with the rules of reading and pronunciation of English sounds. At the same time, reading aloud can quickly tire, so alternate it with reading about myself.
4. Use the correct vocabulary
As we have already mentioned, the dictionary should be used very sparingly and in most cases, try to do without it. And if you have already reached the level of Pre-Intermediate, try to use a sensible (English-English) dictionary instead of the Russian-British. So you not only learn a new word and its definition in English.
5. Do not use translation software
Machine translation is bad for literature and the process of learning English in principle. Unfortunately, none of the most "advanced" programs could translate the phrase in context. That is why using an interpreter you do not get a normal text in Russian, cannot understand what he wanted to convey to you the author. If you have a desire to take advantage of this program, consider it too complex text you selected. You may want to take something easier to do on reading their knowledge.
6. Be patient
Of course, we have drawn a very rosy picture: take a book in English, and it is easy to read. In fact, the first pages of the case will be given with great difficulty, because you actually pulled out of the Russian-speaking environment and plunged headlong into the English language. The brain is not easy to adjust to a new way, so it seems that anything is not clear, I want everything to throw. Our advice - to withstand the first few pages and try not to go into details. At the time of reading do not try to analyze every word. Think of what happens during the reading in Russian: you do not read every word separately and not to try to understand it, and perceive the text and holistically represent what is happening in his head. Do the same with the English text, "draw" the story in my mind, try not to think about what some of the words you are unfamiliar. After a dozen or so pages you get used to reading such a manner and notice that the reading was interesting.
Also in this section, we recommend you to read:
–  Contact Us About The Online Essay Revision
–  Choose The Best Cheap Rewriting Service
– Choose The Best Dissertation Services
– Have The Revision Of Paper With Us
– The Best Thesis Rewriter For You
7. Read regularly
Try to read every day for at least 4-6 pages. It takes very little time, but the results of your training will be visible very soon. Particular attention should be paid to the reading for those who make a break in training, for example during the holidays. Even a small "dose" of English will help you to maintain knowledge in tone.
Before we give you the list of the books, we also would like you to check our online essay editing service.
Now, when you've read all of the information above, you can choose a book to read that you like.
– "Paddington" by Michael Bond
– Tales of Beatrix Potter
– "Charlotte's web" by E.B. White
– "Harry Potter" by J.K. Rowling
– "The chronicles of Narnia" by Clive Staples Lewis
– "Alice in wonderland" by Lewis Carroll
– "The hunger games" by Suzanne Collins
­– "The catcher in the rye" by J.D. Salinger
­– "Old man and the sea", "A farewell to arms", "For Whom The Bell Tolls" by Ernest Hemingway
– "Fahrenheit 451", "Dandelion wine", "A sound of thunder" by Ray Bradbury
That is it, if you like this article, without further ado, I would like to encourage you to visit our web-site. We are online editing service and if you have any problem with writing an essay we'll gladly help you with it.
To get an answer to any question that you may have, just contact our support agent. With the necessity, our team will solve every problem that can appear.
Don't you ever found yourself in situation, when the deadline has almost come and you still haven't managed to begin your essay? It means that time for English editors service has come. You don't need to worry anymore about the correct use of grammar rules and text style. We'll do it for you.
To understand more about our price politics, check out our price list.
At last, we prepared for a small list of our posts that can have some interest to you:
– The Communicative Approach Of Learning English
– How To Master Australian English
– How To Write An Essay With An Excellent Mark
P.S: over nine hundred thousand orders we completed by our writers, and almost all of our clients claimed that we are the best essay editing service for students, maybe you should check it out yourself.