How To Travel and To Learn English At The Same Time?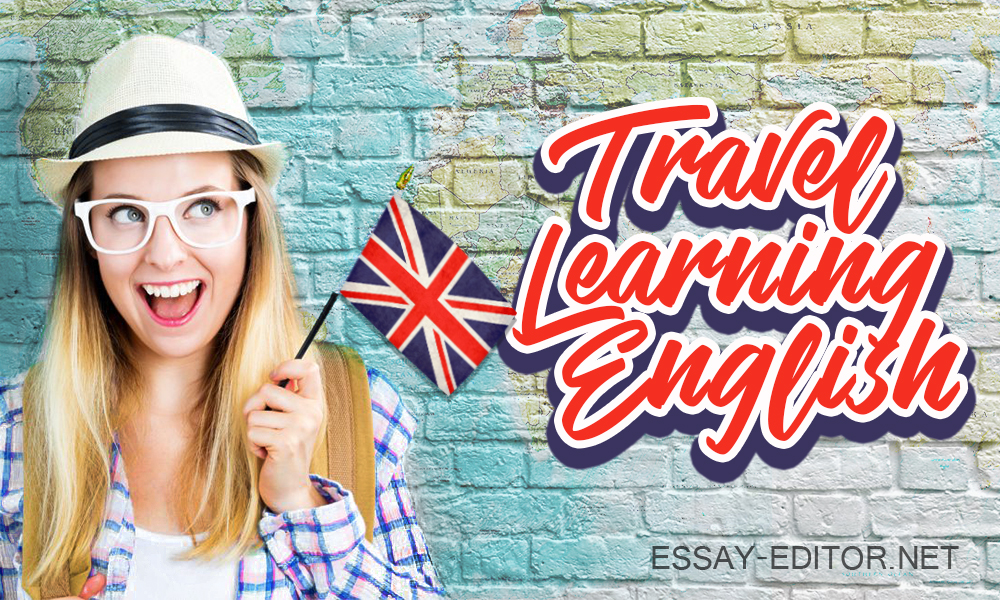 Going abroad is one of the best ways to relax. All of us want our travel to be easy and enjoyable. The English language can significantly "make life easier" during the trip because it is used in each country. How to quickly learn English for tourists, where to start and what to give full time - this we will tell you in this article.
But, before we go deep into details, I would like to tell you that we are English editing service and we'll be happy to see you on our website where you can get to know us a little better. Just for you to know, we are the best proofreading service that you can ever find.
Now, let's talk about English.
Why Do I Need To Learn English For Tourists?
Knowledge of the English language gives you a number of advantages and it will help you in difficult situations. Here are the three main benefits of knowledge of English on a trip:
1. Safety
English is understood in almost any country of our world, so he can save you in emergency situations. For example, if you get lost in a strange city, you can ask for directions from the locals. In some cases, knowledge of English can keep health: if you are in need of medical assistance, you will be able to call it yourself and explain what happened to you.
2. Saving
English will help you to pay less for the tickets, hotel, and market.
– Tickets. It is much more advantageous to book their airline's website - where you purchase tickets directly. When you purchase them from the travel company, you have to pay a fee for mediation.
– Hotel. It is also profitable to book a hotel on your own, or better yet - find a good hostel and move into it, it's much cheaper than a hotel room. Thanks to the knowledge of English you will be able to familiarize themselves with the rules of the hotel or the guest house, for what will you have to pay a tidy sum. And you will be able to chat with other travelers, neighbors and ask them what interesting places worth a visit, where it is profitable to buy souvenirs and so on.
– Market. In the market you can bargain with the locals: they understand the English language. In some countries, bargaining - a mandatory purchase condition, a way to express respect for the seller. You can save up to 70% on your purchase!
3. Variety
The English language will allow you to plan your trip. You will not be tied to the beaten paths of travel companies: now you can plan your own trip. Holidays on the personal plan are always the most successful and exciting; do not miss this opportunity.
It also might be interesting for you to read:
– Choose The Best Cheap Rewriting Service
– We Are Ready To Revise A Paper
– Have The Revision Of Paper With Us
– Find The Best Paper Editor Online
– How To Be The Online Essay Proofreader
How To Quickly Learn English For Travel: Recommendations On The Organization Of Training
1. Select 1-2 Hours A Day For Studying
The best way to learn English quickly before a trip is to engage in on a daily basis for at least 60 minutes. If you have a busy work schedule, try to pay at least 30 minutes per day on learning English, but two or three days a week for 1-2 hours engaged.
2. If Possible, Practice With A Teacher
If you are not constrained by financial opportunities, it is better to engage with the English teacher. An experienced instructor will be right intensive training program will give you valuable advice on mastering the English language. With him you will practice the theoretical knowledge, also if you ask, he will share with you tips on how to check your papers, if you'll ever have to write an essay.
3. Take Lessons From A Native Speaker
If you are going to the English-speaking country, you can try to engage with native speakers of that country (if your English level is not below steady Pre-Intermediate). Then you will not only tighten English but also learn interesting and useful details about the culture and customs of the country.
Also, don't forget to read another of our post http://essay-editor.net/blog/how-to-avoid-a-headache-while-studying-english
4. Attend English Conversation Clubs
Before the trip, you need to be sure to "talk" in English. While preparing for the trip, try to find some time and spend at least couple of hours in the English Speaking Club. Visiting the event is cheap and the topics that are discussed very different. And the most important, at such meetings there is almost always a native speaker. You can listen to the English language from the mouth of a foreigner.
5. Watch Videos And Listen To Podcasts On "Traveling"
Watching videos or listening to the podcast on relevant topics - is another way of understanding the language by ear while learning useful phrases.
Words And Phrases That Are Necessary To Prepare For The Journey
1. Identify The Words That You Will Need To Explore
Deciding to learn English for traveling by yourself, think about what you will do, where you will travel, what places you will visit in some countries. Remember how you drive in the city of your native country, what words do you use when you are booking a hotel, for purchases in shops, tours. You will need to learn the lexicon of this subject.
2. Use Themed Phrase
Thematic phrase books can and should be used. Not during the trip, when there is no time to search for the right phrase, and in preparation for the journey. Read aloud dialogues, see how to construct a sentence, what words are used in this case. And most importantly - learn useful phrases by heart.
3. Take Care Of Security
To think in advance about emergency situations and learn phrases associated with asking for help. If you are studying with the teacher, ask him to teach you "saving" phrases. You should know them by heart; such statements may save your life in an emergency.
What To Do Before The Trip?
1. Repeat Grammar Basics
You should pay attention to the grammar of English too. Even if you have little time to prepare, repeat at least the basics: the procedure for constructing sentences, three simple times, degrees of comparison of adjectives, etc.
And if you have some problems with grammar, our best professional English editors will help you to fix them.
2. Test Your Knowledge
To test how well you learned the vocabulary and learn essential expressions, use flashcards. It is and effective way of learning the information. Check yourself with the flashcards several times - slowly you will remember more vocabulary and useful phrases of the exercises http://essay-editor.net/blog/how-to-use-british-set-phrases
3. Check Out The Body Language
If you forget a word, you can help out sign language. However, you first need to know which of the movement's is necessary to use, and which should be abandoned.
All tips on studying English are simple and accessible to everyone; use them on your trip. Start to learn English as quickly as possible, then your preparation for the trip will take place with the maximum benefit, and you will feel comfortable when communicating with foreigners.
We hope you liked this article, please don't forget to check our online paper editing service. We're trying as hard as we can to make sure that all of our clients are pleased with the results. You can also notice that our price list is fairly democratic, and the earlier you'll make an order, the cheaper it'll be for you.
If you have any questions, you can always write to our support agent, and he will help you to get the solution.
Lastly, we prepared another three articles that are interesting to read:
– How To Keep Your English Skills Trained
– The Communicative Approach Of Learning English