Formal Letter Writing: How and What for
How to write a professional letter in English: features and nuances
Essay-editor team wants to share useful tips on the creation of formal letters, their styles, structure, proper formatting, greeting, and closure. Official letter creation can make many people worry about their writing skills and poor vocabulary for official correspondence. However, if you adhere to our recommendations, you will manage to create an excellent business letter and you can always rely on support of our qualified paper editor anytime.
Proper official letter format
The composition of official letters usually consists of such components as:
Letter heading – your name and address
Date.
Name and address of receiver.
Reference.
Greeting.
Main text.
Closure.
Signature.
Sender's initials.
Attachments.
General writing rules
Use proper format and greeting. There are particular standards of official letter formatting in English, though some deviations are also acceptable (for instance, when it goes about correspondence in British English and American English).
It is crucial to make a good first impression when a letter is started. Use proper greeting for this purpose. If needed, in case if a letter is not in electronic form, mention the address and last name of a receiver in upper right corner. Then start writing.
Make sure that receiver's full name is correctly written. Use "Dear Sir/Madam" in case when it is unknown whom exactly you appeal to.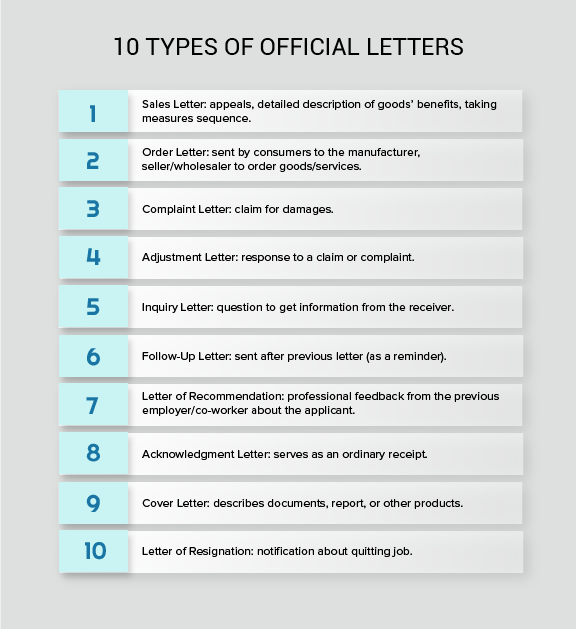 How to start a formal letter: samples of the forms of address
Dear Sir/Madam
Dear Mr. Green
Dear Ms
Dear Jack Johnson
Dear Customer
Gentlemen
As a rule, official letters are of an official nature and the manner of speech should always be respectful. Inquiry letters always maintain modal verbs to make a request as much respectful as possible. For instance, it is rude to say: "I want to see you in our office on Wednesday", it would be better: "Could you be so kind and visit our office on Wednesday?". Letters of complaint should be respectful as well and not too exciting. For instance, if delivering was delayed and, consequently, it delayed the production, it would be correct to say: "The delivering was six weeks delayed and that led to delay of our production transportation". If you inform about sad news or apologize, it is necessary to indicate nicely and tactfully the reason for a problem. Do you want to know more about a complaint letter? Follow the link then: http://essay-editor.net/blog/complaint-letter-make-everyone-take-you-seriously.
Mention your aim
In an English official letter, the aim of address is clarified in the first paragraph, after that the main idea follows. There are 3 common features of formal letter types:
They clarify the essence and answer the question "what is it?".
They are concise and not rude.
They contain positive words: "thank you", "welcome", "glad", "obliged", "appreciate", "congratulate", "successfully", "approve", etc.
Formal business letter format: tips on official letter creation
1.   When creating your letter, it is necessary to adhere to simplicity and targeting so that the essence of your letter would be clear.
2.   Try to speak simply.
3.   The finest option to begin a letter is to present its aim. It is called a direct approach, and it defines the tone of the whole letter, gripping the reader's interest.
4.   However, if your letter contains sad news, the straightforward approach is inappropriate. Instead, use an indirect approach, pointing at sad news in the 2nd or 3rd paragraph.
5.   Greeting and introductory part should be respectful. Always be attentive to the attempts and sensitivity of a reader.
6.   It is required to present the nuances of a problem after introduction.
7.   Inform about the causes for a made decision.
8.   Keep single line spacing and double spaces between paragraphs, use left-alignment, and adhere to shorter sentences and precise paragraphs.
9.   Be honest and treat with respect time of a person who will read it: this person is working (most likely) so cut to the chase.
10. Put the needs of other people ahead of yours. Instead of speaking about what you expect from them, say what they can get from you.
11. Be careful and attentive with the name of a receiver (either person or company).
12. Make your tone casual but professional, do not be too official.
13. Avoid slang, excessive self-confidence, arrogance, and boasting.
14. Prefer passive voice along with personal pronouns. Read more about active and passive sentence structure on our blog.
15. A request for action should finalize your writing every time.
16. Leave space after greeting and before closure.
17. Make double space between the final sentence and ending part.
18. If necessary, leave 4 or 5 spaces for a hand-written signature.
19. Official letter should be printed on white paper of A4 format.
20. Finalize letter professionally and respectfully as well.
We want to emphasize an essential point: bear in mind to check your letter for errors at least twice. Of course, the best option is to delegate this task to the specialists. Send us your letter and Essay-editor professionals will polish it.
E-mail advantages
An electronic business letter is much easier to create than an ordinary one. However, it happens sometimes that a letter does not open – this is a disadvantage, of course. It is better to make sure that a letter will be delivered. For this purpose, control the process and enable the reverse notification option.
Also, it can be required to submit a letter with a hand-written signature, documents approved by the seal, scanned papers, etc. (it depends on the purpose and receiver). Here the decision is obvious: send a regular one by post. However, remember that e-mail is money-saving (it is usually free unlike regular letters that require to pay for the envelope, stamps, delivering, and so on) and environmentally friendly (unlike those that require using paper). Remember about the trees!
Also, bear in mind our on-line writing agency: here you can specify all the nuances related to official English directly from experienced experts: http://essay-editor.net/blog/a-tricky-task--how-to-proofread-my-document-properly. Take your chances and be acknowledged!
Formal letter closure
The final part of your written masterpiece should contain something like "Do not hesitate to contact us in case you have any questions", or if you attach additional materials, use such words and phrases as: "I am enclosing…" or "Please find the attached …"
Closure mainly depends on the relationships with the receiver. Prefer "Yours faithfully" if the receiver is unknown to you, and "Yours sincerely" for the receivers you are familiar with. Do not confuse them! Your sincerity for a strange person may seem pretty suspicious and cause embarrassment.
For less official letter, it is allowed using: "Best regards" or "Kind regards". When finishing your writing, it is required to mention your last name, title, and sign the paper. Once again, we emphasize the importance of checking the letter for errors before sending it. Our team of professional editors and proofreaders will cope perfectly with the task.
After the closure phrase, put comma and write your data in a new line: a) name, b) e-mail address, c) phone number. Of course, there should be no "Later", "Thanks", "TTYL", "Warmly", "Cheers", and other similar colloquialisms.
Formal letter writing in English can make many people worry about their skills and scarcity of vocabulary for formal correspondence. However, if you follow our tips and recommendations, you will create an outstanding formal letter in English. Trust is above all!
The structure of a typical letter is the sequence of the following elements:
Name and Address of Recipient
Date
Reference
Salutation
Body
Closing
Signature
Typist initials
Enclosures
Left-hand side: recipient's details in this order
[Company Letterhead]
[Date]
[Recipient's Name, Position]
[Company]
[Address]
Dear [Name]:
This is the most typical way to present the details of a recipient when creating a formal letter. It can vary depending on the type of letter, however, in most cases it is more or less the same.
Proofread it
It is always obligatory to check a letter for mistakes, misprints and other possible inaccuracies. When you finish to create it, it is better to wait for a while, to have some rest, and only then to check the text. However, the best option is to appeal to a professional proofreader or another specialist who will check your letter competently. Our specialists are the best assistants, and they will be happy to help you. Thus, we would want to share what points you need to focus on when checking a letter for mistakes.
Once again, do not forget to recheck your letter for mistakes (at least twice).
Of course, it is always better to turn to a professional proofreader who will do it for you quickly and properly. You will not waste time but get a great error-free text that will make a positive impression on a reader.
How to check a letter in English?
Here are some more pieces of advice for better formal letter writing. These are the tips for a final check before sending:
Check if the font size, style and color are appropriate for a particular type of formal letter.
Have a break – drink a cup of coffee and, after that, reread your text again.
A good tip is to print a letter and read it aloud. It will help notice the mistakes and some excessive elements that can be removed or shortened.
Read your text backwards, starting with the last sentence and moving to the first one.
So you have done it. Now read text carefully to make sure that you have presented your thoughts clearly and precisely. That is it! Send your letter to its receiver without hesitation.
Read, in addition:
How to Carry On Business Correspondence
15 Ways To Expand Your Vocabulary
Exceptional Personal Statement Services Just for You