Complaint Letter: Make Everyone Take You Seriously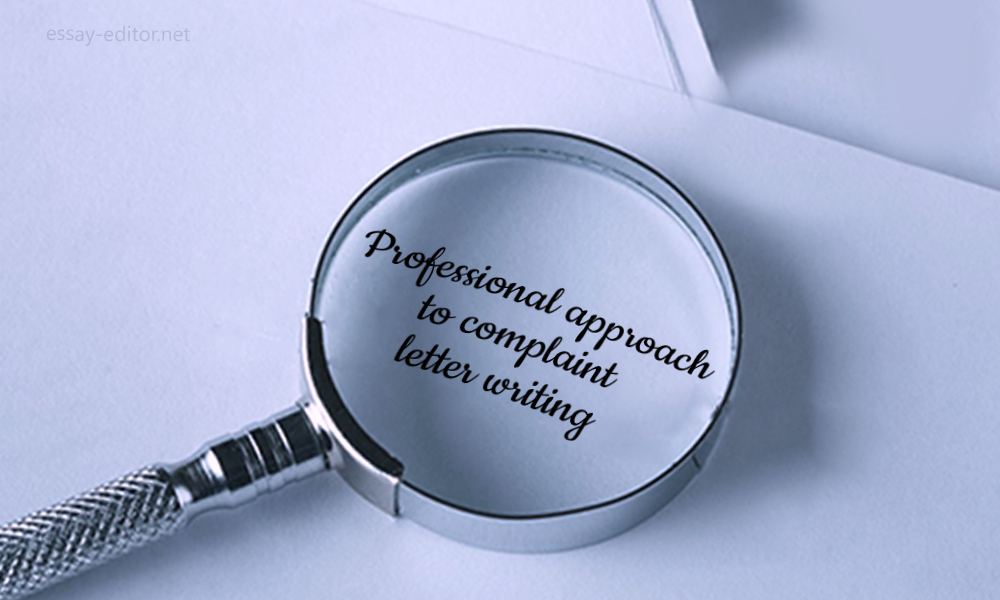 Letter writing is not as easy as it might seem, especially when it goes about formal letters. A letter of complaint is one of them. The most important is to be accurate, direct and considerate at the same time. If you are not sure that your letter meets all the requirements, use letter editing services provided at essay-editor.net.
Customer complaint letter: easy or tricky?
It is not a coincidence that one of the common written assignments at different language exams is to write a letter of complaint. The reason is that everyone might need to write a letter of this kind. Poor hotel or restaurant service, defective goods, a courier late for several hours – the reasons for the creation of a complaint letter can be different. In order to let the employees or representatives of the companies understand the essence of your complaint, the letter should be correctly built. So let's figure out how to create it properly.
Letter of complaint: plan and structure
When you need to create any formal letter, it is necessary to adhere to a particular plan. For a complaint letter, it looks as following:
1. Letterhead with the data of the sender and receiver.
2. Appeal to the receiver.
3. Information about purchased goods / received service.
4. Problem statement.
5. Proposal of solutions.
6. Farewell and signature.
Also, the structure of the letter implies only one paragraph of the main part that includes the points 3-5. Let's consider every letter part separately and in more detail.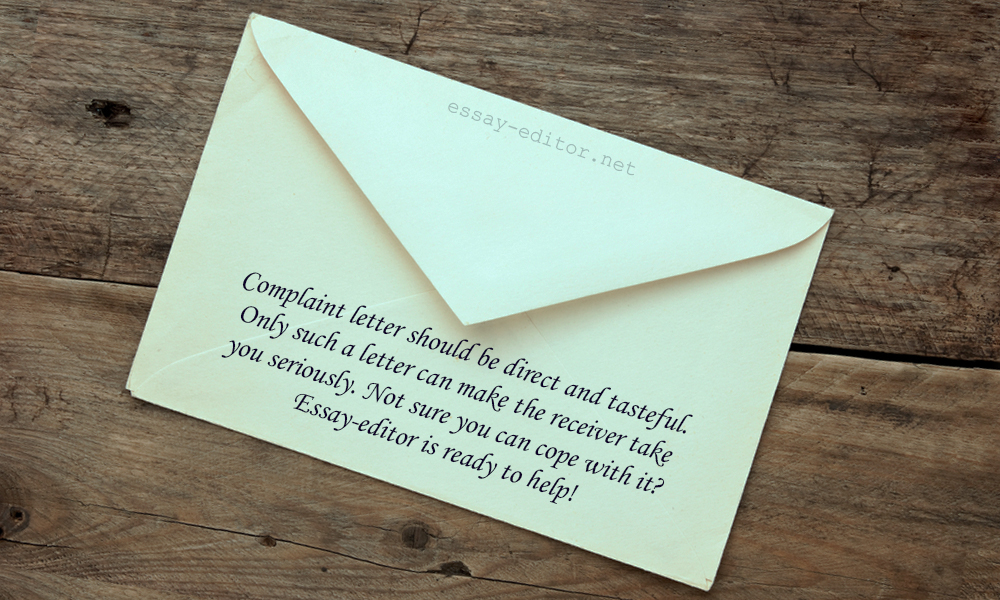 Letterhead and appeal
What to write? A complaint letter should be started with mentioning the names and contacts of the sender and receiver. The sender's data is placed on the right, and the data of the receiver (person, company, organization, etc.) is placed on the left. In case if the name of a particular person, to whom your complaint is addressed, is unknown, it is allowed to mention only the name of the company / organization. Then, it is necessary to write the date of sending your message and proceed to a greeting below.
The phrases you might need when creating a letter:
Dear <name>;
Dear Sir / Madame (if the name is unknown).
Attention: according to formal English rules, if you put a comma after greetings, it is necessary to put it after a farewell phrase as well, and vice versa. Both variants, with commas and without them, are accepted. If you doubt whether you have put punctuation marks correctly, order the best editing, proofreading service online on our website, to be on the safe side.
The object of complaint: detailed description
What to write? This part is the letter introduction. It is necessary to tell about purchased goods or got service, about which you are going to complain. Information should be clear and detailed, it would be great if you attach some documents, for instance, the number of reservation or booking, the copy of a cheque, etc. It is obligatory to mention the date of goods purchase / establishment attendance, and expenses. The letter can be started in a positive informative manner ("I purchased / visited), or get to the point directly ("I would like to file a complaint").
The phrases you might need when creating a letter:
I would like to express my strong dissatisfaction with …
I would like to inform you that…
I am writing to let you know that…
I am regretting that I have to complain about…
Description of a problem with goods / service
What to write? In this part, the complaint includes the description of what has happened to purchased goods or in the process of getting a service. If the discontent of the complaint letter author is caused by the breakage of a bought thing, in the letter, it is necessary to mention under what conditions and when exactly it has broken. If the complaint is caused by poor service quality, it is also required to mention all the details: the time of courier's lateness, the quotes of a waiter who has treated you rudely, etc.
Vocabulary that you might need:
scratches;
to be rude;
to be late;
delivery service;
 waiter;
… has not performed well/ correctly;
the quality of … is inacceptable low;
… arrived badly damaged;
 … was overcooked/ underdone/ too salty/ dry;
I was billed the wrong amount.
Demands of possible solutions of the problem
What to write? A written complaint also contains the proposal of the means of addressing the problem or the demands that a receiver needs to fulfill to make it up to a consumer. Usually, the consumers want an apology or various kinds of compensation. The most important is that conditionality should be adequate.
The phrases might be used when creating a letter:
The best solution would be…
I feel I deserve…
I have to insist on…
full refund;
apologies;
repair;
exchange/ send replacement.
Farewell and signature
What to write? Farewell and sender's signature should finalize a complaint letter. If a letter is printed on paper and sent by a regular post, after a farewell phrase, it is necessary to place a handwritten signature.
The phrases might be used when creating a letter:
Best regards, …
Sincerely yours, …/ Yours faithfully, …
Important: point is never put after the name! Read more about the subtleties of punctuation: http://essay-editor.net/blog/do-we-need-punctuation-today.
Complaint letter example: short version
The best way to understand how a letter of complaint should be built correctly is to look at the sample of such a letter.
A very brief complaint letter sample looks as following:
Disgruntled Customer
Flower Street, 100
Sometown
The Owner
ABC Company
Low Street
Sometown
March 21, 2019
Dear Sir / Madame,
I wrote to you on February 21 with regard to damaged goods I received from your company. I enclose a copy of that letter. I have not received a response yet.
I have given you a reasonable opportunity to resolve my complaint. You have failed to do so. However, I give you another opportunity.
Unless I hear from you within 7 days I will have to take significant action. I am looking forward to your reply.
Yours faithfully,
<signature>
Disgruntled Customer
Get assistance with formal complaint letters, as well as other kinds of formal / informal letters, at essay-editor.net
Now you have a clear understanding of how to create a complaint letter in English. Use the presented phrases and samples and you will do it. If you want to learn the features of correspondence in English and know how to create different types of formal and informal letters, visit our website and contact our specialists who have extensive experience and will help you achieve the set goals.
In addition, look through our post on how to carry on business correspondence: http://essay-editor.net/blog/how-to-carry-on-business-correspondence.
Check our latest posts:
Make the Right Choice: Get the Best Proofreading Help
Pieces Of Advice Of Usage Present Simple Tense