Copy Editor Resume: Samples of a Professional Paper
Editor: Features, Requirements, Vacancies, Resumes
Editors: who are they and what do they do?
An editor is a specialist who is professionally engaged in editing, i.e. in preparation of texts for presentation (articles, literary works) as well as preparation of big-volume works for publishing (books, magazines, online publications). Today's books, newspapers and magazines are published not only on paper. They can be presented in the form of CD for reading, watching and listening (audio books). Besides, many periodicals exist and successfully work on the web for a long time. The profession of an editor is perfect for people interested in language and literature.
Editor's responsibilities include the development of the concept of future publication, order (or errand) of text writing, evaluation of author's text and its literary processing. Also, an editor works with the illustrators and graphic artists, proofreaders (correctors) and template designers. In big publishing houses, the problems of general appearance / decoration are assigned to an art editor. He / she develops the concept of decoration together with an editor and then implements it.
There are a lot of editors but it is not easy to find a really good one. If you want to cooperate with a professional paper editor, you will find the best specialists on essay-editor.net website.
Who is an editor and what does an editor do?
Editors are high-ranking members among people who write. They organize authors and manage editions. For example, it can be a popular magazine or a website that hundreds of thousands of people read daily. If you are dreaming about managing web media, be in charge of an information project, or take part in creation of glossy magazines, this job is for you.
An editor is a person who defines what to writer about and how to write, and also, manages the work of journalists, copywriters, content managers, and so on. He / she checks the texts and prepares them for publication. An editor plans the work of an editorial office, selects new writers, and sometimes, also creates texts. The responsibilities of an editor vary depending on the place of work (online media, magazine, television, editorial office, etc.).
This position is simultaneously managerial and creative. It is necessary to be able to organize the work of other people and possess excellent writing skills.
Depending on activity direction, editors can be:
Literary: the duties include preparation of a book for printing, making corrections but not distorting author's idea and writing style. The works of literary editors are the best samples of editing work.
Technical: the duties are to ensure high printing quality of publication. Thanks to technical editors, a reader gets a nice and convenient for visual perception text.
Artistic: these editors are responsible for design of edition, all the images used in publication, for their quality, their compliance with the original ones and with the legislation norms.
Scientific: such editors always specialize in a particular sphere. If there is a scientific editor in an editorial office, this is the guarantee of information credibility and authority of a company.
The 20th century added some new types to this classification such as the editors of movies, television programs and online publications. The last one often combines the functions of all traditional specialties.
Duties of an information site editor
There is a huge number of information websites on the internet. It is necessary to edit a website if its goal is to present high-quality credible information. In this case it is also necessary to be aware of the principles of blog-writing. So what are the duties of an information site editor? Let's see.
To set editorial policy of publications (subjects and style of texts) and to explain it clearly to writers;
To gather a team of copywriters and to create a base of potential candidates;
To prepare a content plan every month and to ensure its execution: to distribute the tasks among writers and to control the deadlines of texts preparation;
To develop a system of material efficiency evaluation;
To accept work: to check factual information and to perform literary editing of texts. If necessary, to refine materials on one's own or to return them to writers to finalize them;
To prepare materials for publication: to select pictures and to format (design) texts;
To analyze efficiency of materials after publication and, if necessary, to make changes in the work of editorial office.
An editor-in-chief (or head editor) and a managing editor: what is the difference?
According to hierarchy, an editor-in-chief is on the top and a managing editor follows after this position. The higher the rank is, the more a person is occupied with management and less with the work with texts. Here are some examples of duties of every specialist:
Duties of an editor-in-chief:
To manage an editorial office;
To set editorial policy;
To check and refine editorial materials;
To manage and control all team members.
Duties of a managing editor:
To review materials before publication;
To post materials on news feed in online media;
To control the schedule of material preparation.
Such division is more typical for big media. In small editorial offices, all the duties can be performed by a single specialist. Also, the functions can vary depending on the place of work.
Pros and cons of profession
Pros:
The possibility to work remotely – many media today work on the internet and change their work style to remote one.
High demand – a good editor will always have work.
Communication with interesting creative people.
Visible result of work – new materials on a website, a new issue of the magazine, etc.
Realization of creative and intellectual potential.
Cons:
A desk (sitting down) job.
Before the deadlines, a work schedule can be very intense and stressful. It is necessary to be able to work under pressure of deadlines.
What is necessary to know and be able to do to work as an editor?
Among basic knowledge and skills that an editor should have, it is also important to mention the following:
Basic knowledge of journalism – main text genres and their features.
Ability to write quickly and competently, to check and refine texts.
Ability to work with people – to organize, to motivate, and to control.
Ability to analyze large amounts of information and use analytical systems such as Google Analytics.
Knowledge of specificity of employer (work of a publishing house, television station, online media and so on).
An editor-in-chief should know how to analyze properly a target audience and define a format, in which it is going to work. Also, a specialist should be able to develop editorial policy and prepare other documents for office work. It is important to know how to work with people: how to organize, motivate, and manage them.
The profession of editor imposes certain demands for personal features. It is necessary to be attentive, responsible, well-organized, to be able to work under pressure and not lose one's head in stressful situations. An editor often needs to have specific knowledge about writing, for example, to know different language styles. You can check a post on this topic on our blog, and also, you will find many other useful posts there: http://essay-editor.net/blog/guide-to-language-styles.
How to become an editor and where to study?
Usually, editors grow from journalists or copywriters. This is a managing position that is why it is pretty difficult to get it without experience in text writing. It is also important to have the skills of team management. If you like to write but you do not like to communicate and do not want to be responsible for work of other people, it would be better to pay attention to such professions as a copywriter or SEO copywriter.
It is preferable to have a degree in journalism or philology. However, it is not obligatory. A talented editor with a developed sense of language can have no specialized education. The skills necessary for work can be mastered taking online courses. It is also important not to lose the skills you have now. Thus, we have a useful post on how to keep your English skills trained: http://essay-editor.net/blog/how-to-keep-your-english-skills-trained.
There are universities that provide appropriate courses. Such training allows mastering the profession of editor from scratch. You will learn to write texts, run a team, you will master the skills required for creation of a popular information project, learn the tools that editors use in their work, get experience in big projects that can be used for your portfolio.
Where to look for editor's job?
A career path of a rookie is usually as following: you get work in an information project, show yourself (offering subjects for articles, ideas), when there is a vacant editor's position, it is offered to you. In media, you can look for the vacancies that require remote writers. It is better to prefer a big project that provides more opportunities for growth. In case if you have experience in writing, check the websites with job offers for journalists.
Where to find an editor?
If you are looking for a remote worker or a worker for a one-time project, you can search on the exchange.
Also, check the resumes of freelance editors on different job search websites.
You can place an announcement on the website that offer work to journalists. There you can find experienced editors for your projects.
Demand
The profession of editor is considered highly demanded. Print media, internet resources are constantly evolving. This stimulates the appearance of new projects that require competent editing. Online editors are much demanded in this case. They help the internet publishers avoid problems with law enforcement authorities. The check of images for copyright and compliance with the law on the countering of extremist activities is a necessary condition that saves a web recourse from the threat of closing and heavy fines. If you are interested in how to avoid plagiarism in your texts, our professionals will be happy to assist you.
What is career development?
Being an editor is already a big accomplishment for any journalist. The peak of career of such a specialist is the position of editor-in-chief. However, it is available only in big media.
Perspective
Main perspective of the profession is the possibility to start a business in media. Usually, former editors succeed in this sphere since, for the years of their professional activity, they have numerous beneficial linkages.
Additionally, check new posts on the blog:
Need to Hire an Editor? Things to Consider When Hiring an Editor
10 Tips How To Check Your Essay Like Editor
Professional English Editing Service – Get Help from Native Speakers
Editor vacancy samples
Sample #1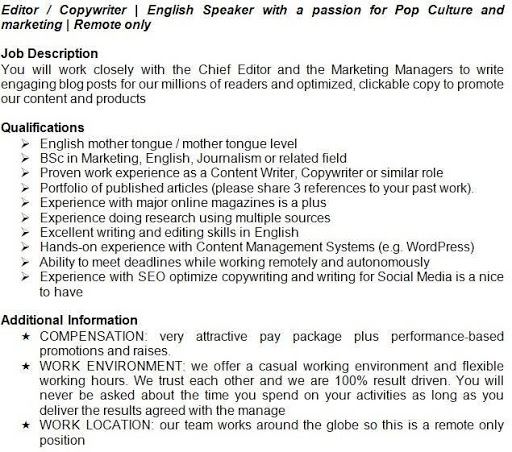 Sample #2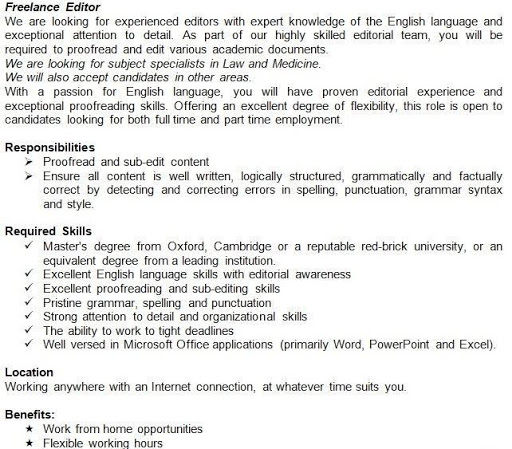 Editor resume samples
Sample #1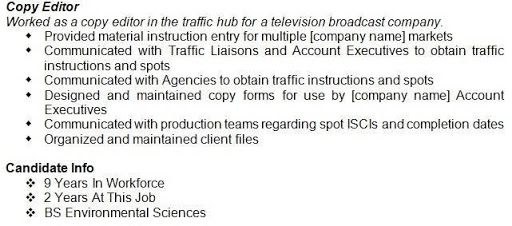 Sample #2