Proofreading Services For Students: Opportunities And Issues
Any text looks better without spelling and punctuation mistakes. Yet we do not always have enough attention, time, and knowledge to detect all those typos, incorrect words, and missing commas. Professional proofreading has become a convenient solution to this issue.
This article explains:
situations when online editing is helpful;
how to find an effective and trustworthy proofreader;
what to expect from good proofreading services;
the nuances of using AI-based proofreading tools;
possible problems of using dubious proofreading services for students.
No time to read a long text on these issues? Choose a fast and reliable variant — place an order on our website and receive a flawlessly proofread document in the shortest terms.
Proofreading and editing: When to order them?
Online assistance has become a common thing for millions of students across the globe. And it is a popular misconception to think that only underachievers hire proofreaders. In fact, there are many other cases when such websites are effective to use.
1) Not native English speakers
Thousands of young people tend to go abroad to study, and in most cases, they choose English-speaking countries, and the USA, in particular. The most numerous are Chinese, Indian, and Korean. These brave guys are not afraid to get higher education in America.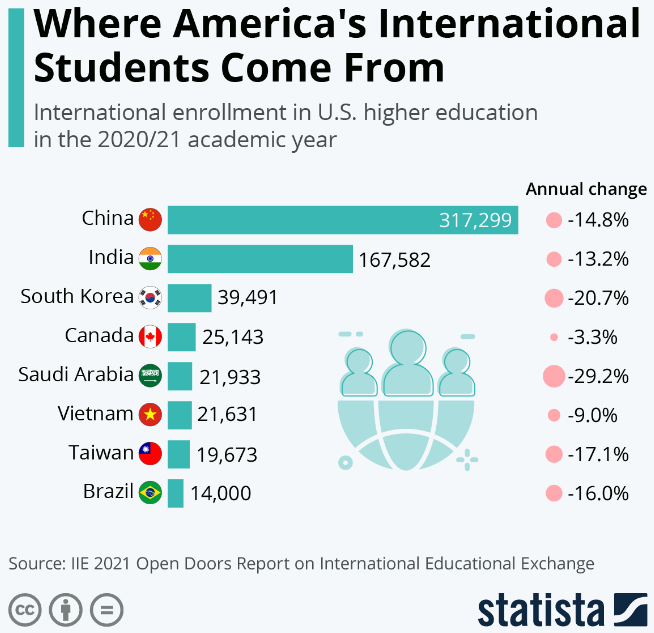 Data source: https://www.statista.com/chart/20010/international-enrollment-in-higher-education/
Meanwhile, the new language becomes an obstacle on the way to academic success. It is because foreigners have to deal not only with new words but even with new letters and symbols.
Typos and spelling mistakes often overshadow the knowledge and skills of international students. And fast and competent proofreading is what can save them from this issue.
2) Students who lack concentration
Sometimes the learner simply lacks attentiveness to notice all the mistakes in the text. This situation often happens to creative people who are enthusiastic and passionate about the results of their work. Being focused on research, art, science, etc., they forget about grammar and punctuation errors.
We agree that analysis of information and generation of ideas are more important than perfect spelling. Thus, do not get distracted by little things — hire our editor, and we'll check all the nuances.
3) Students who do not want to spend time on self-editing
Online editing service is the choice of the modern rational learner. Indeed, the contemporary student has a lot of interesting activities and projects, and he/she does not want to waste time on boring proofreading and editing.
We respect your choice to focus on priorities. Our job is to assist you with grammar — please, send us your academic papers!
4) Urgency
A lack of time is a usual reason to opt for professional editors. As a rule, students pay maximum attention to composing texts and do not foresee editing or proofreading as a part of the writing process. Still, an academic paper rarely looks perfect until it is checked.
The decision to order online student editing services seems reasonable in this case.
5) Reluctance to cope with boring proofreading
Proofreading often turns out to be tiresome work. Indeed, the nuances of grammar are challenging. Plus, citations rules (Chicago, MLA, APA, etc.) set strict frames, and it's dull to check all the details. Every sentence, word, symbol has to be analyzed in accordance with particular standards. If you are not of those meticulous people who like such monotonous work, please, turn to our assistants.
What makes a good proofreader?
If you decide to pay for the proofreading service, it must be a good investment. Whether you turn to one professional or a team of specialists, let this choice be well thought out. There is no sense in spending money on superficial revision. Here are some points that must be guaranteed by a trustworthy proofreader.
Professional qualities
Of course, a good expert must know everything about correct English language spelling, punctuation, clarity of thought, formatting, etc.
His/her corrections must be relevant to your requirements.
The edits must be accurately explained.
The proofreader must work within standards of the particular citation style when it deals with academic texts (college, university, postgraduate).
Communication skills of the proofreader
It is pleasant to work with a specialist who is open to a constructive dialogue. A good proofreader takes your specific recommendations and comments into account if they do contradict common sense and generally accepted rules.
Attitude to the author's ideas
The proofreader must not change the sense of your paper. Importantly, the core message, suggestions, and reflections must remain the same as in your first draft. It is a matter of respect for the author's style and the sense of the project.
An individual approach
Online proofreading is successfully applied to a bunch of texts, including PhD dissertations, projects for graduate students, high school reports, creative stories, and many more. That is why a good editor must consider every particular order: its sphere of knowledge, the topic, author's goals, and many more. Some moments can be forbidden to edit, while others require additional attention.
Additional perks
The proofreading is probably the narrowest part of the editing. Clients do not expect structure improvements, adding new paragraphs, revision of the used vocabulary. Meanwhile, it is nice when the proofreader gives additional recommendations for your text.
Professional hint: Discuss all the nuances of the proofreading service in advance. Do not hesitate to attach a checklist with the necessary edits. By doing so, you clarify everything and avoid unexpected surprises.
How to detect reliable editing services?
The benefits of a good editor are apparent: the author receives valuable professional support and significant quality improvement of the text. Still, you have to be very attentive when hiring specialists online.
Follow recommendations of your close people
Testimonials from your friends or relatives are the most honest. For instance, our clients recommend us to other users. And it is not only about our referral bonuses, we just do our job with skill. Years of practical background have taught us to value our reputation. Every order is an opportunity to contribute to the good name of the company, so we never miss it.
Individual search for online proofreaders
When googling specialists on the Internet, do not forget about safety. The error-free document is not your only goal. Confidentiality and data safety are crucial too; let alone your financial resources.
1) Pay attention to the website or profile
Client-oriented organizations and individuals care about usability. The online platform where proofreaders offer their services has to be convenient and informative. It usually demonstrates:
the main terms and conditions of your cooperation;
the price for the service or give the option to get an instant quote;
the level of competence and the sphere of work (texts for universities, fiction literature, official documents, website content, etc.).
Personal view: Reputable online companies are usually more reliable than freelancers. It is due to a set of guarantees and wide opportunities.
2) Test the communication system
It's awesome when you can get an instant answer from the proofreader or the representative of the editing company. Immediate feedback is a sign of a serious approach to business, and it is convenient to discuss everything promptly on the online chat.
3) The payment system
Such systems as PayPal, AmericanExpress, Visa, etc. have already won the trust of the world. We do not advise you to work with proofreaders offering dubious ways of payment. Plus, make sure, they give you guarantees of the timely and decent implementation of orders.
4) Ask about the turnaround time
Do not forget to discuss the deadlines. Experienced agencies quickly estimate the volume of work and answer such questions correctly. Make sure their time frames correspond to your goals.
AI-driven proofreading service for students
One more effective way to check the spelling is to use automated tools. For instance, Grammarly is a good variant.
✅Pros
• Saves much time
It might take you several hours to check every page of your paper, and the automated program does it in several seconds.
• Has a convenient Google extension enabling you to check online documents
The basic version is free. Having installed it for your Google account, you will easily revise emails, messages, texts created in GoogleDocs, etc.
• It has a premium version for maximum convenience
If your texts are about crucial goals, it is possible to choose the premium package. It offers more suggestions and corrections in comparison with the basic one.
❎ Cons
• Does not detect 100% of mistakes
It would be awesome if someone could guarantee such accuracy of the result. Of course, an automated program can't detect all weak places in your paper.
• Requires adjustment for maximum effective results
The text reviewed by the online tool looks rather good, yet the user has to choose the correct parameters of the check (style, English dialect, tone, etc.).
Personal experience of using automated proofreading programs
Our team uses automated programs for the first stages of editing and proofreading. Thus, we save time and effort, yet our specialists always check everything several times afterward.
Maybe somewhen in the future, proofreading will be fully delegated to artificial intelligence. Still, for now, the AI can't replace a professional editor. However, such software is rather effective to detect the most obvious mistakes and direct our attention to the weak places of the paper.
Student proofreading service: Possible issues
We feel obliged to warn you about possible pitfalls and unpleasant surprises when using unproven online services.
• Poor results
Unfortunately, some agencies and individuals do not take this business seriously and deliver dubious proofreading assistance. There are two extremes in this case. On the one hand, practically no mistakes are detected and corrected. On the other hand, the proofreader can make unnecessary corrections that change the sense of the essay.
• Problems with private data
When placing an order on dubious sites you can lose your personal information. It can result in spam and advertising that is regularly sent to your email.
• Issues with confidentiality
Not all clients want to tell everyone about the experience of using proofreading services. If the company does not value its reputation it can disclose this information in some cases.
• A broken deadline
Even a perfectly edited paper is useless if it is delivered with a big delay. As a rule, students have strict schedules to submit academic projects. So, the grade for the project can be lower if it is prepared after the deadline.
Every customer has a right to receive competent and timely proofreading services. It is a matter of honest and effective business, and we are here to provide it to you.
Your student-friendly proofreading service
If you are looking for a reliable specialist to proofread your text, this website is an optimal decision. Our competence is proven by:
10+ years of practical background in the sphere of academic writing and editing;
affordable pricing policy oriented on students;
convenient terms of cooperation;
reliable guarantees and our good reputation.
Do not let tiny typos and occasional mistakes devalue your talents. Your research, writing, and creative capacity matter, and we'll take care of the rest. Please, send us your text, and we'll revise everything with skill — order now