How To Hire An Editor: Top Things To Know
An editor often becomes an underestimated participant of the writing process, especially when it deals with serious projects. Meantime, a good specialist can raise your text to a new level. The most important thing is to find a reliable and effective one. And we'll show you the best way to do it.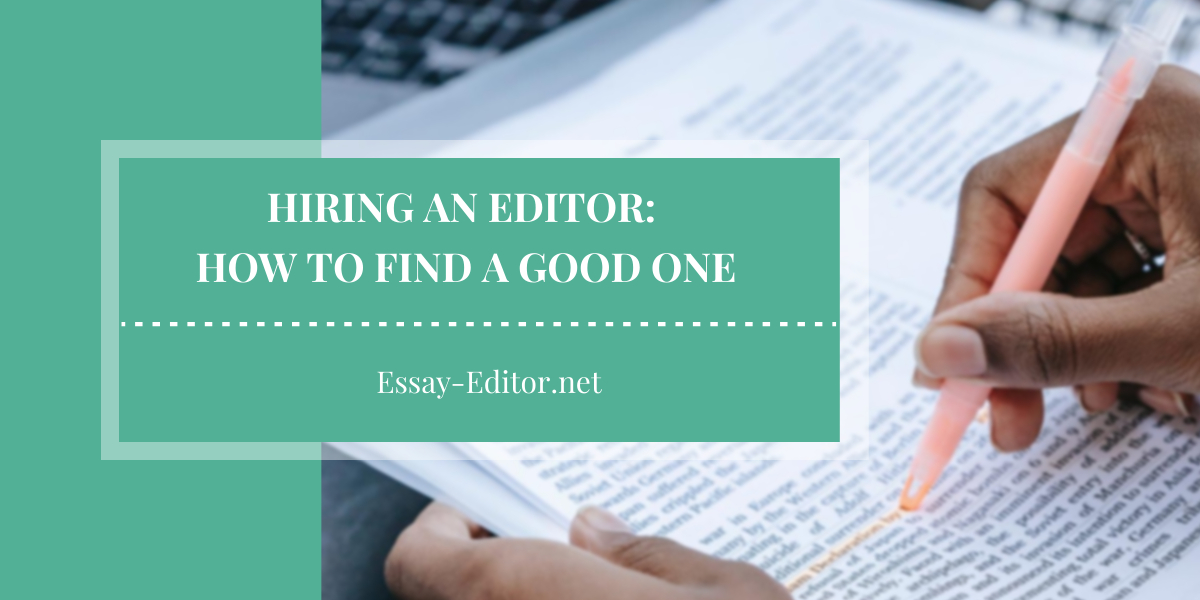 In this post, we'll tell you about:
when you should hire an editor;
the main criteria of the true specialist;
various levels of contemporary editing;
how and where to find a suitable professional to check your texts;
as well as dwell on the nuances of the book editing.
This post gives valuable recommendations for:
students writing crucial academic papers (coursework, term paper, thesis, dissertation);
beginning writers who do not feel enough confidence;
foreign students having issues with a new language.
#1 Hire editors or edit without help?
Firstly, decide if you actually need someone to revise your texts. In some cases, there is no sense to spend time on searching and analysis of available variants. Maybe, you could check everything by yourself and, thus, combine the role of the writer and the editor. Another alternative is to stop at our website and place an order. We successfully work with both little and huge texts in various knowledge fields.
Hiring an editor can be unnecessary in the following cases:
your text is not decisive;
it deals with a couple of pages.
We highly recommend you to hire an editor if:
you strive to earn a good academic reputation;
your English language is not perfect;
high grades are your aim;
you want to win a good name in any professional field.
#2 Who is a professional editor?
Before looking for a specialist, make sure you understand his/her core features. Editing is far more than detecting spelling mistakes and wrong punctuation. As representatives of the expert editing and proofreading agency, we realize all our functions. We know from experience that professional checking opens new opportunities for all types of texts.
✔ Effectiveness
A skilled editor is one who makes a positive impact on the first draft of your work. Importantly, this specialist must understand your goals and the context.
✔ Timeliness
The editor usually finishes the project; thus, compliance with the deadlines is a must. Whether you are writing book or working on a research project, the editor has to respect your terms.
✔ Communication
Mutual understanding results in fast and tangible outcomes. The author and the editor must have similar views on the final version of the texts.
✔ Personal features
A perfect editor is pedantic and persistent. He/she has enough attentiveness to notice mistakes, diligence to rewrite the text several times until it becomes ideal, good memory to remember the plot and grammar rules. Honesty and objectivity are essential since they determine the attitude towards the initial draft and the author.
#3 What type of editing do you need?
If it is your first experience of hiring an editor, please, pay attention to different specialists and their functions. We've prepared a list of the most popular directions in the editing sphere.
Proofreading
This assistance is considered to be the lightest one among all kinds of editing. As a rule, it implies spelling and punctuation checks. The specialist works with words, sounds, and sentences to eliminate morphological and syntax errors. It can be both a separate offer or the final step of the editing service.
Copy editing
If you expect something more than flawless grammar, a copy editor is a good variant. For instance, at our company, this specialist is responsible for the perfect paragraph structure, proper tone, meaningful and relevant content. Let alone suitable vocabulary and correctly composed phrases.
Substantive editing
This type of assistance is used by book editors. It covers proofreading, plus general improvements of the text. After this editing process, you receive a perfectly-structured story, with logical explanations and a clear narrative.
Developmental editor
This specialist provides the deepest level of check, as it touches the structure, the plot, and the characters. Such editing services are provided for both fiction and non-fiction literature: it helps the authors to reconsider the plan and find new directions of the story. The developmental edit evaluates the global picture of your work and offers effective recommendations for further improvements.
Line editing
This type of check and copyediting have similar meanings. Still, line editors usually check texts in more detail compared to copy editors. Besides, they make a bigger focus on the stylistic nuances of the paper. Its name speaks for itself: the expert carefully examines every single line of the paper. With better word choice and clearer sentences, your story is getting more readable and powerful.
Please, note: Individual specialists (e.g. freelancers) and agencies can understand the above types of editing differently. Make sure, you all have the same views on the service. Thus, you'll avoid unpleasant surprises and receive what you expect.
What do you expect from editors?
Effective check is a matter of mutual efforts of both the author and the editor. Determine what results you would like to see. Our assistants have prepared a convenient list of possible edits helping you discuss the service.
✔ Correction of symbols and letters (compliance with one measurement system, for instance, Imperial system: in, ft, mi; abbreviations; initials, etc.)
✔ Elimination of spelling mistakes
✔ Replacement of unsuitable words (including wrong terms, tautologies, slang, redundant, and overused words)
✔ Check of the sentences (tenses, clarity, links between words)
✔ Optimization of the structure and readability (correct the length of sentences and paragraphs, elimination of monotonous places, dynamic story)
✔ Improvement of the style (manner of presentation, tone, slang)
✔ Work on the logical meaning of the text (fact-checking, review of the arguments proving your hypotheses)
✔ Format check (academic citation styles, editorial policy for publishing articles and blog posts)
✔ Additional specific requirements (recheck the accuracy of calculations, correction of citations).
Make sure you and the editor agree on the crucial points of the check.
What type of editing do you lack today? As a multifunctional agency, we are willing to find a suitable specialist for you! Learn more on the live chat.
#4 Where to find a professional editing service?
Now when you have decided what kind of specialist will improve your manuscript, let's think about the channels and places for the search.
Our awesome team of editors
This website is rightly the easiest and fastest way to order editing services. This suggestion is proven by thousands of users, who have already received their improved versions of papers. We are a unique one-stop platform uniting experts in various fields of knowledge. That is why you will certainly find the most suitable specialist here.
We guarantee decent quality for all levels of editing.
Our costs are affordable and student-friendly.
The team works fast without compromising the quality.
We have editors for any format: academic papers, business materials, blog post articles, fiction and non-fiction books, and many more.
Hire a freelance editor
One can find an editor on online freelance platforms: Upwork, Fiverr, Indeed, LinkedIn, Monster, etc. The biggest advantage of this variant is access to a huge database of specialists. People from across the globe offer their services; hence, the competition between specialists is strong, and the prices are not very high.
Meantime, online freelance platforms often imply risks for the client. You cannot be 100% sure about the perfect outcome. Even one good sample of work does not guarantee that this specialist will make your book ideal. It's all about numerous nuances and details of every single situation.
You might be lucky to find a good editor; still, we feel obliged to warn you about possible pitfalls:
narrow specialization of the individual expert;
it takes a long time to select a suitable copy editor;
unpredictable results.
Find an editor among famous specialists
Take the modern book you like most, and learn who its editor is. If you like the result, you will find mutual understanding with the expert who ensured it.
It deals not only with book editors. Do not forget about specialists checking blog posts, content for websites, articles in journals and newspapers. You can contact the webmaster and learn who their editor is.
Disadvantages of this method:
the cost of editing services is getting extremely high when you hire a reputable expert;
you might be placed in a queue since famous editors have tight schedules;
it might be challenging to find a popular editor precisely for your goal; for instance, the fiction book editor can have issues with the check of your research project.
Word of mouth
Recommendations are valuable, especially if they are given by your close people. Ask your friends, relatives, classmates, or anyone whom you trust.
When discussing the editing assistance, pay attention to terms of cooperation, pricing, and guarantees of good results.
Specifics of this way:
honest references usually imply decent results;
people around you might rarely hire editors;
your goals can be quite different from your friends' priorities concerning editing.
Turn to a professional recruitment agency
Today, it is possible to find an online or offline HR company and delegate the process of search and hiring to them.
What you should know:
this way costs you additional money: you pay for both hiring and editing service;
it saves you time (you do not have to search for specialists by yourself);
as a rule, HR agencies do not take responsibility for the results of the editing service.
#5 Book editing: The most important things to consider
Book editing is frequently ordered on our website, so we've decided to explain the most crucial moments of this service.
The popularity of book editing
Book authors need editors more than anyone else. It is because the printed version of the text deserves maximum attention.
While online content is editable, it is impossible to change the book when it is already published. In this case, the value of the editing services is getting extremely high.
Interestingly, this rule concerns printed and electronic versions. It is because both variants are about creating a perfect book that will win the readers' attention. We have found interesting statistics demonstrating the importance of quality editing services for these two formats. Respondents were asked about this issue, and more than 85% of them claimed that editing and copyediting for e-books are as crucial as for printed books.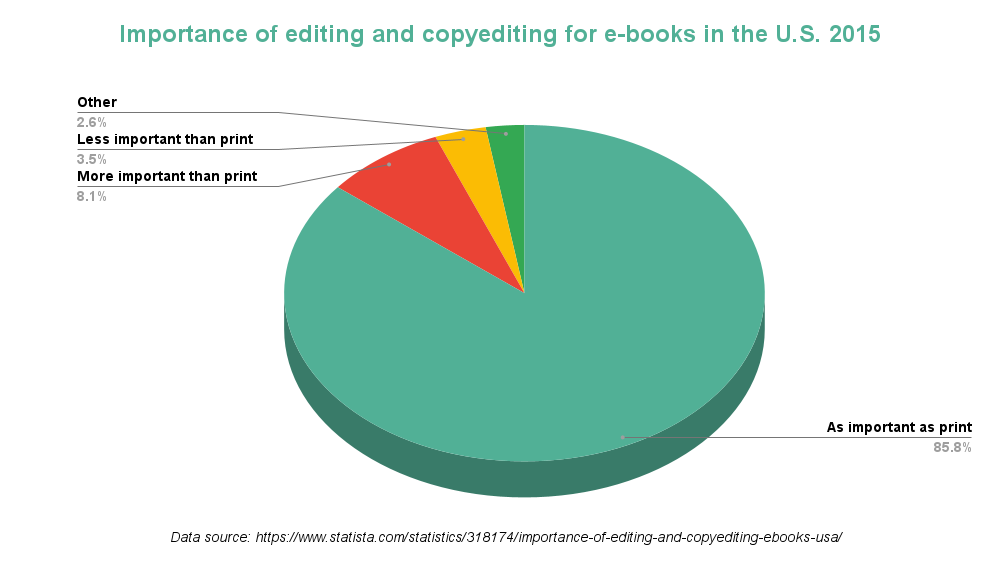 Reasons to hire a book editor
Good editing is what every author needs before publishing the book. If you still doubt whether to hire an editor, check out the following arguments.
1) Receive the best version of the book
The final variant must look impeccable, and the impartial professional will help you with that. Having trusted the true expert, you will get:
a fresh set of eyes,
meaningful edits and constructive solutions;
reasonable suggestions for improvements.
2) Save your time
In fact, editors do a great job that often remains unnoticed. Meantime, in-depth editing requires much time and attention. And if you do not want to spend hours or maybe even days on grammar checks, stylistic improvements, and endless rewriting, the team of experts will do everything for you.
3) Get rid of stress
Editing is probably a more tiresome activity than composing a story. We usually write with enthusiasm and inspiration and do not feel fatigued. Yet, when it comes to revision and rewriting, we lack the energy and desire to check and rewrite it all. That is why it is reasonable to delegate these functions to professionals.
Questions to ask a specialist before ordering book editing
Having made a decision to hire an expert, you'll need a plan on how to evaluate his/her skills. Here is an expanded list of possible issues to discuss with your future expert. Ask your proofreader or editor about the most crucial moments of life and profession — get a general picture of the specialist's skills.
What was your previous experience?
Do you specialize in the given topic and genre?
Do you have enough time to complete the project?
What are the guarantees of good quality?
How is it possible to discuss the work and intermediate results?
Ask to check a short piece of content
What is the price of the services (payment per hour, per page)?
What payment systems can be used?
Ask to present oneself.
A true expert tells about his/her profession with passion. Not everyone can stand the monotony, utmost concentration, and intensive intellectual work of the editor. And only the best specialists will describe this job with enthusiasm. Plus, you will learn his/her real grammar skills from this story.
What you should have before hiring an editor
You also have to be prepared for the first dialogue with an editor, especially when it deals with a reputable busy specialist. Please, think about the following moments in advance. By doing so, you'll save your and editor's time and, thus, come up with constructive solutions faster.
Helpful hint: Famous editors prefer not to spend their precious time on unprepared authors. Plus, they can begin your cooperation with a paid consultation to explain the main information on the editing assistance and the basic things you have to provide to them. Below you will find a free list of possible points from such discussions. Save your money with us.
1) You must have a text
It might sound too evident; still, we want to remind that editors correct and improve books and papers, and that's it. They can rewrite some parts, yet do not expect a whole new story from them.
The first draft is the core document beginning your cooperation with an editor. Make sure it has a readable format. Handwritten notes are not acceptable, please, turn them into electronic documents.
2) Your goals and expectations must be clearly formulated
Think about the ideal final version of your paper and make a list of your requirements. Consider your knowledge field, the current situation, and your aims. Present your work properly — a well-thought-out informative email improves your chances to hire a good editor. Here is an example.
...The title of my book is: "A short guide on strategic marketing." It is my first variant, 100 pages long. Apart from the text, it includes illustrations, so I want you to check if they are suitable.
My aim is to sell an electronic version of this book on Amazon next year. It is established for students of business colleges, beginning online marketers, and everyone who is interested in digital marketing.
The deadline for editing is one month from today.
I need high-quality proofreading, style improvements, and a better structure. Please format it in accordance with the contemporary digital format of the e-book. My budget is $1200...
3) Even developmental editing does not guarantee success and appreciation
Even professional editors cannot give you bold promises, such as the guaranteed publication, sale of a specified quantity of books, a certain income, etc. A bunch of factors influence the outcome of your project, apart from the editor. For instance: the popularity of the article topic, the reputation of the author, the situation in the book market, etc.
The path from the first variant of your paper to the published one is long and stressful. Our editors can considerably simplify it. Let's turn your manuscript into a perfect version of your project! Order here.