Dissertation Editor Cost: How Much?
Online editing service is a convenient modern way to check and improve any type of text, including dissertations. It is usually cheaper than academic writing assistance, yet it all depends on the level of competence, terms, and other factors. If you are thinking about whether or not to hire an editor for your project, this article is right for you.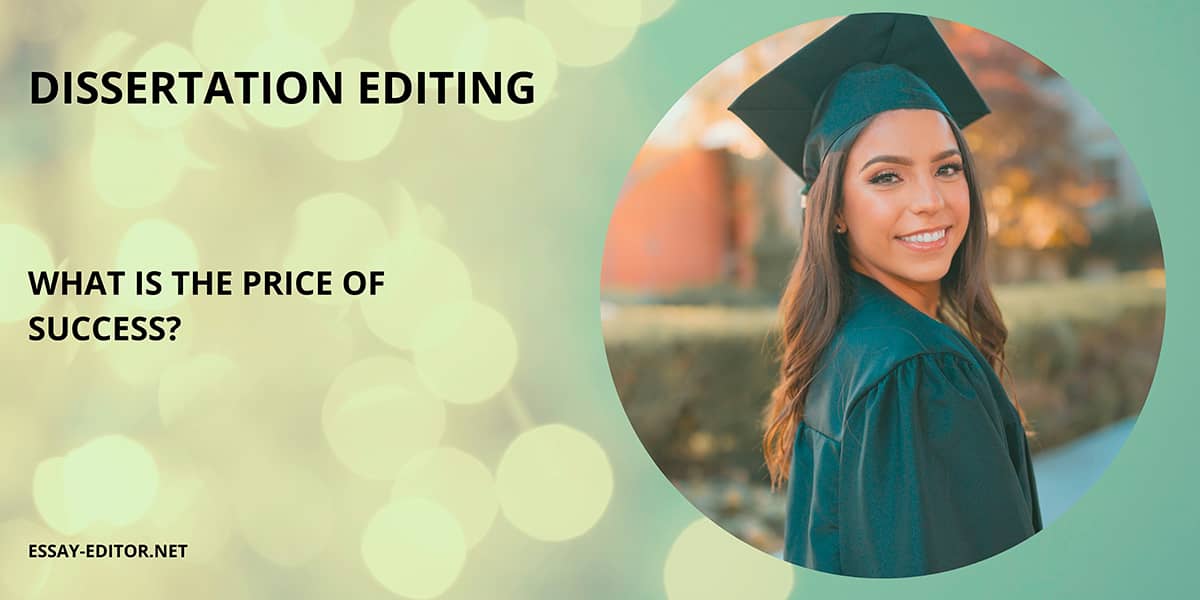 From this post, you will learn:
a range of contemporary prices for the editing services;
if it is worth paying for the dissertation editing;
the main criteria of a reliable agency;
hints on how to save money when ordering dissertation editing.
If you do not want to dwell on the nuances of pricing policies and search for the best variants, please, go to our live chat. We are ready to offer our professional service at honest prices.
How Much Does Dissertation Editing Cost?
Prices of editing services vary beginning from $600 to $3000 per one dissertation containing 30000 words; the deadline is about one week.
We have googled the most popular online editing services to compare their prices. Yet this research does not show precise results. It is because agencies demonstrate approximate costs that do not consider all factors. Here are the figures, offered by the most famous companies.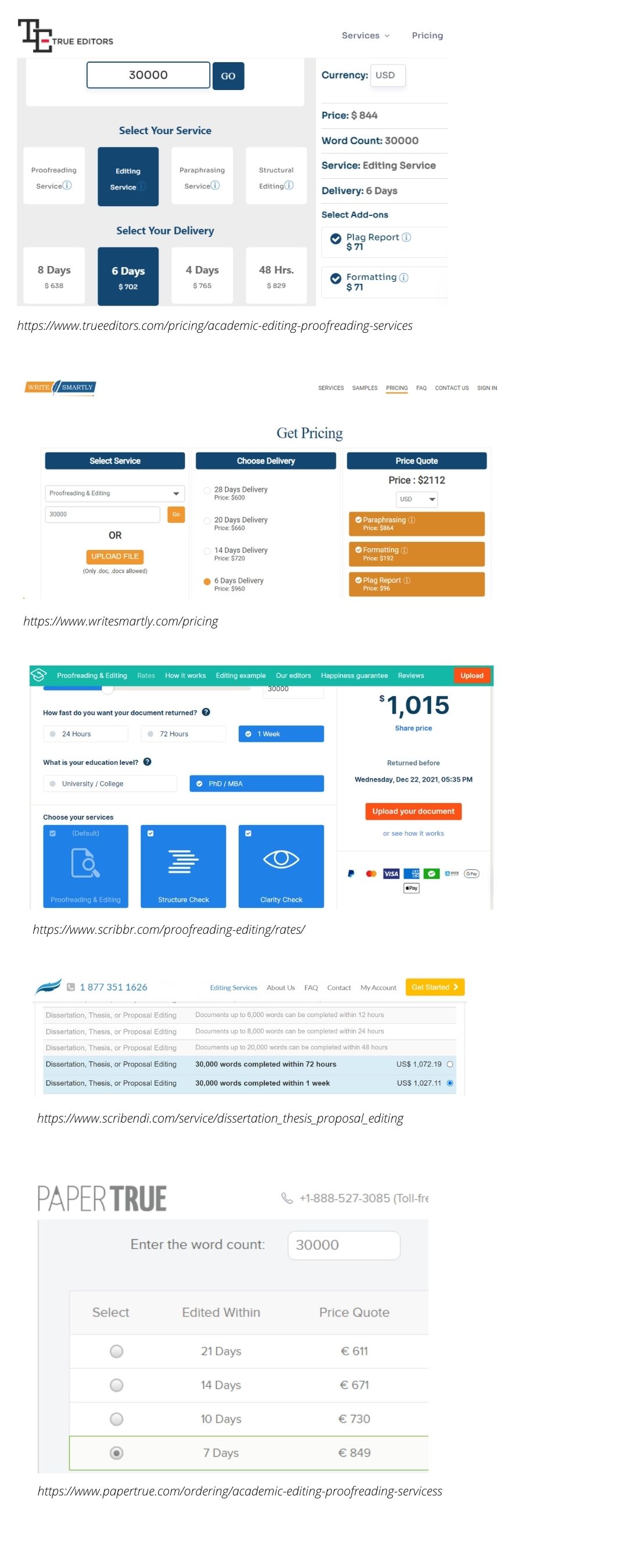 Initial data for our experiment
The type of service: Comprehensive editing (including proofreading, formatting)
The type of the paper: Dissertation (PhD level)
The number of words: 30000
The deadline: 1 week
It is rather challenging to estimate the results of our research precisely. To receive accurate figures one has to download the dissertation to the website and discuss all the details with the specialist. However, this information is good food for thought: one can take it as a starting point for the individual search.
Recommendations for students looking for online editors:
the price per certain volume of work is better than the price per hour ;
pay attention to the currency of the price (EUR, USD; plus there could be Canadian, Australian dollars, etc.);
consider the deadline attentively (there could be a certain minimum period for editing long projects; for instance: at least 7 days to check 30000 words);
do not fully trust the results of an online calculator (they only demonstrate a general picture); always negotiate the final price with the representative of the company.
Our agency is willing to provide a free quote and calculate the price of the dissertation editing service. Contact our support agent now!
What influences the cost of dissertation editing?
A bunch of subjective and objective factors influence the price of the edited dissertation. One can charge payments per page, per hour, per one project. Here are some facts explaining the diversity of pricing policies.
• The type of the dissertation
It is cheaper to edit the Master's dissertation (thesis) than to check a PhD project. Plus, research papers containing complicated calculations are more difficult to edit. That is why the cost of such services is rather high.
• Online reputation and popularity
Some agencies invest a lot in their online advertising and PR, and these costs are reflected in prices. And, of course, such a company has to keep its reputable image and provide editing services of the highest level. For this purpose, it has to hire top editors, support managers, managers, etc.
• The word count or the number of pages
It is the core parameter of online calculators. The length of the text directly influences the final cost of service.
Please, note: Clients ordering dissertations editing can count on volume discounts. For instance, our agency offers good deals up to 20% discounts.
• Turnaround time
Urgent orders have higher prices, as they might require the involvement of several specialists. Besides, only true and dedicated experts can check your dissertation quickly without compromising the quality. And their salaries per hour are higher in comparison with average good specialists.
Helpful hint from our expert: Extremes usually turn into unpleasant surprises. On the one hand, there is no sense to overpay too much for the editing service if you can find more affordable variants. And, on the contrary, a low price hides poor quality and broken deadlines.
Are dissertation editors worth paying?
We can say from experience that dissertation editing services can become an effective instrument to level up your project. The only thing is to find a reliable agency.
It is reasonable to pay for the editing service in the following cases:
the price is affordable for you;
the online agency is trustworthy;
they have guarantees (money-back, timeliness);
the level of editing corresponds to your goals.
The academic degree is easier to earn with assistants. You might be a good academic writer with perfect grammar skills, yet a fresh set of eyes always comes in handy.
What you get from the competent dissertation editor:
confidence in the good result;
save your time;
get rid of monotonous proofreading, formatting, line editing;
no more stress about urgent deadlines;
objectively, a new level of quality.
The dissertation editor is worth paying if:
he/she provides effective services (suitable corrections, valuable improvements of the text);
he/she adheres to a reliable safety policy (data safety, confidentiality, honest payment system, a period of free revisions).
Professional tip: If you see a low price of the copyediting service, do not make a hasty decision. Firstly, learn in detail what the company offers.
What you should know about editing services
The effectiveness of the editing service depends on the mutual work of the writer and the editor. Please, give enough information to your editor to receive what you expect.
1) What results do you expect from dissertation editing?
Please, negotiate all the crucial points in advance. It might take you a couple of hours to determine what exactly you want, yet the outcome is worth it. In some cases, one expert is not enough for your order and several specialists need to be involved in this project. So let the company prepare the team beforehand.
The thing to remember: When discussing your order, the support agent might use such terms as copyediting, developmental editing, line editing. These concepts can be differently interpreted in various companies. We advise you to make a list of your expectations instead of using the above terms. By doing so, you will avoid misunderstandings and receive what you have ordered.
2) Prepare personal instructions for dissertation editing
A clear agreement on the following points brings predictable results.
✔ Eliminate all grammar errors (typos, spelling mistakes in words)
✔ Check and correct punctuation
✔ Format the text according to the APA (Chicago, MLA, any other citation style)
✔ Check the facts mentioned in the document
✔ Revise the relevance of cited sources
✔ Restructuring (organization of information)
✔ Stylistic improvements
✔ Correction of the vocabulary (i.e. business or scientific professional terms)
Choose your points and formulate your expectations from the editing service. Use your professor's recommendations to supplement the above list.
You can present your requirements in tables or any other clear and convenient form. Thus, the editor will clearly understand what you need.
How to save money when ordering dissertation editing?
Our team has prepared several hints on how not to overpay for the editing service. A low budget is not the reason to get rid of professional assistance. Instead, we offer to find alternative opportunities.
• Evaluate your strong and weak parts and order only necessary services
When it is possible, do not purchase the whole package of editing services for your dissertation. For instance, you can select only proofreading if you are sure about all other issues. Maybe, you do not need a comprehensive review of the dissertation, as you have already discussed everything with your professor.
• Get rid of premium services
You must not opt for top experts only. There are a lot of good editors among ordinary specialists too.
• Set a longer deadline
If time allows, and you don't have to submit the dissertation in several days, do not choose the shortest deadlines. The process of editing is lengthy and labor-intensive, so this service will cost you less if you choose a couple or more weeks.
• Learn about the discounts and bonuses
You can cut the fee for the services with the help of the bonus system. Dissertation editor cost is getting lower if you know discount codes. Do not hesitate to ask support managers about such moments.
We regularly offer bonuses and discounts. Learn about our today's deals — the support agents are ready to answer all your questions. Please, go to the chat!
Editing services: Our pricing policy
Our agency is your optimal choice among available variants. We set the best possible prices on our services, guarantee trustworthy cooperation, and ensure in-depth editing of your projects.
It does not cost too much to use our professional assistance, yet the results are awesome. With us, you can forget about poor grammar, weak argumentation, wrong vocabulary, inappropriate style, and other issues.
Let's make your project flawless, — please, hire our editors!