Academic Editing Rates: The Latest Updated Figures
Is academic editing expensive or cheap? What is behind extremely high or low prices? Learn the answers here. We have collected information about current rates on editing and proofreading.
If you do not want to delve into figures and analysis, simply stop here. No more issues with academic writing! We'll check and improve everything on the best terms. Order now!
How much does edit cost? Why you need this information
This article is created for:
students and other users of online academic services (order what you need at the best prices);
newcomers to the editing business (to demonstrate possible salary rates and duties);
experienced editors and proofreaders (to reevaluate job opportunities).
Stay on top of up-to-date rates, learn how the prices are calculated, and find out how to save money when ordering editing assistance.
Academic editing services: How much do they cost?
Our assistants have conducted an experiment and tested several most popular websites in the sphere of the editing business.
The initial data for our little experiment:
the type of service — academic editing;
the document type — a college essay;
the deadline — 24 hours;
the volume of text — 1,000 words (one thousand words).
Here is what we have got.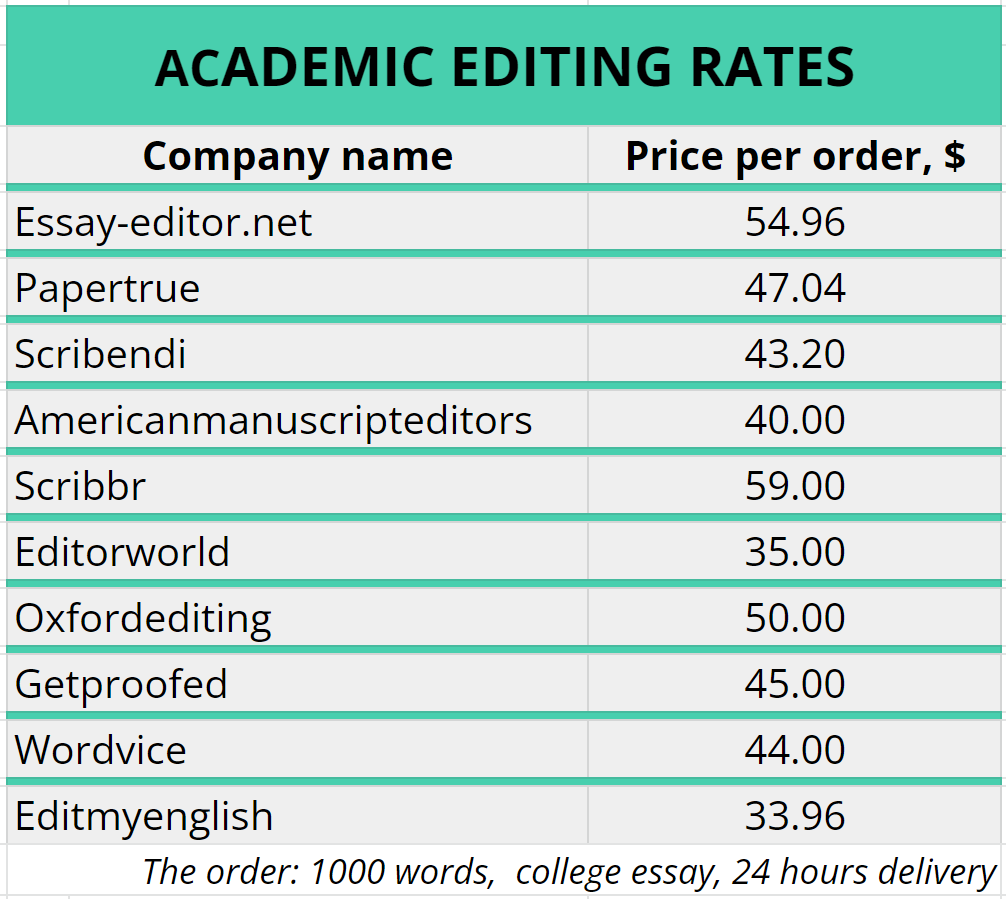 As you see, the prices for editing one thousand words vary from $30 to $60. These figures are the food for thought; still, do not fully rely on them.
Please, do not jump to conclusions after seeing this table. The lowest price does not guarantee a perfect result, and it's not that simple.
The situation concerning discounts and bonuses constantly changes. New clients and regular customers can often count on them, plus, there could be holiday sales.
If it deals with a serious writing process, you might need more professional editorial services in comparison with the chosen type of online assistance.
Long time-consuming projects might cost you more than the light edit of essays. Even if one considers the cost per page. It is because of the higher hourly rate of the specialist.
Factors influencing the price level
The range of costs on editing assistance is rather wide. It's all due to multiple reasons impacting the final price.
• The type of the service
Editing is a rather wide concept. Besides, it can be differently perceived by various companies. Here are the most popular variants:
substantive editing services (heavy edit implying the change of the structure and content);
adaptation of academic articles to editorial policies and other standards of the serious publication;
academic copy editing (including formatting);
proofreading (including correction of punctuation errors, typos, spelling nuances);
content editing services for non-native English speakers (with a focus on vocabulary), etc.
• The deadline
You will have to spend more money on your super urgent project. If you want to be the first in line, please, be ready to pay more than an average client.
• Initial state of the document
This factor determines the volume of work to be done. For instance, if the draft of the journal article contains a bunch of grammar mistakes, wrong formatting, and insufficient research results, cheap proofreading and a fresh pair of eyes are not enough.
How much does an academic editor earn?
If you are thinking about a career in the academic sphere, the profession of the editor is a good variant. Here are some statistics from ZipRecruiter (figures as at January 2022).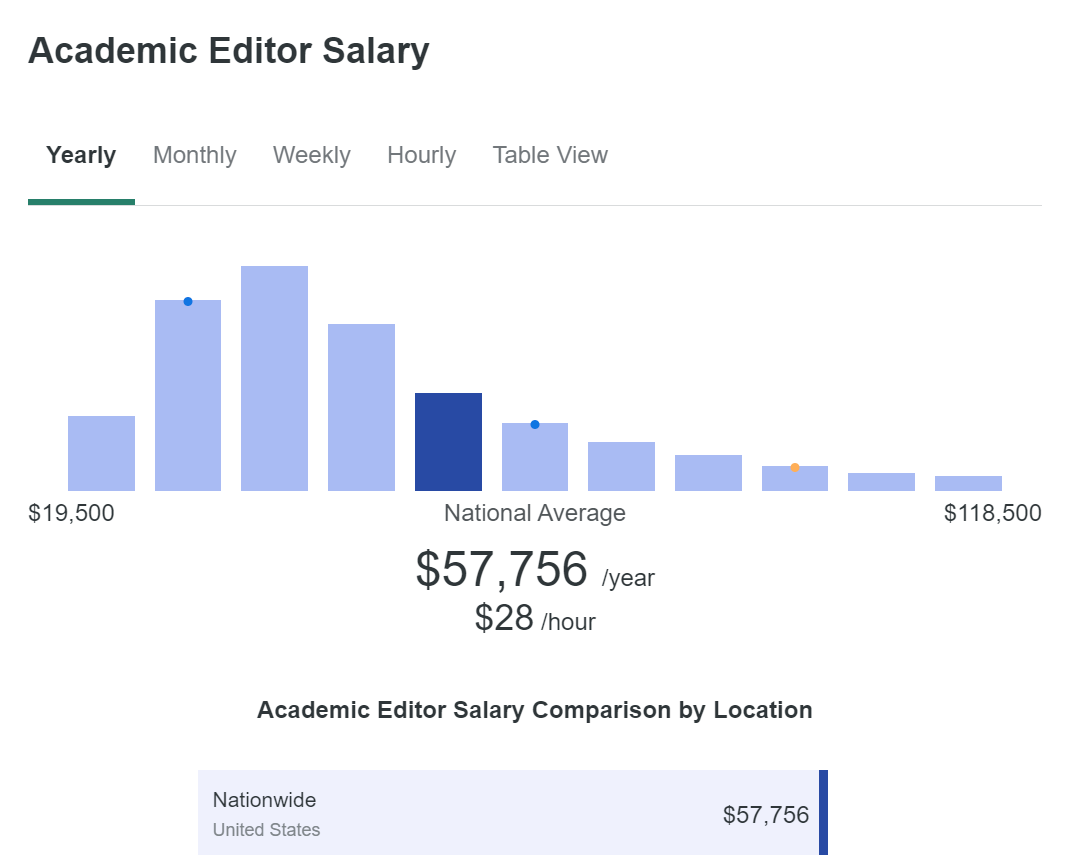 As we see, an average editor earns twenty-eight dollars per hour which corresponds to the average salary in the USA.
Proofreading rates per 1000 words
Proofreading is considered to be a part of the editing, that is why its cost is lower than the cost of the complex offer. For example, if you want us to check one thousand words of the college essay, it will cost you about forty dollars. Please, try our online calculator.
Still, one can find prices beginning from $10 to $100 for this volume of work.
How much do proofreaders charge?
In fact, there is no one standard rate for such a specialist. The payment depends on the following factors:
the expertise of the specialist;
his/her speed of work;
reputation;
experience;
guarantees;
the type of cooperation (online freelance platform, agency, etc.)
The academic editing rates usually vary from $5 to $95 per hour.
The cheapest editing services
Inexpensive editing assistance is mainly delivered by individuals working on a freelance basis. The most popular online platforms for freelancers are Upwork and Fiverr.
Some statistics from Fiverr

and from Upwork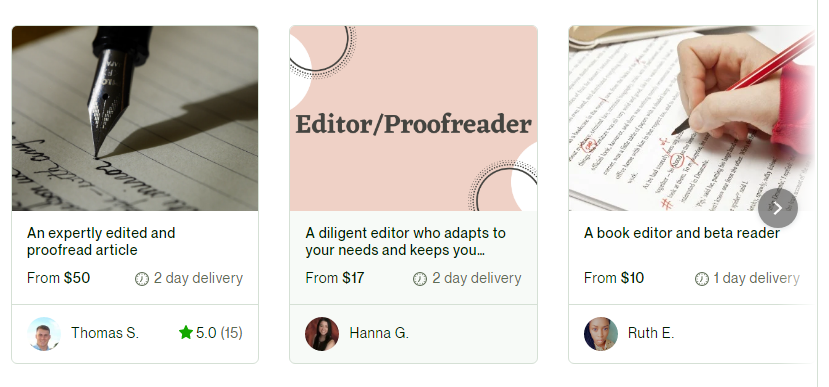 Possible pitfalls of the too cheap services from freelancers
Of course, the below points do not concern all online specialists offering low prices. Yet we feel obliged to warn you about potential unpleasant surprises.
1) What you get is the text edited by online software such as Grammarly, for instance. Why hire someone if you can use the same program?
2) Delays make everyone upset. If a freelancer has never edited papers with a big word count, he/she can wrongly calculate the amount of time and, thus, break your deadline.
How to stay within budget when ordering editing services?
✔ Purchase only necessary services
For instance, there is no sense to overpay for a substantive edit, if you are confident in the content and structure of your text. Standard rates of grammar check are lower in comparison with other types of editing assistance (copyediting, formatting, rewriting).
✔ Reconsider the deadline
Helpful hint: If time allows, do not choose short deadlines. Urgency can cost you a lot. Try to select a longer turnaround time for your documents.
✔ Ask about bonuses and discounts
Editing companies regularly offer good deals for newcomers and regular clients. For instance, our website has already prepared a nice surprise for you. Learn more from our support managers.
So, how much does proofreading cost?
There is no one universal answer to this question. We deal with a versatile service and not with a standard type of good. There are different ways of how these specialists set the price. Here are some examples:
the cost per document, flat fee, or flat rate (for instance, $175 per research report);
per hour ($5 — $90 and higher);
per the number of pages (for instance, 32 dollars per two-page essay, double-spaced text);
per word (two cents, ten cents);
per 1000 words ($5 — $200).
Editing and proofreading services: Are they worth paying?
It depends. We definitely recommend using academic editing services if it deals with crucial texts and reliable companies.
For instance, our agency is a one-stop portal that is always willing to help you. Be you a native speaker or a foreign student, whose first language is not English, efficient results are guaranteed. It is the best value for your money: risk-free cooperation, only vetted specialists, and student-friendly prices.
Please, send us your manuscript today and take an awesome opportunity to use a discount. Order now!